An art tutor, who was forced to stop painting after suffering two heart attacks, has finally seen his First World War tribute unveiled after it was completed by his students.
Tony Turner, leader of the Partington Wellbeing Painting Group in Trafford, began work on the 9ft by 5ft commemorative triptych 18 months ago before he suffered two heart attacks in January.
The 64-year-old underwent quadruple bypass surgery at Wythenshawe Hospital and has since spent most of the year recovering at home.
However, determined to see their project completed in time for Remembrance Sunday, the 12 members of Mr Turner's art class pulled together to finish the poignant acrylic painting.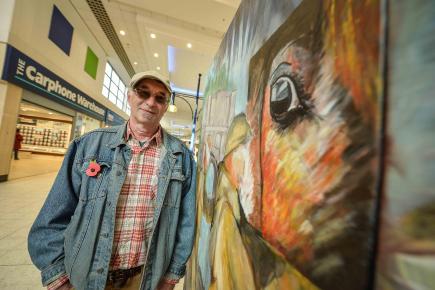 REALLY CHUFFED: Tony survived two heart attacks before seeing his work completed
The mural is currently on display in Stretford Mall until November 11, and Tony is pleased to have fulfilled his ambition of producing a large-scale artwork involving all members of his art group for public display.
"I'm really proud, really chuffed," said the former local government worker.
"I've met a lot of people who've lived through the Second World War and I feel we need to pass on this history and the bravery of these people who fought, it should be remembered.
"What affected me most was seeing children with their mothers coming and taking a look at the painting.
"The way the kids reacted to it was pleasing. It's a grim painting but they didn't respond in that fashion.
"They were more intrigued by it with their mothers able to explain a bit about the different sections of it."
After slowly recovering from surgery, Mr Turner has begun painting again and believes that coming close to death has changed his outlook on life.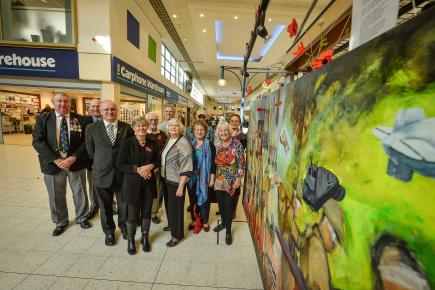 YOUR THOUGHTS GO QUITE PROFOUD: The 63-year-old said that he has a new zest for life
"It's having that near-death experience that makes your thoughts go quite profound and changes the way you look at things," he said.
"I'd been ill prior to the heart attacks and when they happened I just lost all my energy which I needed to recover in order to paint.
"I've had another painting on the go now for 18 months and obviously had to stop when I had my heart attacks but it was a pretty poor painting.
"But as soon as I've started to get my energy back and start painting again it's come to life."
The overall theme of the mural is based on John Singer Sargent's 'Gassed' painting and depicts a powerful range of First World War imagery including bandaged soldiers, female factory workers, iconic aircraft and poppies.
Architecture graduate Victoria Chairulina, 40, co-ordinated the project in Mr Turner's absence and says the painting carries an important message.
"I think it's very important to remember the people who devoted their lives to fight for the country," she said.
"If it wasn't for them it would be very different for us all today.
"Everybody knows someone affected by war, it's part of our history. There'll be lots of people coming into the shopping centre to see it and it will make them stop and think."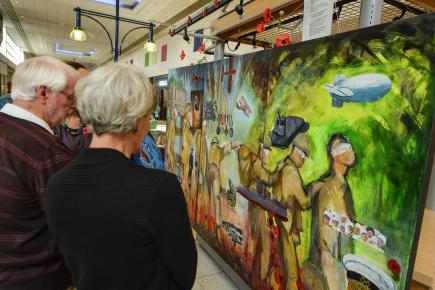 REMEMBRANCE: Veteran Mr Newbold said that it was important for those who fight for their country to be commemorated
The project was funded by Trafford Library services with the members of the art group working on their own small sections of the masterpiece every Friday morning.
Former Parachute Regiment soldier Karl Newbold, the oldest member of the group at 84, is pleased the painting will be on view to the public in the run up to Remembrance Day.
"There will be many veterans using the centre and it will be nice for them to see it," he said.
"All of the scenes are from the First World War but irrespective of whether it was WW1 or WW2, people must still remember all those who fight on behalf of their country."