While all pies, sorry eyes, will be on the Manchester Derby at the weekend, a Levenshulme bakery has cooked up a tasty treat for rival fans.
Fans of Manchester giants United and City can show off their true colours and stuff their face with their favourite pastry product thanks to a couple of creative creations from Life of Pie.
The bakery has created two mouth-watering savoury pies to celebrate Sunday's Manchester Derby at Old Trafford.
Wendy Orr, Life of Pie founder, originally from Northern Ireland, told MM why she created these Mancunian marvels.
She said: "I wanted to bake this type of pie for a very, very long time. But I never had the time to do it.
"But when we've finally got round to do it, they've took off far more than I could have hoped."
The pies were launched this week at the newly formed independent food business at Fred's Ale House.
And Wendy has been pleased with the reaction from all quarters: "The pies got a great reaction from our customers and the media; we even got an interview on the BBC.
"We're a very young business, but I've been cooking for years and I've always wanted people to try my traditional home cooking-style pies."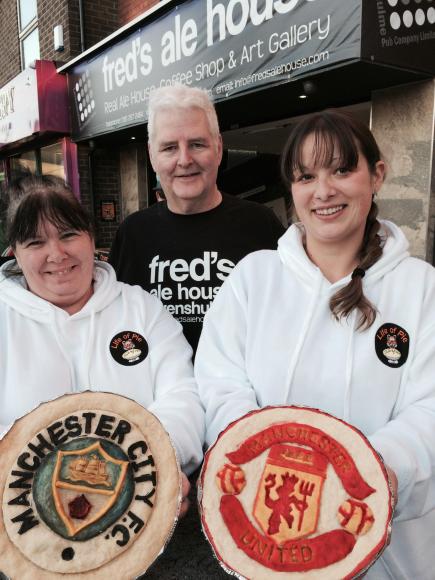 PIE ON SKY: Bakers Wendy Orr (left) and Laura Falconer with Lawrence Hennigan of Fred's Ale House.
Life of Pie has created lots of themed pies already, with a St Patricks day Pie that contained Shamrock Steak and Guinness Pie and was finished off with the famous Irish clover.
They are also planning a St George's Day Pie which is being launched on April 23.
Wendy admitted where loyalties lie when it comes to football, she said "Both pies taste incredible, but being a big city fan – I think the city pie looks better, ha-ha!"
The pies have had such an unbelievable response from customers that that Wendy has plans to make lots of smaller mini pies on the day for the derby.
Life of Pie has also been commissioned to create the world's first Mayo Day Pie to celebrate the inaugural Mayo Day on Saturday May 2, the event will be celebrated by the world's 2.93 million people with roots in the West of Ireland all-round the globe.
When asked about if she would create special 2015 election special pies, Wendy laughed: "That's a fantastic idea; I will definitely have to rustle up some party-themed pies!"