Long hours, staff shortages and mental demands – they're the reasons why 90% of ambulance workers in the region are suffering from work-related stress and more than four in five are thinking of quitting.
The Unison survey, published ahead of the union's annual health conference in Liverpool next week, has revealed the shocking impact stress is having on emergency service employees in the region.
Almost three in four (74%) are suffering with sleep problems, just less than two thirds (63%) said they felt irritable and experienced mood swings, and nearly three in five (58%) are suffering with anxiety.
Paramedics across the region have slated the North West Ambulance Service for the lack of interest in staff welfare and the prioritisation of hitting targets, with Unison admitting they are 'concerned' about the service not fulfilling their duty of care.
UnisonNorth West Head of Health Amy Barringer said: "Working in emergency services is stressful but the pressure on ambulance staff is reaching dangerously high levels.
"It is unacceptable that the current system doesn't allow for proper breaks between shifts. Workers have told us they often work 14-hour shifts without a decent break."
Adding that higher call out rates and increased wait times outside A&E departments are adding to the problem, Ms Barringer said NHS funding cuts from government are having a huge impact on staff and patient safety.
"This confirms the findings from the NHS staff survey that shows much greater pressure on staff in the ambulance service than any other part of the NHS.
"The pressure on workers is mounting and the apparent lack of support from their employers means they are suffering in silence. Year after year the levels of stress remain unacceptably high and yet neither employers nor the government have done anything to address this."

The North West Ambulance Service have lashed out in response, claiming that the survey's 153 respondents represents only 3% of their 5,100-strong workforce – and includes feedback from admin and non-emergency personnel.
"In the national NHS survey last year, we saw a number of stress related indicators improve and the percentage of staff suffering work related stress was in line with the average," said Lisa Ward, Deputy Director of Organisational Development at the service.
"We also improved in overall job satisfaction and staff recommending NWAS as a place to work. This is a more balanced portrayal of staff views and is based on much higher response rates.
"Traditionally ambulance services in England have always had a higher sickness level than other NHS trusts, particularly with causes of stress due to the nature of the work frontline staff do, and NWAS is no different."
But the North West paramedics surveyed by Unison beg to differ, with one saying 'morale is so low that experienced staff are leaving in large numbers as they are so are sick of the service', and another adding 'I am a former army combat medic with tours of Afghanistan – I was less stressed and treated with more respect by my previous employer'.
The survey's damning results follow just three days after more than 100 senior healthcare professionals from across the country, including Christie doctor Christopher Birt and Central Manchester GP Connie Chen signed an open letter outlining in a personal capacity how they felt the NHS in England has fared under the coalition.
In the letter, the doctors admit: "The NHS is withering away, and if things carry on as they are, then in future people will be denied care they once had under the NHS and have to pay more for health services.
"Given the obvious pressures on the NHS over the last five years, and growing public concern that health services now facing a very uncertain future, we are left with little doubt that the current government's policies have undermined and weakened the NHS."
The professionals say to improve the service, the damaging sections of the 2012 Health and Social Care Act that 'push the NHS towards a market-driven, out-for-tender mentality' must be abolished, while the secretary of state's duty to provide an NHS throughout England needs to be reinstated.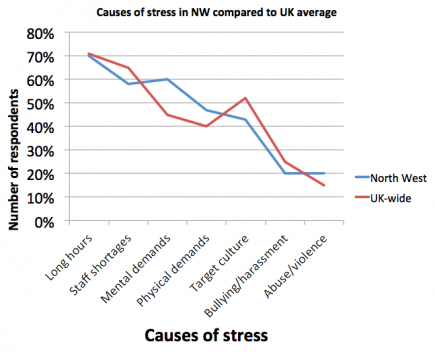 COULD BE WORSE: Statistics show that while the North West falls behind on the mental and physical demands, employees are less stressed about staff shortages, target culture and bullying and harassment than the UK average
Other statistics the survey highlights are the fact more than a third (35%) of workers took time off sick due to work-related stress, with more than a quarter (29%) admitting they came close to doing so.
Yet almost three in five (59%) who took time off sick said they failed to inform NWAS that the reason was due to stress, and only one in ten disclosed they would talk to a manger or supervisor to cope with stress.
Instead, family and friends was the main source of support for almost two thirds (64%) of employees, and over half (55%) said they talked to peers in order to cope.
With two thirds saying they were unaware of any steps NWAS were taking to remove or reduce stress, three in five slating the service for not supporting a good work-life balance and more than a third conceding that they might need to take time off if things don't improve, 81% of respondents confessed they had thought of quitting.
Ms Ward responded to the claims by outlining the service's provisions for protecting health and wellbeing, saying that flexible working, career and meal break policies, counselling services, and regular breaks in accordance with legal guidelines are available to all employees.
Image courtesy of Ingy The Wingy, with thanks