Angry trade union members gathered together for today's strike in Piccadilly Gardens, claiming that 'money is there, just in the wrong places'.
Hundreds packed out Piccadilly Gardens with the likes of petitioning teachers, council staff and librarians all eager to express their growing disappointment with the Government's pay packet.
At 12:30pm, armed with placards, the strike began with empowering speeches from disgruntled public sector workers who were cheered on by a crowd.
The national day of industrial action, which union leaders claim could be the biggest walk out since the 1926 General Strike, saw more than 100,000 public sector workers on strike nationwide.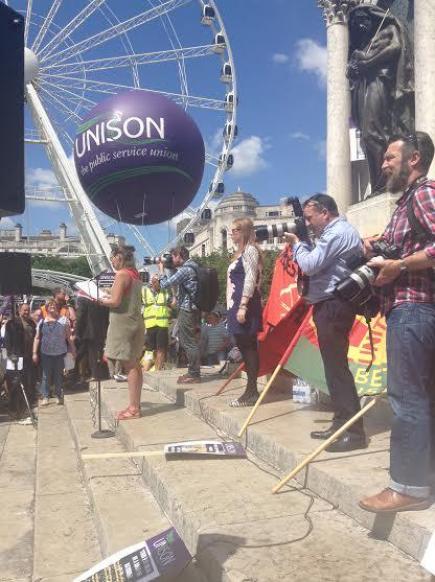 ADDRESS FOR ACTION: Leaders addressed the amassed crowds
Schools staff, ranging from dinner ladies to teachers, as well as civil servants and fire fighters are among the groups walking out in the dispute.
The Government has been on a collision course with unions like Unison, Unite, GMB and the Fire Brigades Union will join the National Union of Teachers for months and will strike after a ballot.
Making a stand against austerity at Piccadilly Gardens rally this arvo. #BeKind #revolution @KWUrsula @rustyrockets pic.twitter.com/4HWb7NGDZL

— Fleur Louise Walton (@Fleur09) July 10, 2014
Speaking on behalf of @unitetheunion at Manchester Piccadilly Gardens today #J10 pic.twitter.com/j02o2hODwW

— LAWRENCE CHAPPLEGILL (@lawrencecg) July 10, 2014
Debbs Foy, a Special Support System Worker from Bury, told MM: "We are protesting for more pay.
"I haven't had a holiday in nine years. I work three jobs: specialist supporter, night cleaner and market worker on Saturday's.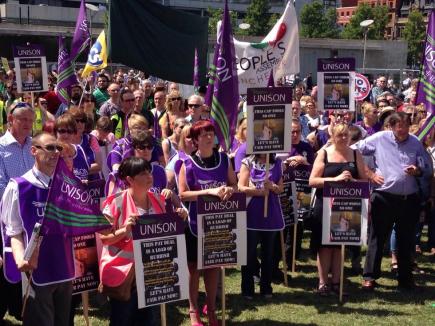 ACTING IN UNISON: Hundreds of trade union members attended the rally
"This isn't even for luxuries – I can't even afford the essentials."
Debbs, like many union members assembled at the rally, believes that the quality of life available within the Government's pay structure does not hit the mark.
"Life shouldn't be like this," the 53-year-old said.
"They're happy to take money from working people, it's a disgrace."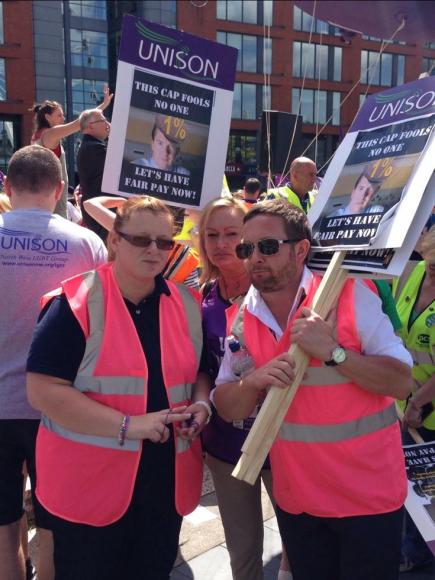 PINK-ET LINE: UNISON members were among those who took industrial action today
This message was echoed by numerous enthusiasts who demonstrated their solidarity by walking alongside union members.
Hulme resident Angela Smith insists she would like to see the divide between the haves and have-nots narrow and said:  "I am here in support of the teachers.
"I would like to see less pay cuts for the poor and greater taxation on the rich.
"The teachers work very hard, and they are not respected."
It wasn't just those in public sector roles who were showing their support at today's strike.
Unemployed 63-year-old John Pearson said: "I was sacked from my work because of my dealings with the trade union under a punitive regime.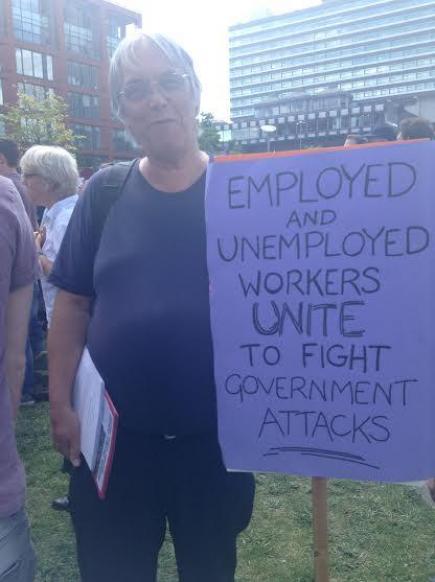 BROTHERHOOD: Unemployed John Pearson joined workers in the strike
"It's ridiculous that we are now being forced to do 'voluntary work' and if we refuse they cut our job seekers allowance.
"Working class people are paying for the economic crisis."
Kevin Northrop, from West Didsbury, who works for Manchester City council teaching disabled people how to use public transport, believes that the 1% pay rise on offer is derisory.
The 55-year-old said: "We just want a fair deal for the lower paid people, the 1% isn't enough."