A sea of fireworks flooded the sky as Manchester's Christmas Lights lit the streets in a momentous finale to a festive evening.
The spectacle was a welcome lift after a rather mixed bag of warm-up acts that entertained thousands packed into Albert Square.
Key 103's Mike and Chelsea were hosts and brought plenty of enthusiasm to proceedings despite struggling to create any real spark on stage.
Once they were off the stage, things truly lightened up as an extremely talented Stretford dance troupe, Superkidz, performed a body popping, ground-shifting routine that was genuinely a thrilling piece of choreography.
Superkidz definitely got the whole crowd bopping.
But when focus turned to the younger members of the audience and CBBC presenter Katie Thistleton and puppets, Hacker and Dodge sang Andy William's Christmas classic, It's The Most Wonderful Time Of The Year, even the six-year-olds were looking bemused.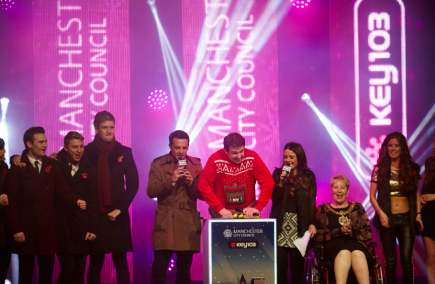 TURNING ON MANCHESTER: The whole gang gathered to flick the swith of the Christmas lights
Nobody could deny that Key 103 competition winners The Piccadillys had style, but when the big screens clearly point out that your miming, it's a little tricky to get too invested in the performance.
Harry Potter star, Warwick Davis, took to the stage as a walking advertisement for the upcoming Snow White & The Seven Dwarves pantomime.
And the big friendly ogre, Shrek, popped in to sing The Monkee's I'm A Believer, albeit not with red-haired Fiona, but with Tinkerbell in a welcome sing-along.
Old X-Factor favourite, Shane Ward showed up to announce his glorious return to the musical scene with an odd song choice of Daft Punk's Get Lucky before rewinding the clocks back to 2005 with his Christmas single, That's My Goal – Ward's performance was not as retro as it was feared.
Eventually, Stockport's heroic comedian, Jason Manford, turned up with his entry for best Christmas jumper of the year, which thanks to a phone app had a flickering, crackling fire on the front.
Manford's upbeat charm and attempts to play on the football rivalries finally got the laughs going, even when he suggested a 3-minute crowd fight to get rid of any tension between United, City, Liverpool and one very loud Bolton Wanderers supporter.
All the acts joined the comedian on stage and at long, last the fireworks could begin.
The town hall illuminated with every colour of the rainbow as flashes filled the Manchester sky with Ellie Goulding's Burn kicking off the performance of beautiful whips of smoke and flares.
Coldplay's Fix You followed and the display reached an emotional crescendo, as the sky seemed awake with electricity just above the giant Santa.
It was a momentous finale to an uneven night and thanks in large part to the fireworks it was one to truly remember. Now anticipation builds for the Christmas markets next weekend.
Images courtesy of Mark Waugh (www.markwaugh.net) with thanks.