Remembrance Sunday is often the toughest time of the year for serving and ex-service personnel.
However, since The Royal British Legion was founded in 1921, the charity has remained an ever-present provider of emotional, practical and financial support to Armed Forces members through its yearly Poppy Appeal.
Without the generosity of the British public and the support of the Legion, ex-servicemen like Mike Rutter, who served in the forces for five years, would not be here today.
Just a week ago Manchester's passing public left a "lump" in Mike's throat by donating a staggering £33,000. In the city centre alone.
Today Mike is preparing to lay a wreath at Ashton cenotaph, his first service since quitting the army which left him on the brink of suicide.
"I came out the armed forces with severe post-traumatic stress disorder and I ended up going really low to the point that I actually tried to take my own life," Mike told MM.
"When I came back from Afghanistan we did not get enough support. We got support from the public in the sense that they were out to applaud us on our homecoming parades, but in terms of actual assistance with mental health and welfare support it was pretty laughable.
"The Legion provided me with emotional support. They took some of that pressure off me just by being there.
"They did simple things like calling me on a daily basis to try and perk me up and see how I was getting on. I no longer felt alone."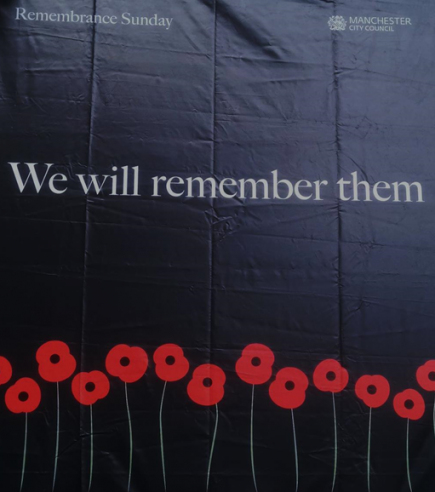 STAGGERING GENEROSITY: Ex-serviceman Mike Rutter witnessed the Manchester public donating £33,000 to the Poppy Appeal last Friday in the city centre
After receiving assistance from the Legion, Mike, who served in the Royal Artillery, has gone on to work as an advice and information officer as well as part of the welfare team in Greater Manchester and Lancashire for the charity.
Over the last couple of weeks, Mike, 28, has volunteered selling poppies on the streets of Manchester city centre and he has been astonished by the generosity of the passing public.
"I have found the generosity of the public overwhelming to the point that it brings a lump to your throat. I think it's absolutely phenomenal."
Last year the Poppy Appeal raised £46.9million, which all went directly towards supporting the welfare of ex-service personnel in need.
'PROUD AGAIN'
In his job role, Mike is able to pass on his personal experiences to fellow veterans of conflicts including Bosnia, Northern Ireland, Iraq and Afghanistan who are seeking guidance.
"If I didn't get the help when I did, I would not be here now," Mike said.
"I am quite unique because I have been a beneficiary before and now effectively I am sat on the other side of the fence.
"Because I know their feelings and where they are coming from, I treat people not only how I wanted to be treated, but most importantly how I was treated."
Remembrance Sunday has often been the toughest time of the year for Mike, but this year he has decided to attend a memorial service at Ashton cenotaph, where he will be the youngest ex-forces member to lay a wreath.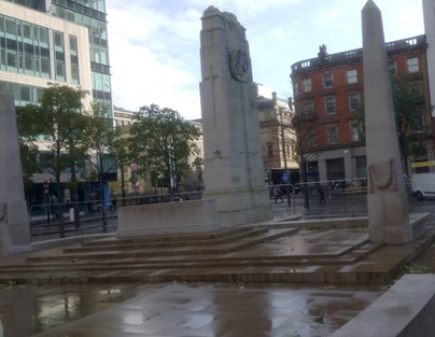 CONFIDENCE BACK: Mike says he has his confidence and independence back as a result of the time The Royal British Legion invested in him
"I have been out the army for just over five years now and this is my first year that I am actually attending a remembrance day with my medals on," Mike said.
"In the past I have not felt well-rounded enough to attend. I tended to lock myself away over remembrance weekend and avoid conversations.
"My confidence and my independence has come back and I actually feel proud again to wear my medals and my beret."
The first Poppy Appeal was held in 1921, the founding year of The Royal British Legion. Red silk poppies were fashioned and sold to help WW1 veterans find employment and housing after the war.
The year after, the Poppy Factory was set up, employing disabled ex-Servicemen to create the poppies to sell during the appeal. Today, the factory still produces millions of poppies each year.
The poppy was adopted as a symbol of remembrance from the 1915 poem 'In Flanders Fields', written by Canadian doctor Lieutenant Colonel John McCrae.
Here are some fun facts about the #FestivalOfRemembrance – don't forget to tune in to @BBCRadioTwo at 8pm or @BBCOne at 9pm tomorrow and follow us for updates pic.twitter.com/UhiouIuLnr

— Royal British Legion (@PoppyLegion) November 10, 2017