A Twitter fan page dubbing the wife of a Rochdale MP 'the sexiest woman in politics' was set up last night.
Councillor Karen Danczuk, wife of Simon, has gained a reputation for posting provocative selfies which often include her cleavage on the social media site.
The page featured a close-up of Karen's cleavage and declared itself to be 'The official fan club for the sexiest woman in politics'.
The councillor's social media posts have attracted national media coverage but was verbally attacked on ITV chat show Loose Women last month by outspoken journalist Janet Street-Porter – who claimed she should be setting a better example to young women. 
Speaking about his wife last week, Labour MP Simon Danczuk told MM: "If she wants to take selfies and behave the way that a lot of 31-year-olds behave, why shouldn't she? Just because she's a councillor?
"You need a real mix of people in politics, and if we're all sort of monotone, suited older men, I think that sets politics back as opposed to advancing politics.
"The media will report what they want to report, it's up to them. She is her own person, what Karen does is up to her."
However the page only managed to rack up 13 followers in its short life-span before it was taken down.
This wasn't before Mr Danczuk himself spotted the fan page and considered joining it.
He said: "Here's a question, someone's kindly set up a Twitter fan club supporting my lovely wife – should I follow @KarenDFanClub?"
As requested as best I could -photo of my flexibility following training. Feeling very mentally&physically strong! KD pic.twitter.com/wvCHOzooJN

— Cllr Karen Danczuk (@KarenDanczuk) December 8, 2014
It sparked a mixed reaction from his followers, who suggested it could be a political own-goal as well as some followers thanking him for raising awareness of the page.
Adrian Littlejohn, a dad from West Yorkshire, thought it best to focus on the politics and not on 'selfies'.
He said: "[I] agree with your politics, applaud efforts for abused [children]. But if you keep wife's chest out of it, probably good for the real issues."
User @wellAdriansays offered his advice: "[I] don't think so. [You're] already running risk of sniping and ridicule from hostile media."
Lee Ewan said: "Depends. Does she follow @Sexy_Simon_D_MP? I might've made that up."
Ms Chief said: "Hmmmm tricky one. You have to ask yourself, how comfortable is the sofa to sleep on?"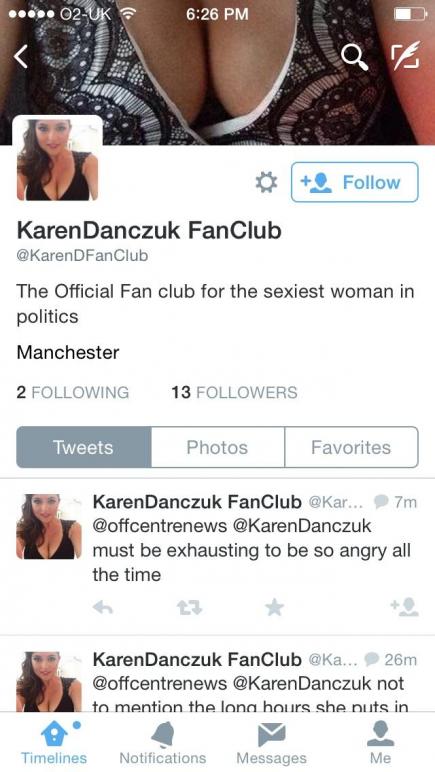 Morning! Took this when I got in from @nutsfood after 12am whilst drinking a nice cup of tea! @T8crl food was fab! KD pic.twitter.com/bny3DfmgLe

— Cllr Karen Danczuk (@KarenDanczuk) December 7, 2014
Awwww someone just favourited this photo. I think I look really different now. What a difference a few month make! KD pic.twitter.com/is9w4qcC56

— Cllr Karen Danczuk (@KarenDanczuk) December 5, 2014
@NicolletteNorth I'm wearing this dress for sure!! KD pic.twitter.com/ar8gnMuzaM

— Cllr Karen Danczuk (@KarenDanczuk) November 28, 2014