Greater Manchester Police seized 21 e-scooters in less than three months in the run-up to Christmas as they cracked down on their illegal public use – but problems persisted in the Middleton area.
The motorised vehicles are widely available for sale and were a popular Christmas gift, but it remains illegal to use them in public.
It is only legal to ride them on private land, with the owner's permission, and if they are used in other places they may be seized by the police.
One problem is some vendors have not made it clear to customers that public use is not allowed.
Inspector Steve Bryant of GMP's Safer Transport Team said: "We are aware that not all sellers make the regulations clear at the point of sale.
"Therefore we will continue to raise awareness so that hard working people do not waste their money on something they cannot currently use."
However, GMP's intervention appears to have been only partially successful.
Six days after the public appeal by police, the force's Middleton branch published a Facebook post which again cautioned against their use after they received several anti-social behaviour reports, involving scooters, from the Middleton Gardens area.
"Ideally we don't want to be doing this and ask that if your child has one then they are made aware that currently the law provides no provision for use on the road, pavement or other public place," the post read.
A trial for the legal use of e-scooters is currently under way in Salford, led by Transport for Greater Manchester and the University of Salford.
Under the scheme, launched in September 2020, people may use publicly available e-scooters provided by the company Lime.
However, only Lime scooters can be used, and only within the designated trial area in Salford.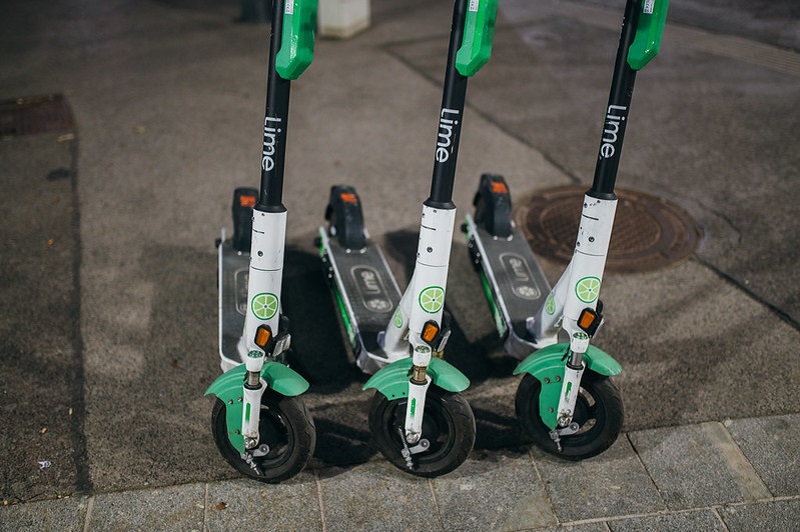 What's more, the current national lockdown – in place since January 5 – instructs everyone to stay at home except for essential trips.
As yet 2021 does not look like the year in which e-scooters take over the streets.
Main Image by aixklusiv from Pixabay
Lime Scooters photo by Ivan Radic Attribution 2.0 Generic (CC BY 2.0)