The search is on for the region's most eligible bachelor to be crowned the very first Mr Manchester.
Beauty pageant organisers are on the look-out for single, handsome men, under the age of 27, to compete at a star studded bash on May 7 at the Palace Hotel.
The event, which will be held alongside the esteemed Miss Manchester contest, promises vintage Hollywood 'glitz and glam' along with a host of celebrity judges, live entertainment and of course, a swimwear section.  
But before you get too excited, organiser Angela de Fouw, says there will be no Speedos in sight. 
She told MM: "There will be a casual or daywear section, and the guys still have to strut their stuff down the catwalk and look confident. Then we will have an evening wear section where the guys will get to put on their best suit, and then a sportswear/swimwear section, but no Speedos!  
"So many giddy ladies have rung up wanting to book tables and I've said 'now girls, it's not a hen party'. But we will have fun. 
"We're looking for good looking guys with personality and charm, a good sense of humour, someone who loves Manchester and would represent our city really well. 
"You walk around Manchester and you're bumping into good looking guys all the time, so I know we're definitely not short of talent here. I'm excited to see the response we get."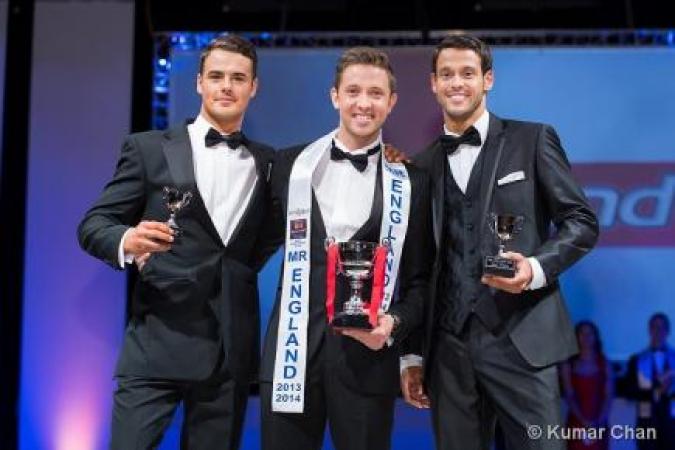 WINNING SMILES: Mr England champ Jordan Williams, with runners up Nathan Briggs (right) and David Stoker (left), (image courtesy of Kumar Chan, via Miss Manchester, with thanks)
Along with the traditional swimwear category, contestants will also have the chance to showcase a special talent and share their personal achievements.  
Angela said: "Depending on what talents they have, we may have someone doing judo kicks down the runway or singing or dancing – who knows!
"There is so much talent here in Manchester and we're looking for people from all walks of life, whether they work in Selfridges, or they are an accountant or a student studying in the city."
The winner will go on to represent the city at the Mr England finals, and Angela is confident Manchester has got what it takes to go all the way.
She said: "I absolutely think we can find a Mr England here. There are so many handsome guys with brilliant personal achievements. One of my Miss Manchester finalists from last year has just qualified as a doctor, so we're combining beauty and brains.
"In any title if you win something and you become an ambassador for a city or a company, you have to be confident. You have to have personality, be sociable and get on with people, and be proud of your city. I'm confident we can find somebody who will do just that."
The power to crown Mr Manchester lies in the hands of a celebrity judging panel, which will include current Miss England Carina Tyrrell, X Factor winner Shayne Ward and Celebrity Big Brother finalist Calum Best.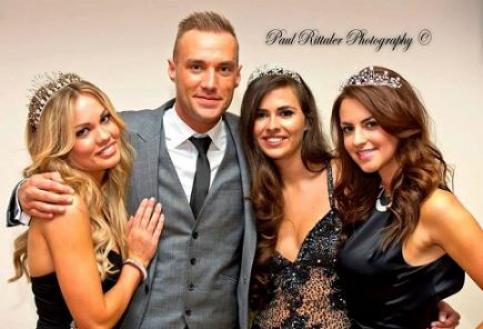 MODEL BEHAVIOUR: Big Brother finalist Calum Best with Miss Manchester contestants, (image courtesy of Paul Rittaler Photography, via Miss Manchester, with thanks)
Boxing legends Frank Bruno and Ricky Hatton have also been judges in the past, as well as Corrie favourite Kym Marsh and world renowned shoe designer Jimmy Choo.
Now in its eleventh year, the prestigious 2015 beauty pageant promises to be 'the hottest ticket in town', and 'includes a set meal, live entertainment and an auction for global charity, Beauty with a Purpose, which helps disadvantaged children all over the world.
Angela added: "If you want a fantastic night out full of glitz and glamour, come along and support Manchester's finest young men and women, and join in some vintage Hollywood fun."
You can enter Mr Manchester here
Main image courtesy of Kumar Chan Photography (via Miss Manchester), with thanks