A Northern Jewish Labour Councillor speaks about anti-Semitism in his party.
A towering figure with a large beard, Oskar Avery might not look like a typical councillor from Newcastle, especially in the casual sandals and cargo shorts he regularly sports.
His eyes and smile are kind, and his demeanor gentle. 
As he's out walking his dog, a German Shepherd-Collie cross named Hettie, he's often stopped by the constituents who recognise him from the 14 years he's been a member of the Labour Party. 
He's now one of the three councillors representing the Blakelaw ward, ironically the same constituency where he first stood for local election in 2007 and lost to the Lib Dem candidate by a 17 per cent margin. 
Talking Around The Subject
When I approached Oskar to speak about the recent scandals that have dominated headlines about his party, we spend a long time– maybe one to two hours– not discussing anti-Semitism at all.
Instead, he tells me an almost exhaustively detailed self-history. 
Oskar's family has a long lineage of prominent Labour membership: his great grandfather was a life peer in the House of Lords; his grandfather was a treasurer in the Labour Party; his mother was a Labour branch secretary.
But Oskar himself didn't see himself in Labour until well into adulthood, seeing himself as too rebellious and radical for the pace of mainstream politics as a young man.
But a local MP, a family friend who still lives a few doors down from Oskar today, convinced him to be a 'paper candidate'.
A paper candidate being those who would never be expected to win a seat, but would at least give the impression that the party had the resources and competence to contest every election. 
"That was the first big step forward in being properly involved in the Labour Party," Oskar says.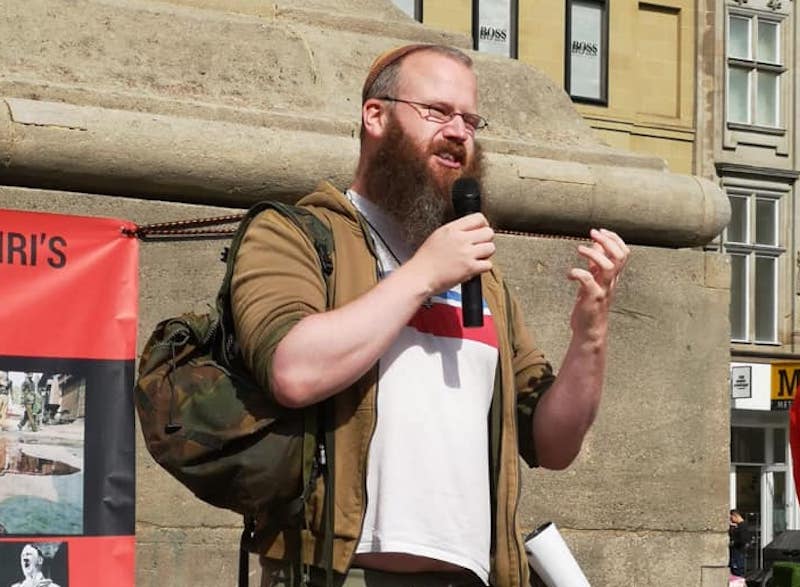 Since then, caveating a few years where his political involvement was interrupted with major personal projects, Oskar became incredibly active– campaigning in general and local elections "thousands" of times.

Hearing about his life was like being able to see how stories printed on newspapers' front pages passed through the eyes of a person on the ground. 
Every once in a while, Oskar would tear away from narrating his political career with asides: how he knew the Remain campaign was going to be a disastrous loss before the results were announced; how he was part of Ken Livingstone's downfall; how he was outraged by how ineptly Corbyn's campaign fought for rail nationalisation.
"But that's perhaps a story for another time," he would say.
It was clear that Oskar led a rich life, one that lets him have a front seat to history.
"That brings us to today when anti-Semitism…(sigh)
It's become a problem in the party."
The Elephant in the Room
Oskar encountered anti-Semitism before 2015, but he never considered it to be a systematic issue. 
"Every once in a while, you would meet people who had weird ideas and who subscribe to general anti-Semitic views of the world," he said. 
He recounted campaigning in Carlisle with a 9/11 conspiracy theorist:
"It inevitably always comes back to something at least vaguely anti-Semitic about some sort of New World Orders, the Rothschilds, stuff about the Jewish control of finance."
These types of red flags became noticeably more problematic when Corbyn came into power. 
It's a bit of a chicken and egg problem.
To him, it is still unclear whether the public allegations of anti-Semitism came first or whether the actual anti-Semitic culture preceded them.
Either way, anti-Semitism became entangled with Corbyn's faction. Those who felt devoted to him felt compelled to dismiss or defend the anti-Semitism that had become so closely tied to the morality and competence of his leadership. 
"If somebody stood up in a party meeting and said something weird about the Rothschild, everyone would have just rolled their eyes before or everyone would just ignore it and pretend it didn't happen.

But now, you get these people speaking up at meetings, saying this is all a Zionist plot against Jeremy and they would be applauded," Oskar says.
The factionalism of anti-Semitism as an issue was like a cancer, he said, which obstructed any pragmatic effort to tackle the problem. 
It provided shelter for the growing number of anti-Semites who knew they would enjoy the umbrella of denialism and the protection it afforded them. 
What started as an extreme fringe minority steadily ballooned. 
It All Boils Over
He says that the work of a councillor tends to attract the non-ideological: "You have to be interested in bins and potholes and local businesses and the red light at the corner that isn't working." 
Yet in the middle of conversation about pavement politics, there were people raising those same red flags of Zionist plots against Labour.
Oskar's attempts to be heard were largely fruitless: "I would sort of say, this thing is really hurtful to me as a Jewish person. It's really upsetting.

Yet someone would pop up and say, 'Well actually, we have the best system in the world, our definition of anti-Semitism is world leading,' and all of these emotionally insensitive things." 
Over the years, such experiences were soul-destroying, Oskar said.
He had felt that Labour was in his family, in his blood.
He had devoted immense amounts of energy and time in campaigning and council work.
Yet he was ground down day by day by the state of his own party.
At this point in the interview, Oskar seemed resigned, tired: "I was thinking that I would just serve my term until 2022. I would give my constituency good representation and then I wouldn't come back."
On Oct 29, the Equality and Human Rights Commission concluded unlawful anti-Semitic acts took place within Labour, and that responses were lacking or, even worse, seemed to accept the culture of prejudice.
Jeremy Corbyn was suspended after he released a public statement that stated the problem was "dramatically overstated for political reasons."