A replacement for the late Heywood and Middleton MP Jim Dobbin will be decided at a by-election in October.
Attempts to decide on a date for the poll had been the source of some controversy, though they have finally agreed upon Thursday October 9.
The UK Independence Party attacked the Labour Party for pushing for an early ballot before the funeral of Mr Dobbin, who died on Sunday, has been held.
Ukip Deputy Leader Paul Nuttall called Labour's assertiveness 'insensitive and shoddy politics'.
Another election in Clacton, Essex, being held on the same day, after Conservative MP Douglas Carswell's defection to Ukip, may potentially split the party's campaigning resources.
The relatively brief timetable means that parties will need to select their candidates soon, with nominations closing next Tuesday September 16th.
The vote is expected to be a hard-fought fight between Labour and Ukip, who came first and second respectively in the Wythenshawe and Sale East by-election in February following the death of Paul Goggins.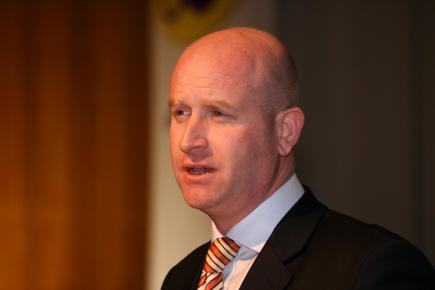 SHODDY POLITICS: Paul Nuttall condemned Labour for holding the election before Jim Dobbin's funeral
Labour are holding their Party Conference in Manchester later this month, and Doncaster will host the Ukip Conference.
Simon Danczuk, Labour MP for the neighboring constituency of Rochdale, said he expected a difficult and bad tempered by-election.
In his column for Rochdale Online Mr Danczuk said: "The main challengers will be UKIP and the noises coming from their camp already suggest they will seek to exploit some of the recent tragedies that have hit our town, notably the grooming scandal and the tragic death of Lee Rigby.
"The wounds of these events are still healing in our community and I hope that UKIP think long and hard before trying to rip them open again in a very opportunistic way purely for party political reasons."
Lee Rigby was a soldier beheaded on the streets of London by an Islamic extremist last year.
Labour also denied the claim that holding the by-election before Mr Dobbin's funeral was in poor taste.
It is said they made their announcement after consulting with his family and would launch their campaign with a tribute to the late MP.
Ukip have already selected their candidate for the seat – John Bickley, a Cheshire businessman who runs a software company called Gememation.
Mr Bickley previously stood for the party in the Wythenshawe and Sale West by-election.
He began his career as a local laboratory technician and worked for the record company EMI in the 1980s representing them in the North West.
He said: "I am honoured to fight in Heywood and Middleton. It is a Labour stronghold where by pure coincidence I actually lived for a while as a small boy.
"I am looking forward to getting out talking to voters and explaining why UKIP is the only party that really represents their interests now."
Mr Bickley intends to launch his election campaign with a 'Day of Action' in Rochdale on Saturday and has called for Ukip supporters across the region to travel to the town to help out.
Labour are expected to select a candidate on Monday following a hustings for local members.
Manchester based lawyer Richard Scorer is one of those reported to be interested in taking the seat for Labour.
Mr Scorer is the head of the Abuse Team at Law Firm Gordon and Slater.
He has previously represented some of the victims of the Rochdale child grooming scandal and clients against the Roman Catholic Church and Max Clifford.
GP Dr Kalish Chand is also looking to make the list of Labour candidates.
Dr Chand serves as a Director of the Greater Manchester NHS and as a Deputy Chair of the British Medical Association.
Several local councillors are also said to be interested in the position.
For example, there were suggestions Karen Danczuk, Rochdale Councillor and wife of MP Simon Danczuk, might seek the nomination, however she debunked these today.
She said: "To clear up any speculation, I haven't gone for the Middleton and Heywood Seat. Good luck to all those who have. We need a hardworking MP."
The Conservatives, who came second in the seat in 2010, also plan to select a candidate on Monday and start campaigning next week. The Liberal Democrats will also contest for the seat.
Mr Dobbin won a majority of just under 6,000 for Labour in 2010.
In the local elections held this May Labour won 40% of the vote in the Constituency, with Ukip second on 24%, the Conservatives on 22%, and the Liberal Democrats receiving 10%.
Main image courtesy of christianorguk, via YouTube, with thanks
Inset image courtesy of Derek Bennett, via Flickr, with thanks