There is a major shortage of teachers across the country as less and less people pursue this career and many of those who do, drop out withtin their first year of work – the North West having the third highest teacher drop-out rate. 
In April 2014, 125,320 teacher training applications were processed by UCAS compared to just 98,000 this year – a 22% drop.
And Manchester based recruitment agency Randstad Education's figures show that just 62% of newly qualified teachers remain in the educational sector a year after qualifying.
A majority of teachers in Manchester are predicted to leave the profession within their first year by 2017.
Managing director Jenny Rollinson believes pressure from universities to improve employability scores means too many newly qualified teachers are taking on the wrong jobs and then dropping out.
She said: "Universities are over-emphasising the importance of securing a permanent job. 
"This has two unfortunate results.  Some graduates don't find a permanent job and feel defeated by the process.
"Others panic and take the first job they find – a job which is often not well-matched to their personality traits and skill-set.
"After a disastrous demotivating year in a role which doesn't suit them, many teachers leave their first job with less-than-glowing references making it even harder to find the right role second time around – also making them more likely to drop out of the profession entirely."
With less people applying for Initial Teacher Training (ITT) courses against the rise in dropout rates regarding newly qualified teachers (NQTs), there's a magnifying glass on recruitment in the education sector.
Randstad predicts that if current trends remain stable, those dropping out within their first year of teaching will outnumber those staying on to pursue the career.
The UK drop-out rate includes those who qualified but were never able to get teaching jobs as well as those who were hired but left their post within two months.
Staggering figures illustrate a steep 18% decline from 2005 when 80% of newly qualified teachers stayed in their educational posts for at least one year.
The teaching recruitment agency believes there is no sign that the rate is set to change with the prediction that just 48% of NQTs will remain in the educational profession 12 months after they qualify.

BLEAK FORECAST: Percentage of newly qualified teachers in Manchester still in teaching after a year
Despite a somewhat bleak forecast, NQTs like Ellie Brown from Manchester still feels optimistic about the future of their careers; acknowledging the true difficulties they may face in their role.
Ellie told MM: "The drop-out rate doesn't surprise me. It's stressful.
"Unless you have a good hold on organisation and make time for nice things you would get snowed under.
"I think they [NQTs] drop out from stress and the pressures of results and Ofsted inspections.
"Some might think that the pressure outweighs what you gain from the kids."
The newly qualified primary school teacher is one of the many millions of young graduates who pursued teaching as a secondary career choice.
While studying psychology at Manchester Metropolitan University, Ellie initially worked towards becoming a child psychologist.
But she chose to turn her passion for child development to education when the objective nature to counselling minors proved to be emotionally challenging.
"I love teaching children and want to inform their future and help make a well rounded next generation," said the former Man Met student.
"My boyfriend makes comments like 'you just stand there and say what's two plus two' and he doesn't get that I always have things to do at night and at the weekends."
Randstad's Jenny explained that the failure to regard supply teaching as a potential career-start also contributed to the high NQT drop-out rate, stating that it was a positive way to kick-start a career in education.
"Instead of looking at other options, like supply teaching, they duck out of the profession altogether," she added.
However, 23-year-old Ellie defended her decision to somewhat disregard the introductory route because of its lack of stability. 
"Supply teaching did cross my mind but only as a last resort. It's harder and you aren't guaranteed work," she said.
Rachel Rivière, who is about to begin an ESOL PGCE in English Literacy told MM that, like Ellie, she too never intended on becoming a teacher, but soon decided that it was a smart move to help her progress as a young professional  in the current economic climate.  
"In my opinion, being an English teacher is a safe career to have at the moment," said the 23-year-old from Bolton.
"English teachers are in demand, the job market isn't exactly saturated in other areas at the moment, and I have the skills to teach the subject.
"It's also a great way to give back to society, despite the fact that teaching can be an extremely stressful job.
"The rewards you get from knowing you helped someone grow and develop their skills for life are surely be worth it?"
When looking at trends regarding newly qualified teachers, there are plenty of other problems that some may face – from government bureaucracy and curriculum changes to the pressure of league tables and problematic pupils.
The former Bangor University student explained that she was very much aware of the difficulties that may come her way as an NQT but emphasised that perseverance was an essential attribute.
Rachel said: "Every student is different, and fitting a lesson plan to everyone's individual needs is challenging.
"You're left completely alone to organise your work loads, lesson plans and to successfully keep control of your classroom.
"Then there's the issue of disruptive students who have no interest in learning, and your job can soon become less about teaching and more focused on bad behaviour and getting the students to pay attention.
"I think that for many it's a massive shock to the system. I guess it's a bit like running a marathon, and once you hit the wall you can either pick yourself up or bow out of the race."
Assuming the number of NQTs undertaking an initial teacher training course remains steady, figures show that come 2017, across the North West, some 2,000 newly qualified teachers will have dropped before completing their first year.
While teacher drop-out rates are higher in areas such as London and the South East, the North West still ranks third highest, while the North East and Wales proving to have the lowest rate of teachers leaving the profession in the first year.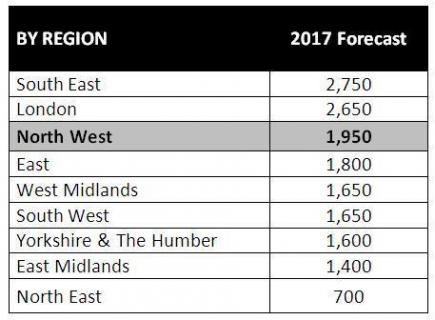 PREDICTIONS: Number of NQTs dropping out within a year by 2017 by region 
Jenny also stated that another potential problem lay with the increase of prospective teachers clenching their first jobs through the School Direct route, leaving those taking the traditional PGCE route with less career choices.
She said: "Our forecasts for the North West are quite conservative. 
"There is a chance that, as more people become teachers via the Schools Direct route – training  within schools that they may be offered jobs in when they graduate – that the people who have taken the PGCE route via a university will be left with fewer jobs to choose from – and the problems they currently face will be exacerbated."
School Direct is a school-led option designed by groups of schools working with a university to offer a year's worth of hands on training in classrooms across the country.
Image courtesy of Juan Carlos Mejia 0, with thanks.