A Special effects student from the University of Bolton put a new twist on the craze that's sweeping the nation – creating a monster in the form of a zombie selfie.
Claire Minehane, 26, from Coventry, was approached the university's marketing department to help promote the uni at an upcoming UCAS Convention that was held this week.
Claire, founder of Minehanefx.co.uk, and some friends attended the two day event this week.
While everyone else was handing out leaflets, Claire and her team were transforming people into the living dead.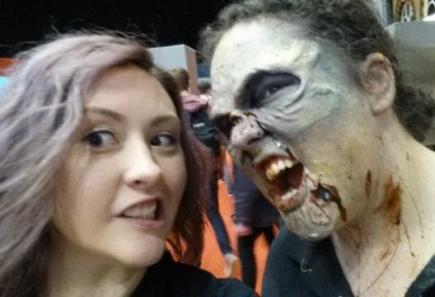 REALSITIC: Claire's work is frighteningly real
Claire, who studies special effects for film and television at the uni, told MM: "We figured it's something that would get a bit of interest because it's live; it's not something you see every day.
"Everyone else was there just handing out brochures and we were there but make-up on and throwing blood around , we got so much interest, it was brilliant."
She added that the marketing department were delighted with the response, especially the zombie selfie reaction the event got on Twitter.
Claire told MM that  her entourage didn't know about the selfies until the day, but were more than happy to join in on the action.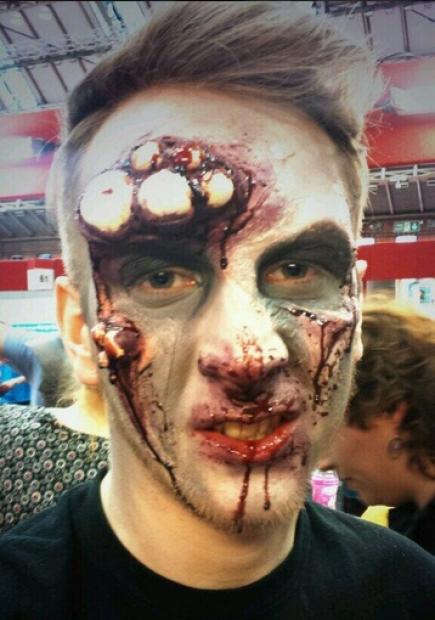 TERRIFYING: This chap needs to see a doctor…
 
"We just turned up thinking we were just going to do make ourselves into zombies, and when we got there was this big poster telling people to #UoBZombies on social media," Claire said.
"They had a prize of an ipad min, and they thought seen as though we're dressed up as zombies if they got us to take selfies with people and have them, post them on social networks then the event might get a good buzz."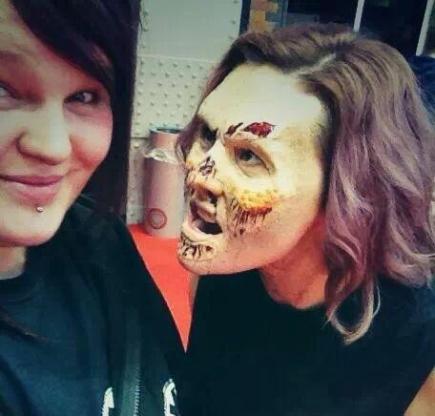 CLAIRE MINEHANE:  Student tries to scare her freind 
 
Claire certainly believes it did the trick. She said: "We got a lot of buzz over it. I think we broke Twitter yesterday with our hashtag.
"We kept trying to search for it and it just kept crashing every time we searched, it was hilarious."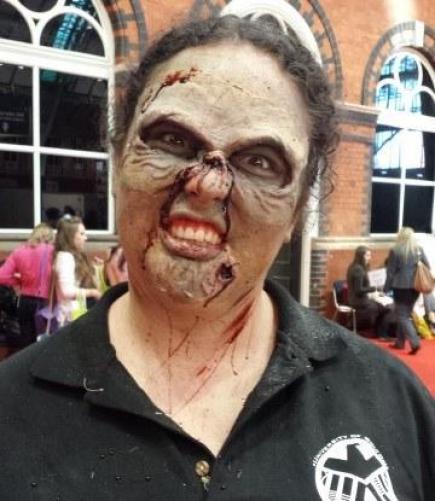 BRAINS: If you see this zombie take our advice and run
 
Some passers-by were so convinced by the terrifying get-ups that they actually thought the zombie apocalypse had actually come to the Bolton Campus.
She said: "We'd see people walk past us and then they'd look and realise that we had zombie make up on and they would be running and screaming, it was hilarious to watch.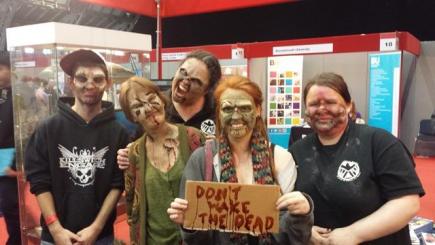 ALL SMILES: The team pose in their frightening make-up
 
"There was one girl on the first day. The girl who I had up to look like a zombie, she just turned and looked at this girl, and she just ran, we didn't see her again.
"We always take that as a compliment though, if people are going to run and be scared then we've obviously done our job well."
The winner of the iPad is set to be announced in the coming days.
As announced by MM on Wednesday, we are inviting readers to send us YOUR selfie snaps and we have already collected a host of pictures from all over Manchester.
For more information on Minehanefx, click here.
Images courtesy of Claire Minehane, via Twitter, with thanks.