Mourners in Wigan are coming together to help raise money for the family and funeral of a 13-year-old rugby prodigy who tragically downed in a quarry. 
Rising rugby star, Miracle Godson, tragically drowned on Friday afternoon after getting into difficulty in deep water in East Quarry, on Appley Bridge.
Family and friends have put together £1,875 to help towards the former St John Fisher High School pupil's funeral costs. 
Wigan St Jude's under 14s coach, Dave Myerscough, described what the fundraising meant to those close to Miracle – a boy he described as an 'outstanding talent'. 
He said: "We're just aiming to get as much money as we can for the family and funeral.
"Obviously we're overwhelmed by all the support we've got and it just goes to show that in times like this the Rugby League community come together and obviously the public as well."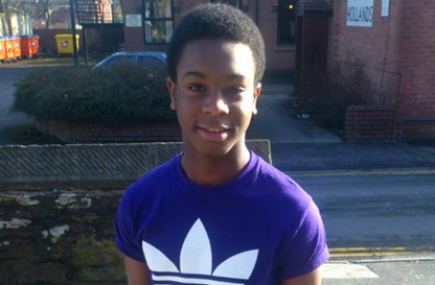 'OUSTANDING TALENT': Miracle's coach said he had the 'potential to go far'
The Marsh Green youngster had only joined St Jude under 14s the previous season but was already on the radars of both Wigan Warriors and St Helens.
Dave said: "Miracle had the potential to go far but obviously that can't be materialised now because of this tragedy that has happened.
"So we're just trying to raise as much money as we can for funeral costs and help out Miracle's family. 
It's believed that the schoolboy was with friends, who desperately tried to save him at the scene but emergency services retrieved his body later that day.   
Within a matter of hours a tribute page was set up on Facebook where his fellow school mates, family and friends paid their respects.
Janine Crompton posted on the page: "So tragic you was loved by many as you can tell with all the comments my heart goes out to your  family every parents worst nightmare a lot of familys affected by the news sleep tight RIP miracle "
Facebook user, Rachel Whalley, added: "Sleep tight beaut we are all going miss you down here but we will be with u soon don't you worry love you ."
The Wigan Club would like to send its deepest sympathies and condolences to the family and friends of Miracle Godson: http://t.co/Gde7sTbITj

— Wigan Warriors (@WiganWarriorsRL) April 11, 2015
Saints have heard the sad news that Miracle Godson has tragically passed away. He attended our recent under 14s… http://t.co/QK31cZ3I1j

— St.Helens R.F.C. (@Saints1890) April 11, 2015
Thousands of mourners took to the pitch at St Jude's for a memorial evening where balloons and lanterns were released in Miracle's memory.
Staff at St Jude's plan to frame the 13-year-old's former rugby shirt as well as brandishing a plaque in tribute.    
Coach Myerscough said: "We had a gathering yesterday where people let balloons off and lit lanterns.
"He used to play number 10 for the team but we've retired his number shirt so no one on our team will wear that shirt again.
"We've put it in a display cabinet and have given it to his mum and dad. We're going to have a plaque as well in the club and a memorial bench for him."
A Change.org petition has also been set up to encourage Wigan Council to fill Appley Bridge Quarry following a series of serious accidents and fatalities. 
Images courtesy of Facebook, with thanks.