Scuba diving members of the Worsley branch of the British Sub-Aqua Club (BSAC) are taking on a daunting 40 dives in 40 days this September to mark the club's 40th anniversary.
Each dive will last 40 minutes, taking place in 40 different nationwide locations.
Worsley club chairman Rick Hague, whose wife Deece is also a keen diver and the club's secretary, says members wanted to mark the milestone on September 27 in a way they know best – by diving. 
Keen to welcome some new members to mark the club's anniversary, Rick said: "We'd love to boost the club membership by attracting 40 new divers to the sport. That would really be another 40 reasons to celebrate!"
The club will begin the challenge in August before hopefully completing their 40th dive in Anglesey a month later, finishing with a seaside barbecue.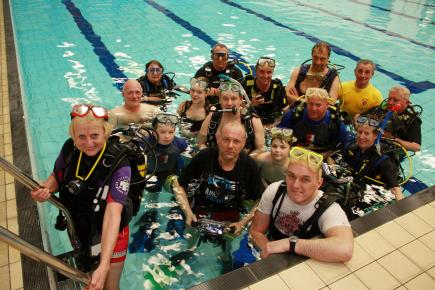 RULE THE WATER: Worsley Sub Aqua Club prepare for the challenge
Rick said: "It promises to be a real challenge, but lots of fun too. We will be diving all around the UK – but never diving on the same wreck or reef twice." 
The advanced BSAC diver also pointed out to would-be divers that scuba diving's reputation as an expensive sport simply is not the case.
He said: "It can be as expensive as you want it to be. 
"Buying your kit is the biggest expense and, while you can buy all sorts of gadgets, you only need the basics and there is always plenty of second-hand gear available.
"What you can't afford to buy, you can usually beg or borrow from other club members." 
The club also has its own 5.8metre rigid inflatable boat which helps to keep the cost of diving down.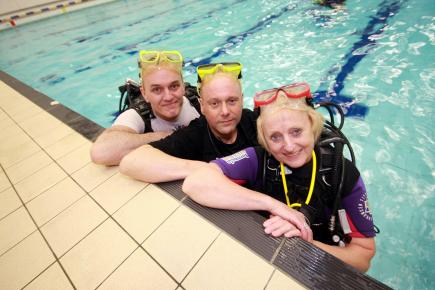 SCUBA STARS: Worsley's Rick Hague and husband-and-wife duo Gary and Lindsey Fell
The BSAC itself reached its own special anniversary last year, celebrating its diamond jubilee.
BSAC Chief Executive Mary Tetley said: "Worsley Sub Aqua Club's dive marathon is a terrific way to mark the club's 40th anniversary and I wish them lots of luck and best wishes with completing their mission.
"I am sure it will be something which will create some brilliant and fun memories for club members."
For scuba diving veterans and married couple of two years, Lindsey and Gary Fell, the number 40 has consistently played an important role in their underwater lives.
This September, the same month as the club was initially set up, Lindsey, 57, is due to celebrate 40 years since she took up diving. 
It was also following a Worsley Sub Aqua Club dive trip to the Azores to celebrate his 40th birthday that led husband Gary, 46, to set up his own dive business on the Portuguese volcanic islands. 
Looking forward to tackling all 40 dives, Lindsey said: "Worsley Sub Aqua Club has a wonderful group of members. We are all really good friends and very welcoming. I even met my husband through the club so I owe it quite a lot!"
Lindsey said one of highlights of taking part in the club's active dive calendar, which sees members diving in foreign waters as well as in the UK, is that there is so much to see.
The clinical coder said: "I enjoy the wildlife, while others want to explore wrecks. We are blessed having some fabulous dive sites all around the UK. 
"Abroad, I absolutely love the (Portuguese archipelago) Azores, in particular diving with manta rays on Princess Alice seamount." 
Husband Gary Fell now spends five-to-six months a year running dove trips in the Azores.
He said: "Worsley Sub Aqua Club changed my life 100%. I used to be a fibre optics manager, so that's proved a massive change of direction really. I absolutely love it!
"I'd recommend, if you haven't dived before, getting in touch with the club and arrange a try-dive in the pool. It's a fantastic sport and a brilliant, friendly club."
The Worsley divers' club night currently takes place on a Wednesday evening at 8:30pm at the local authority-run pool in Irlam. They also share a club house with Monton Bowling Club.
Find out more about Worsley Sub Aqua Club via Facebook or call 07936 017064 or to learn more at the BSAC website.