When you hear the word co-op, do you think of a grocery store? You will be correct in thinking so, but that's not all they are.
Cooperatives are worth £40billion in the UK and there are 7,000 of them spanning many sectors.
But many young people don't know what they are or that they even exist.
Less than 50% of young people could name one, said Rose Marley, CEO of Co-operatives UK, quoting a YouGov poll.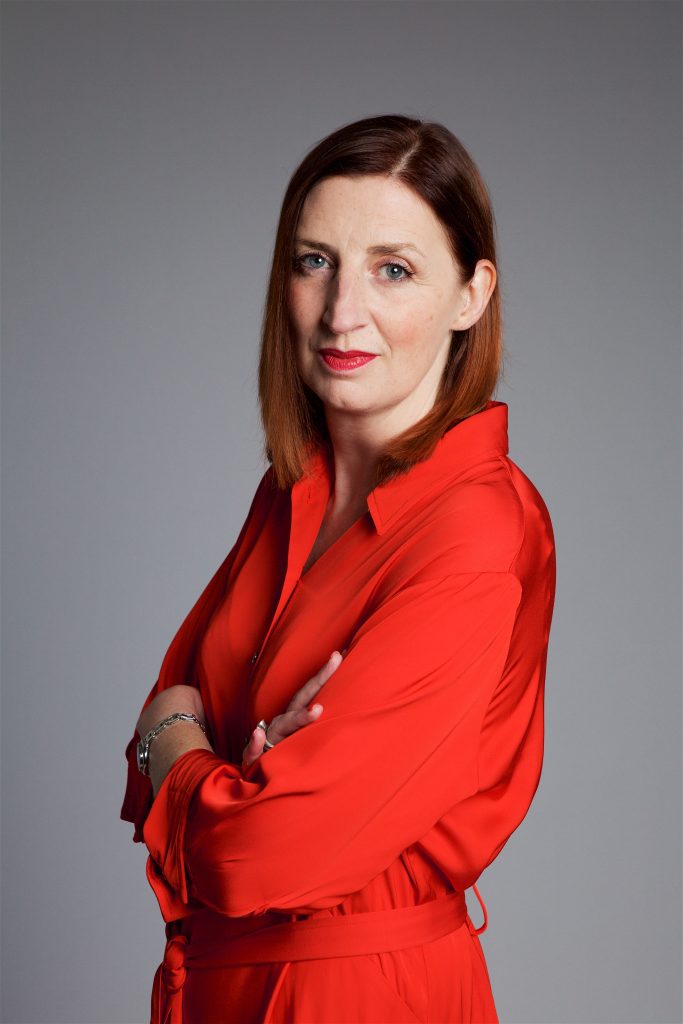 She said there are more people in the 50+ age group who know about co-ops than those in their 20s.  
"They think of co-op as grocery stores," she added.
However, they are a business or organisation owned and controlled by their members and are present in sectors like housing, fashion, banking, sports, politics, and agriculture among others.
The purpose of a co-op is to distribute power, fundamentally.
"People have a say in this business model and the wealth stays in the community," said Marley.
This business model has been adopted by football clubs, such as Greater Manchester's FC United, which is fan-led.
In the tech industry, there's Open Data and – in energy – Cooperative Infrastructure network.
"I want businesses to work together under a cooperative umbrella," said Marley. They have a "democratic energy".
There are some co-ops that are more radical than others, such as Unicorn Grocery, a Chorlton-based store. They are a worker co-op, where everyone is paid the same and treated the same.
"I'm sure it puts off some people from applying but because we make it really clear in our recruitment, we never meet them!" said Debbie Clarke, Co-operative Member of Unicorn Grocery.
"For those that do apply, it's often part of what attracts them. The fact that all the skills and work Unicorn needs to operate are valued the same is quite a beautiful thing, I think, and it's a really central part of our culture."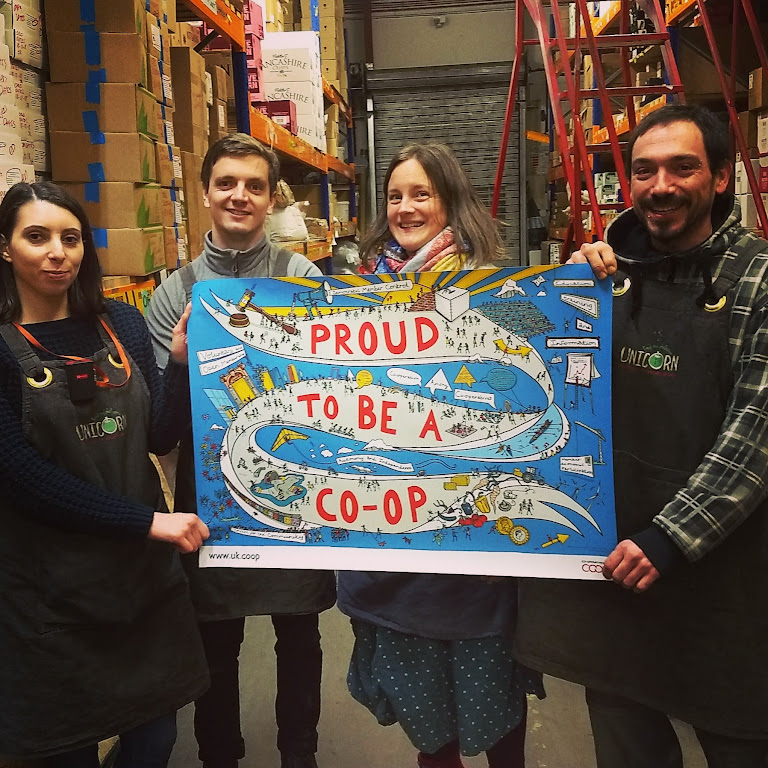 They earned a gross profit of just over £2million last year and spent most of it on wages and gave away some of it to their solidarity funds and other operating expenses.
They aim to make a small amount of net profit to invest back into the business and pay for things like last year's refurbishment.
It is commonly believed that a business would want to scale up, but not Unicorn grocery.
"Past a certain size, we think we'd struggle to retain many of the things we hold dear – easy communication, flat structure, shared vision – so instead of wanting to grow ourselves, we are super keen for people to use what we've learned to go off and replicate it!" said Clarke.
"To this end, we have a free guide called Grow a Grocery. It's basically there for people who want to create a better alternative to the supermarket in their community.
"A place where a really wide range of wholesome, tasty food, sourced with care, is sold at affordable prices. A shop owned and run by motivated worker-owners following a shared social and environmental agenda. A friendly, diverse, and welcoming space that acts as a hub in the community."
Co-ops foster local accountability, says Byrony, a member of Manchester-based Stitched-Up.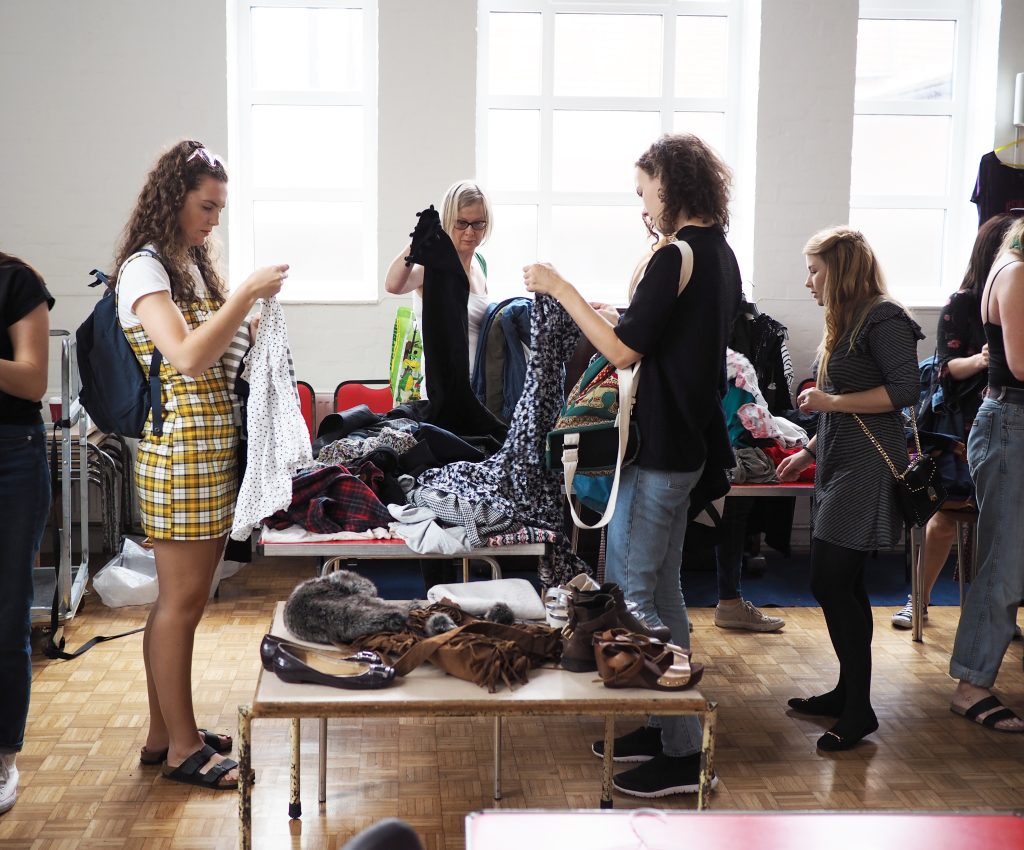 They began as a co-op and transformed into a community benefit society eventually. It was started by six young women who were fashion or art students.
They shared concerns about how the fashion industry was affecting the environment and degrading workers' rights.
"We felt powerless in terms of what we can do in this country but wanted to do something positive, practical, and fun," said Byrony.
They run upcycling, sewing, and other workshops, which are the source of 50% of their income.
"We have members but we exist to benefit the community as a whole. There are no extra benefits for members. We reinvest profit into the community," she said.
Byrony added that fast fashion is a deeply unsustainable business model and there is only so long we can carry on like this, extracting natural resources, making clothes, and dumping them.
"We are going to run out of resources," she said. "That model centres around the idea of a CEO at the top who is taking huge amounts of money, while workers and farmers are making poverty wages, if that.
"Coops offer common sense alternative to a hierarchical structure."
Fast-fashion companies swamp local waste management systems, but co-ops create local accountability, she said.
Coop CEO Marley said this business model is about taking control and that aids mental health as well. It encourages a culture of care for workers and employees.
Unicorn's Clarke said: "Co-ops are a way of bringing your values to work; really embedding things like democracy and social justice into your working life.
"And they're a way of really, fully bringing yourself to work as well. They're places where your voice is not only heard and valued but it's vital. Your contribution is valued, and you're genuinely empowered to have an unusual level of control over your working life."