More than 250 firefighters from across the UK have signed an open letter to voters ahead of May's general election to draw attention to the challenges and extreme pressure they have faced due to the coalition government's cuts to the public sector.
The letter, penned by a serviceman who goes under the pseudonym The Utopian Firefighter, claims that the coalition's austerity cuts form part of their 'profit before people' economic plan.
Since the coalition came into force back in 2010, more than 5,000 full-time firefighters, 1 in 7 control room jobs and 145 fire appliances have all been slashed under the government imposed Comprehensive Spending Review.
Garry Keary, Fire Brigade Union secretary, explained how further austerity cuts to the public sector would have a 'catastrophic' effect on the service.
"We've fought at every opportunity to defend firefighter posts and appliances but unfortunately it's been a very difficult time," he told MM.
"Moving forward if a Conservative government wins at the next general election, it's going to be absolutely catastrophic for the fire service.
"If the service is privatised, the professional service that the public currently get will be a thing of the past."
In the letter – that has been signed by 259 firemen and women – The Utopian FireFighter says that the increase in response time sue to the lack of resources is an example of politicians' lax attitudes towards the public's welfare.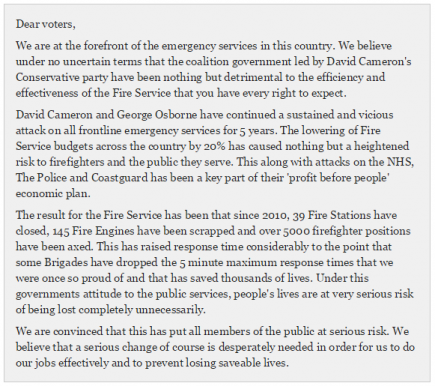 He wrote on his blog: "The result for the Fire Service has been that since 2010, 39 Fire Stations have closed, 145 Fire Engines have been scrapped and over 5,000 fire fighter positions have been axed.
"This has raised response time considerably to the point that some Brigades have dropped the 5 minute maximum response times that we were once so proud of and that has saved thousands of lives.
"Under this government's attitude to the public services, people's lives are at very serious risk of being lost completely unnecessarily."
"We are convinced that this has put all members of the public at serious risk. We believe that a serious change of course is desperately needed in order for us to do our jobs effectively and to prevent losing save-able lives."
The impact of government cuts on the fire service have not just been seen in other parts of the country, but locally too.
A petition was launched earlier this month by angered residents aiming to re-open Mossley fire station as a full-time operating service after a man involved in a fire died despite living just two minutes away from the station.
It took firefighters from Stalybridge and Oldham nine minutes to arrive at the address due to Mossley's part time operating times.
Mr Keary explained exactly what impact these budget cuts have had on response rates in the region.
He said: "The service in Greater Manchester has received massive cuts since the coalition came into power. We've seen the reduction of up to 5,000 posts that has been accelerated over the last five years.
"We've been lucky to not see any station closes in the region but I know that is something that has affected neighbouring brigades such as Merseyside.
"However, we have seen a significant loss of fire appliances and I think that was highlighted in the fail fire in Mossley where the fire engines are not available at night.
"People who pay council tax in Manchester are paying for fire engines to turn up if and when they need one. They're less bothered about headquarter departments doing this and that to make the brigade look good."
You can read The Utopian Firefighter's open letter here.
Image courtesy of Heather Paul, with thanks.