If you think you've got it tough right now spare a thought for communities in Uganda battling locust swarms and foot and mouth disease as well as coronavirus, all threatening their precious food supply.
Previous locusts swarms already destroyed many crops in the Karamoja region in the country's North East, and the second coming will devastate crops that have already been planted in the next few months.
In parts of the region foot and mouth disease (FMD) quarantine was introduced last September. This prohibited the trade and consumption of animal products and the trade on live animals.
Dynamic Agro-Pastoralist Development Organisation (DADO), is a local NGO which supports agro-pastoralist communities in Kaabong district. 
Loupa Pius, a project officer at DADO, said: "COVID-19, locusts, and FMD quarantine, coupled with livestock raids are leaving the region in suspension."
While the government focuses on COVID-19, other areas are being overlooked.
"In rural areas, people are unable to access food and necessary income because they cannot trade. Even pastoralists are asking what is the government going to do if they cannot access water and limited health services."
Pastoralists rely on mobility for the survival of their herd and their lives.
The region has many farmers and pastoralists who rely on trade at markets for income. The lockdown imposed by the government to stop the spread of COVID-19 has further reduced the income and supply of food in the area. 
While the country may have enough food, the lockdown is hindering the distribution of it.
Loupa said: "The food stores in the Karamoja centres are getting lower and lower as trade and flow of food from other parts have reduced.
"The government of Uganda should have understood that some households in Karamoja, especially those that live a pastoral livelihood are more likely to be impacted with COVID-19 and FMD quarantines."
Pastoralists also rely on wild food as part of their diet and if the locusts are not brought under control, they will lose this precious source of food and income from selling what they have gathered.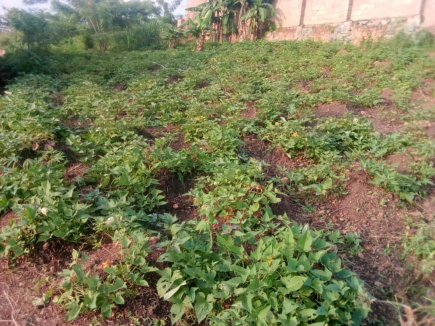 FOOD GLORIOUS FOOD: Sweet potatoes in production (image courtesy of Joy Hart, with thanks)
Some food prices have also gone up in the area: the price of salt increased by six times.
Loupa emphasised that the government should have followed the closure of livestock markets, with an alternative so people can survive during the lockdown.
Malnutrition weakens the immune system making people more susceptible to COVID-19.
Job losses
In towns and cities across Uganda, business, restaurants and hotels shut down leaving many people out of work.
The government is providing food to 1.5m people it identified as the most vulnerable in the Kampala and Wakiso districts, but this hasn't been without controversies.
Four government officials were arrested for inflating relief food prices that were to be given out to vulnerable people.
There is also no financial help for those out of work so food may be available, but many people don't have the money to buy it.
This has forced many workers from the hospitality and service industry to move away from main towns and back to their villages with their families.
Many people have gardens where they have planted food, such as matooke, cassava, and beans to live off.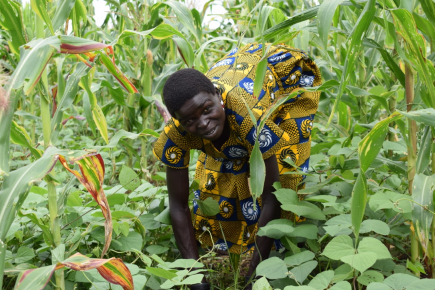 FOOD PANDEMIC: A lady harvesting in Karamoja – Eastern Africa is most likely to be affected by a food shortage (image courtesy of Loupa Pius, with thanks)
People that have a garden are counting themselves lucky as many people are surviving off one a meal day.
Morence Mpora, a resident in Fort Portal, Western Uganda, said: "Food is a challenge. Some prices are higher than before, all businesses are shut down. There is a need for support to some communities." 
The UN's World Food Programme (WFP) has warned that COVID-19 could cause a hunger pandemic, doubling the number of people in acute hunger. Africa and East Africa, in particular, is likely to be affected the most.  
The supply of goods has slowed down as lorry drivers are subject to mandatory testing at the border between Kenya and Uganda causing long tailbacks.
Uganda has one of the youngest populations in the world, but factors such as a weekend immune system, living in close quarters, and a lack of health equipment, could result in countries such as Uganda having a higher death rate than other countries. 
It's not all bad news
You would be forgiven for thinking it's all doom and gloom Africa, as the news generally focus on a negative narrative. However, Uganda is fighting COVID-19 in some very innovative and entertaining ways.
In the capital Kampala, Makerere University – ranked as the fourth-best university in Africa by the Times Higher Education World Rankings in 2016 – is doing some great work in the fight against COVID-19.
The University is currently working on a prototype of a low-cost ventilator which will support people that suffer respiratory problems due to coronavirus.
The prototype is currently undergoing the final stages of testing and if successful will be made in Uganda. Ventilators can cost up to US$50,000 and as you can imagine, are in high demand. A low-cost unit manufactured in the country would be a great development.
Watch as we use music to send the message and further raise awareness on the Corona Virus pandemic. We hope you enjoy the music, pick the message, share widely & spread the word. In solidarity, we shall beat the virus.#Edutainment #UnitedAgainstCOVID19https://t.co/XGd1FmpBHh pic.twitter.com/FGm2I8dllx

— BOBI WINE (@HEBobiwine) March 25, 2020
A team of scientists in the pathology department, who manufacture Ebola test kits, are working on a rapid test kit for COVID-19, which is hoped to be ready soon.
The current test requires a complex machine, but the developing test is low cost and simpler to use, meaning it can be deployed in rural parts of the country.
Uganda is also manufacturing a range of PPE, including surgeons clothing and gloves, and the military has been put to work manufacturing N95 face masks and surgical masks to address the shortage.
Edutainment
Ugandan artists appear to be competing to see who can make the best coronavirus song. Perhaps the best way to get people to wash their hands and quarantine is to put the message in a catchy tune.
Musician turned politician, Bobi Wine, released a song with Nubian Li to raise awareness and highlight the importance of personal hygiene.
In the song, he sings: "Sensitise the masses to sanitise. Keep a social distance and quarantine." He also released the song Alone Together with several other musicians and past and present African leaders.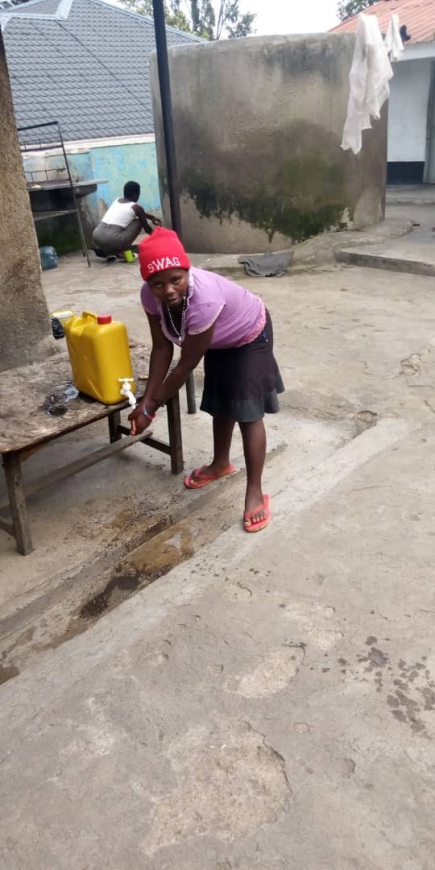 EVERYBODY WASH YOUR HANDS! A lady in Fort Portal, Western Uganda, leading by example
The less well known, but equally uplifting Corona virus by Jehovah Shalom Acapella, sings about the dangers of the disease and ways to protect yourself from being infected. 
Uganda's president, 75-year-old Yoweri Museveni, released a home workout video on Twitter, encouraging people to stay home after outdoor exercise was banned.
Filmed in his office (which is three times the size of many Ugandans homes) he is seen jogging up and down and completing 30 push-ups. 
Yesterday, I discouraged people who have been jogging in groups, exposing themselves to risk amidst the COVID-19 pandemic. You do not have to go outdoors to exercise. Here is my demonstration of how you can exercise indoors and stay safe. pic.twitter.com/Ulbj6vGOYQ

— Yoweri K Museveni (@KagutaMuseveni) April 9, 2020
Uganda, like many African countries, enforced lockdown measures early which seems to have been effective. Uganda confirmed their first case on March 21, but schools were shut and public gatherings suspended the day before, and land and air borders were already planned to close on the following day.
Other measures were gradually brought in over the next 10 days, as public and private transport was banned, non-essential shops closed, and a dawn to dusk quarantine was introduced.
As of mid May Uganda had around 200 confirmed cases and zero deaths.
Uganda, like other countries such as India, will rely on aid and support to combat COVID-19 and hunger. But let's not forget the amazing people in these countries who are working hard and the brilliant things they are doing to fight this pandemic.  
Main image courtesy of Loupa Pius, with thanks.