Angry protesters gathered outside the Manchester Vodafone store on Saturday to protest against what they claim is £6billion-worth of tax dodging.
Dressed in Robin Hood-style fancy dress, the protesters – who were made up of members from action group UK Uncut and the People's Assembly – claimed the mobile phone company have avoided paying any corporation tax since 2011.
Carrying placards, an enormous cardboard mobile phone and even a bed referring to the bedroom tax, the demonstrators marched from Piccadilly Gardens to the store on Market Street – to reveal what they called 'Vodafone's little secret'.
Customers entering and leaving the store were handed leaflets and told about the company's alleged tax avoidance.
Vodafone dismissed the claims of the protesters and called the campaign 'ignorant'.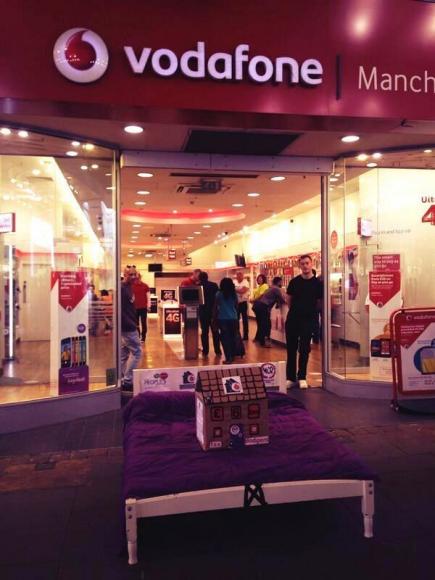 TAXING TIMES: Protesters put spotlight on alleged tax dodging
In a statement to MM, they said: "We have never avoided any UK tax. Instead, we are investing more than £1 billion a year in the UK network relied upon by millions of households and businesses, every penny of our UK profit – £187 million last year – is invested straight back into our UK business, and we're creating hundreds of new UK jobs.
"The protesters are completely wrong and simply don't understand the facts. There is no complex financial engineering here. This campaign is ignorant, deeply unfair and completely undeserved."
The protest was a part of a series of demonstrations around the UK including London, Bristol, Glasgow, Cornwall, Grimsby, Norwich and Peterborough.
The Oxford Street store in London was forced to close for two hours as result of the disturbance.
Penny Hicks from the Manchester People's Assembly said that tax-dodging has a directly adverse effect on society's most vulnerable.
She said: "We're here outside Vodafone because the Government have said that we have a massive deficit and they're asking the people that are vulnerable, the people on benefits the people on bedroom tax to pay for this deficit when there are millions and millions of pounds being wasted through tax dodging."
Stephen Pennells, who was on Market Street supporting UK Uncut, said: "We pay our taxes why don't they pay their taxes?
"I personally want to alert people to the fact that you can stand outside Vodafone until you're blue in the face every Saturday but what we need is the Government to change the system and close down international tax-dodging.
"We need to wake up. We gripe about pot holes in the road, we gripe about hospitals. We're aware of these problems. Why can't the council repair the roads? Why are the hospitals getting closed? Because not enough money is made available because of tax-dodgers."
Vodafone claim that on a global level, their tax rate actually increased last year to 27.3% and that corporation tax is only a small part of the total tax intake in the country telling MM that they paid £275m in other UK direct taxes last year.