As the home of Boohoo and Pretty Little Thing you wouldn't exactly expect Manchester to be the flagbearer for the rise of vintage and sustainable clothing.
But sales numbers for second-hand and ethical fashion have grown exponentially in recent years according to data with local businesses at the forefront of the trend.
Data published on Statista indicated that sales of ethical clothing had risen year on year since 2016, with £57million worth of ethical clothing sold in 2020 having gone up from £53m in 2019 – though these still pale in comparison to the £1.7billion and £425m generated by Boohoo and Pretty Little Thing respectively according to Statista and ecommerceDB data..
Hailea, founder of sustainable luxury womenswear brand Deidei, said: "For Deidei the standards we have are really high.
"In terms of design the ethos is that they're not just sustainable in terms of the fabrics we use but also in the way that we design them for circularity.
"The way clothes are made now is a take, use, and then waste process.
"So circularity is just closing that loop so that when you get to the end of the cycle you can make it into something else."
Vintage clothing has seen a similar uptick in transactions as many customers are becoming more aware of the effects which fashion waste have on the environment.
Second-hand sales reached a high of £189.8m in June 2021, having risen from £77.4m in January 2016.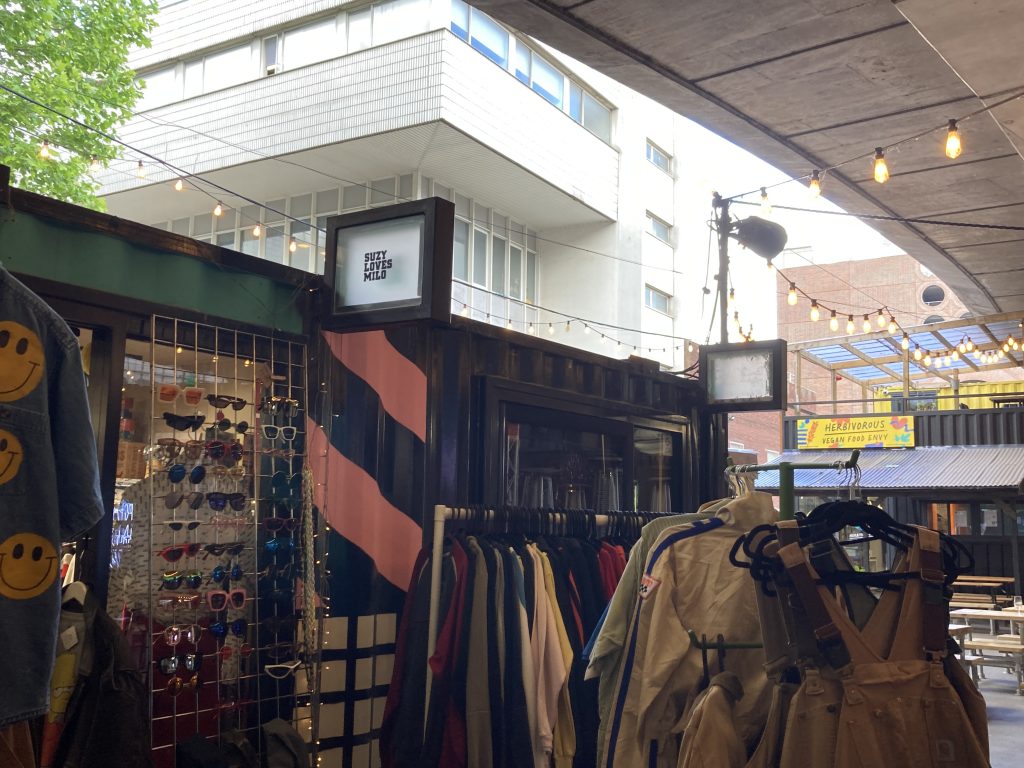 Bob, owner of Hatch-based vintage shop SuzyLovesMilo, said he was approached to set up a physical store at the project after seeing success on Depop and at pop-up fairs across the country.
Charity Clothes Aid estimate that up to 700,000 tonnes of clothing are sent to places such as recycling centres and charity shops each year, with 30% ending up in landfill, and Bob argues that the cost to the environment has turned a lot of customers on to vintage.
He said: "People are more aware these days of fast fashion and it's not good for the environment.
"Even producing a pair of jeans isn't good when there's jeans produced by Levi's 20 or 30 years ago that are still kicking and going strong.
"The quality's not there anymore, the old stuff was made to last."
And much like brands which produce their own clothing, many vintage shops are now curated, meaning that they choose specifically which items to put on the racks rather than buying in bulk.
Bob added: "What we try to do is look at the history of a piece and curate pieces.
"Everything in the shop and everything we do is our collection, rather than me phoning up a wholesaler and saying 'I'll have a thousand sweatshirts' and just sticking them on a rack without looking at them.
"I don't think that's good practice."
Richard of Norther Quarter based vintage shop Bags of Flavor has been curating second-hand clothing since 1992, originally going back and forth between Manchester and New York to bring American clothing to sell in the UK before starting his own business.
He said: "I love the hunt because I've been handpicking since '92 and I go tonnes of rubbish clothes and pick out the nice stuff that I like.
"I shop for a living and I enjoy it. I've done all the work so you can find stuff quite easily because most vintage shops are quite chaotic."
With sales trending upwards over the years it is likely that vintage clothing will continue to rise and appear in more places.
Retailers such as Selfridges, Urban Outfitters and even Asda are now stocking second-hand clothing in stores around the country to capitalise on demand, and Richard believes that vintage will continue to grow.
He said: "I think it'll keep going as new generations get into it.
"I lived through the 80s and 90s and most kids now dress like they're in the 80s or 90s without having seen it."