Vast swathes of protesters have gathered in St Peter's Square, condemning the horrific treatment of refugees inside Libyan detention centres, which includes sexual assault, torture, and murder.
The demonstration which took place on Saturday October 16th saw chants of "Where are our brothers? Where are our sisters?" could be heard from inside the Central Library, and protesters held signs detailing the truth of atrocities committed against refugees in Libya in defiance.
Some protesters held signs specifically supporting Eritrean refugees and many were of Eritrean relation or descent, though their cries encompassed all the refugees being illegally held and persecuted in Libya.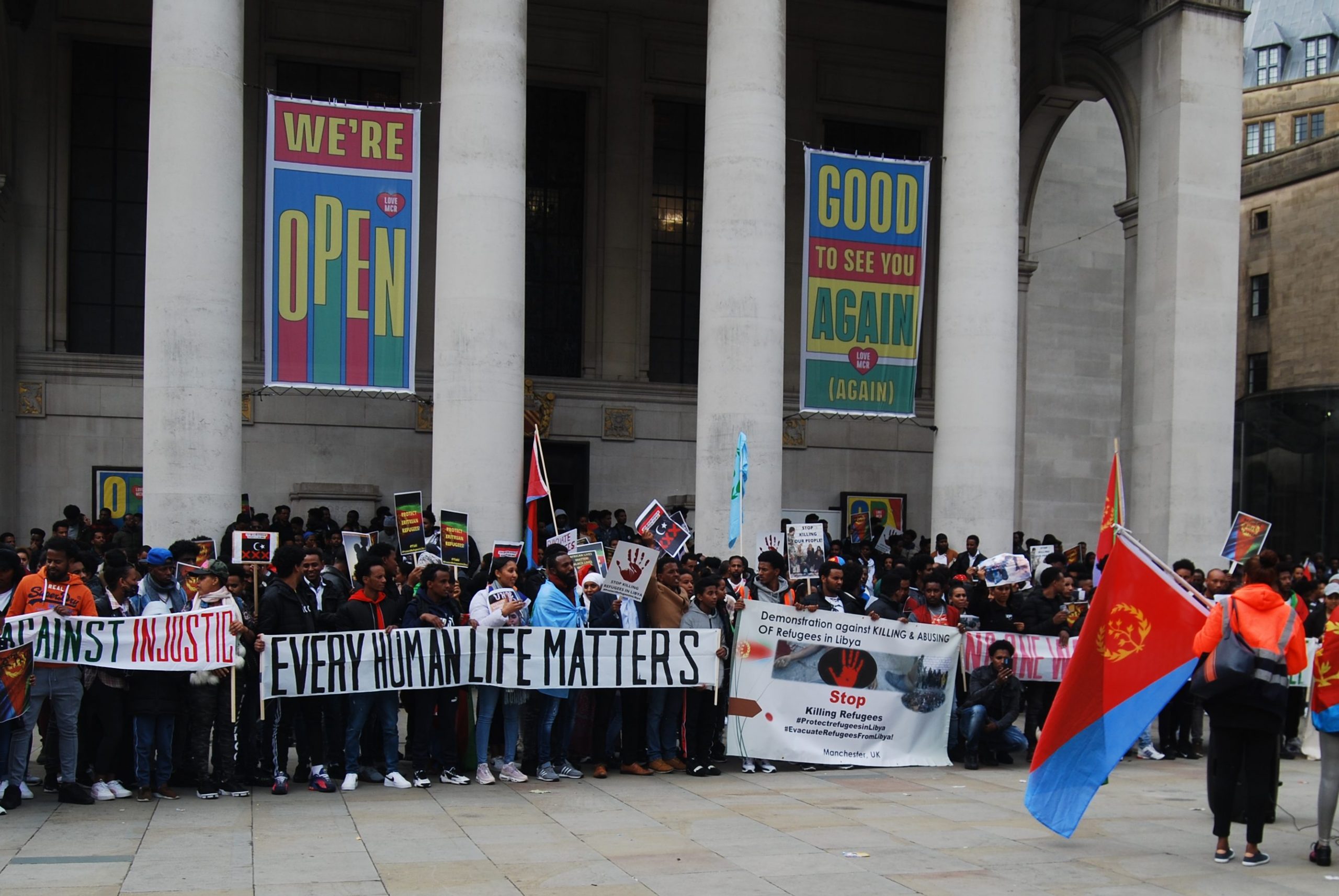 Protester Lwam Tesfmariam, a 20-year old woman originally from Eritrea and now a resident of Manchester said: "To be able to go to different countries like Germany, the UK, people have to go through Libya- when they get there Libyan authorities detain them, sometimes make them slaves. Both women and men get raped."
"Sometimes, they [Libyan detention centres] call up the parents or family in Eritrea and lie saying they are dead, when they are not."
She explains that the issue is rampant, but relatively untalked about. She notes: "That's why we're here today- we're trying to be a voice for those who are voiceless right now."
She hopes that the protest will prompt the UK to take further action and bring awareness to the refugees suffering in Libya.
Eritrea currently has one of the most oppressive regimes in the world imposed on its people.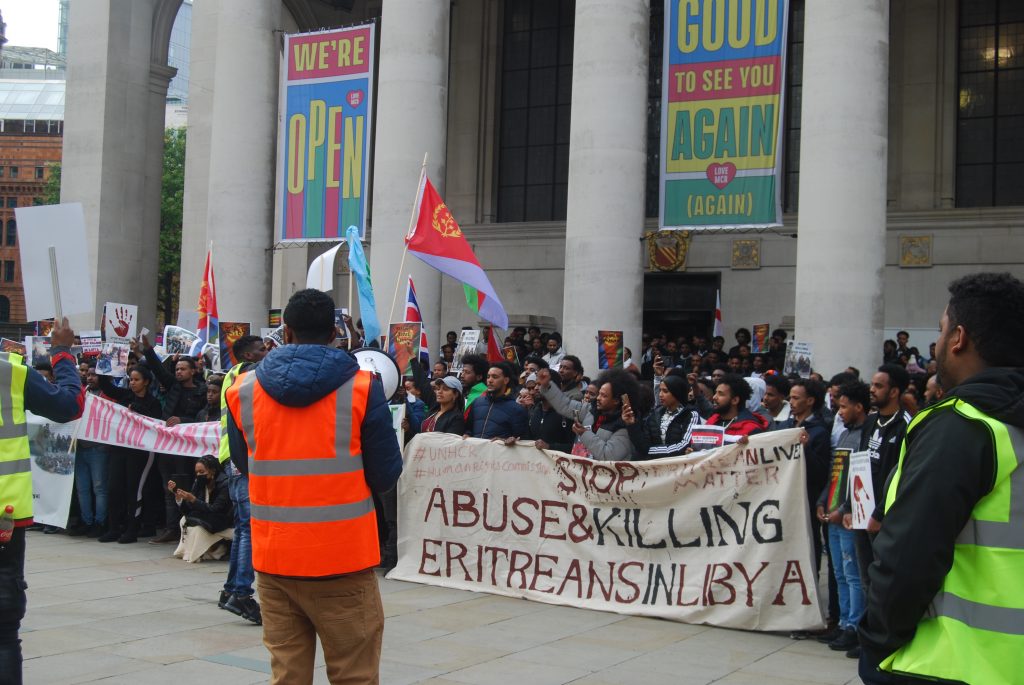 Since 2001 all external-media outlets have been banned, and since 2002 the obligation of 18-40 year olds to do national service was extended to an indefinite time frame, meaning complete restriction of freedom and livelihood for all adults.
Consequently, Eritrea has produced the largest number of refugees per GDP.
In 2015 independent watchdog organization Freedom House listed Eritrea as one of the 12 worst countries globally for political rights and civil liberties.
The Manchester protest comes just days after the UK- based charity Human Rights Concern Eritrea (HRCE) reported that 42,210 refugees, 5,000 of whom are Eritrean, were at risk of being detained by the Libyan government in these horrific camps.
Many people both from Eritrea and other countries in Africa attempt to travel to Europe via Libya and have been doing so for the past decade.
It's proximity to Italian shorelines make it a popular country to springboard into Europe.
Migrant traffickers have long since taken advantage of the general lawlessness in Libya over the past decades to abduct and enslave refugees trying to get to Europe.
Even more chilling now is that atrocities against refugees are being sanctioned by the Libyan government itself.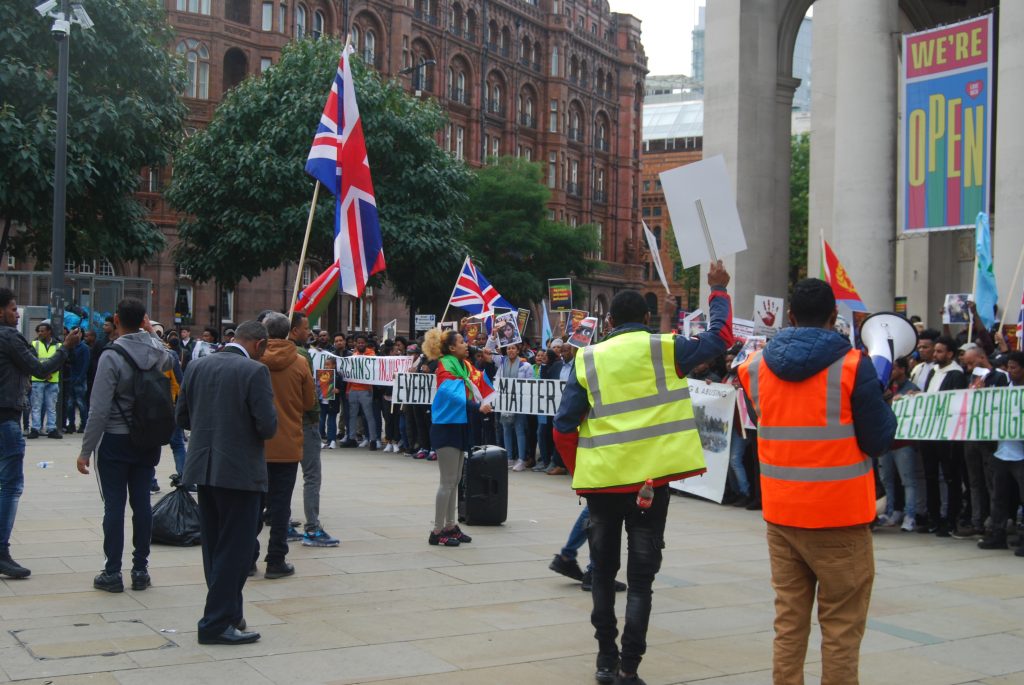 In June 2021, Amnesty released harrowing new findings which detail seven government run detention centres under the Libyan Directorate for Combating Illegal Migration enacting torture, rape, extortion and forced labour on detainees.
Many of these centres were formerly militia run and have been taken over and rebranded by the government, which is theoretically the most unified it's been since the fall of Muammar Gaddafi in 2011.
The number of refugees being captured and detained in these centres is rising.
Between January and June 2021, EU-backed Libyan coastguards intercepted and forced 15,000 refugees back to Libya -more than the entire number of detainees in 2020.