A Manchester bride went for something bowled and something new on her white wedding day, by walking down the aisle – of a BOWLING alley.
Victoria Storey, 33, and fiance Rob Barr, who live in Chorlton, Manchester, spurned a traditional church ceremony and tied the knot in front of a rack of ten-pins.
The newlyweds had decided an old-fashioned white wedding wasn't for them and instead started thinking up alternative ways to get hitched.
Eventually the pair incorporated their love of ten-pin bowling with their big day, getting married last Saturday at All Star Lanes bowling alley in Manchester.
The wedding ceremony was conducted by a registrar on the bowling lane itself, which had been covered in a red carpet with Victoria carrying a red posy in the shape of a bowling ball.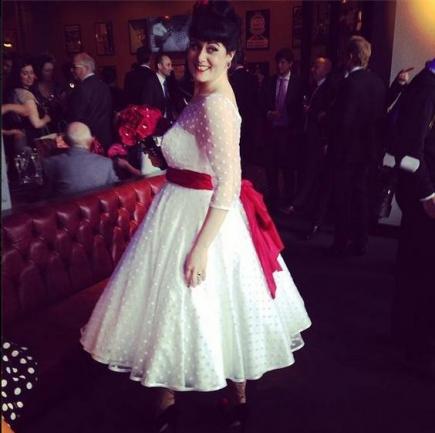 BLUSHING (BOWLING) BRIDE: Victoria Storey on her wedding day (Courtesy of FB)
After the ceremony the newlyweds and their guests tucked into a reception meal of Buffalo chicken wings, pulled pork and macaroni and cheese.
They later took to the bowling alley to compete against each other in an alternative to a traditional wedding disco.
Victoria who works as a footwear designer, said: "When Rob popped the question we knew straightaway that we didn't want a traditional wedding ceremony.
"We are not religious so it didn't feel right for us to get married in a church. We decided to start looking around at alternative venues and as soon as we saw All Star Lanes we fell in love.
"I love pop art and art deco and we just loved the way the venue is decorated. The menu also looked amazing so we asked if we could have the whole ceremony there.
"Getting married on a bowling alley is something different. It is a day people won't forget. I did wear my high heels on the bowling alley during the ceremony but obviously I put on lane shoes for the bowling after the ceremony."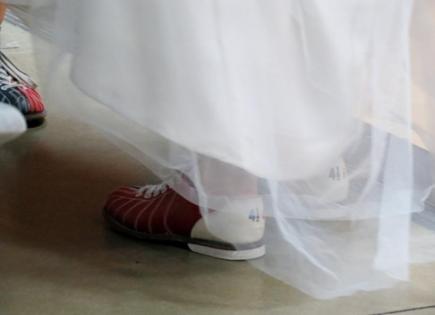 US CRAZE: Weddings in bowling alleys have become popular in the US
The couple met in October 2010 after chatting on an online dating site. They immediately bonded over their individual quirky style and became an item soon after.
Salesman Rob, 41, said: "We met up at a pub in Chorlton after talking online for a couple of weeks and we just clicked straight away. I knew there was going to be a second date as soon as I met Victoria.
The couple were together for three years before Rob got down on one knee last summer.
He said: "In August last year we took our camper van down to Newquay for ten days and I popped the question in Padstow at the end of the trip.
"We started planning the wedding pretty much straightaway. We wanted something that suited us.
"We have both been to a lot of traditional weddings which we have enjoyed, but we felt that for our big day we wanted something a bit different.
"Bowling is something that everybody enjoys and we thought it would be a good way for our guests to get to know each other and have a good laugh."
Despite the rather unusual choice of venue, the bride wasn't keen to go all the way and combine ugly alley shoes with her 1950's style mid-length polka-dot bridal gown.
The couple's big day was attended by 100 guests over the course of the day and the new Mr and Mrs Barr are now preparing to jet off on the honeymoon of a lifetime in a rainforest trek around Borneo.
The ceremony took place after All Star Lanes was granted a licence to host civil weddings.
General manager Angus Pride  said: "For many people it's a dream wedding venue, with the retro décor, fantastic catering and on-hand entertainment for all the guests, everything is quite literally under one roof.
"We understand the hard work that goes into planning a wedding and look forward to helping make couples' dreams for their big day become a reality.
"It's not like getting married at any old out-of-town bowling alley with unflattering strip lighting, games machines and sticky carpets.
"All Star Lanes is known for its lip-smacking food, proper cocktails and the largest collection of bourbon in Manchester. It certainly sounds like the wedding disco is a whole lot of fun."
All pictures except one of Victoria courtesy Michael Sauers, with thanks.