A Stockport schoolmistress has quit her job in disgrace after she admitted to hiding thousands of pounds in dirty money for her drug dealing husband in a set-up reminiscent of TV show Breaking Bad.
Fatimah Ahmed, 30, was arrested after police raided her family home and found a haul of cocaine, Ecstasy and cannabis.
Officers also seized drug paraphernalia including large quantities of snap bags, digital scales, grinders and about £600 in cash.
Inquiries revealed her businessman husband Mohazzam Ali, 36, had set up a drug dealing racket while running a car wash.
In hit US TV show Breaking Bad, Walter White's wife begins laundering money for her drug-dealing husband by using a car wash as a front – much like Ahmed and Ali did.
Maths teacher Ahmed was initially charged with drug dealing but this week prosecutors accepted her guilty plea to laundering £7,000 of her husband's drug money in her bank account.
She was given 18 weeks jail suspended for two years after a judge told to 'go back' and look after the couple's baby daughter.
Today it emerged at Manchester Crown Court that Ahmed's foray in the drug underworld cost her her job at Poynton High School in Cheshire.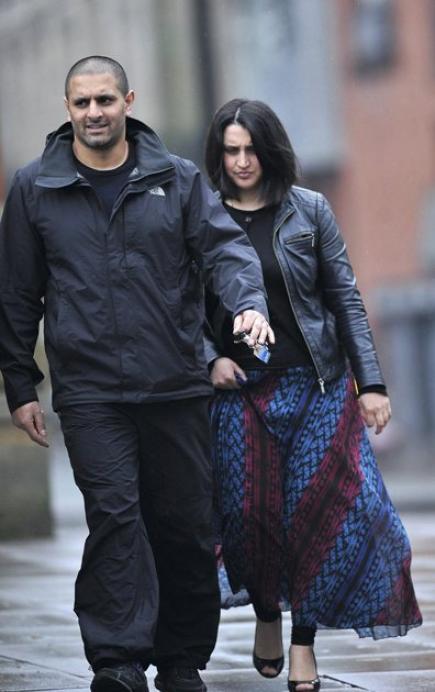 DRUGS AND MONEY: Mohazzam Ali and Fatimah Ahmed (© Cavendish Press)
She was suspended following her arrest in November 2011 but eventually resigned last December during disciplinary proceedings.
Prosecutor Saul Brody told Minshull Street Crown Court, Manchester, how the drugs raid occurred when Ahmed, from Woodsmoor, Stockport, was not yet married to Ali.
Mr Brody added: "The address was a property owned by this defendant and her then boyfriend and now husband. There was a strong smell of cannabis when they attended.
"It is fair to say that the usual paraphernalia was discovered in various locations around the house –two bedrooms and the living room."
He added that large quantities of snap bags were seized as well as digital scales, grinders and around £600 in cash.
"There were also a variety of controlled drugs of various classes. There was cannabis, cocaine and ecstasy-type substances. The total value of the drugs was about £4-6,000," he said.
"At that stage both were arrested and charged with drug matters.
"The evidence on drugs matters in relation to this defendant was not compelling but evidence relating to the financial aspect is as her bank account shows unidentified payments on a fairly significant basis."
Mr Brody continued to say the Crown had given consideration to the co-accused's pleas had taken the view that their resolution reflects the seriousness of the case. 
He said: "The husband is the drugs person and she is the money person. She may have believed that at some stage there were legitimate payments."
Ahmed pleaded guilty to one count of concealing, disguising, converting, transferring or removing criminal property between November 2010 and February 2013.
It emerged she been teaching despite having a previous convictions for three thefts for which she got a conditional discharge in 2003. She now faces a Proceeds of Crime hearing in June.
Ali pleaded guilty at an earlier hearing to two counts of possession of class A-C drugs with intent to supply, and then three counts of possession. He is awaiting sentence.
In mitigation Ahmed's lawyer Michael Knowles said: "The defendant was not aware that money that passed through her account was criminal property."
Judge Bernard Lever told Ahmed: "You on your basis of plea of suspicion rather than knowledge allowed £7,000 to go through your bank account at the behest of your husband and father of your little baby child.
"This was 2011 and you have had to come to court many times. You have pleaded following an indication of a suspended sentence."
Judge Lever told Ahmed that under the circumstances everyone agrees the appropriate sentence is one of imprisonment, which she would not have to serve unless she committed further offences.
He said: "You have limited antecedents and have a young baby. Go home and look after your small baby. Keep out of trouble."
After the case David Waugh, headmaster at Poynton High said: "Fatimah Ahmed was suspended from duty following her arrest in November 2011, pending the outcome of the police investigation and legal proceedings.
"She later resigned from her post at the school, in December 2013, during a disciplinary hearing which was being conducted.
"Miss Ahmed's conduct has brought disgrace on herself and besmirched the good reputation and high integrity of the teaching profession."
The headmaster added he was totally confident the offences were entirely unrelated to the school, its students and the Poynton community, and the health, safety and welfare of their students and staff had never been called into question.
He added the school has worked closely with the support of Cheshire East Council's human resources team, its legal department and the Local Authority Designated Officer throughout the investigations and legal proceedings.
"Our recent Ofsted inspection also praised Poynton High School unequivocally on safeguarding and protecting the welfare of our students," he said.
"The Ofsted report said that 'leaders in school are proactive in ensuring that safeguarding measures are strong.  Staff work extremely well with parents and outside agencies to make sure students' welfare needs are met.
"It also said that 'substantial evidence provided by the headteacher' demonstrates that the school has robust systems and procedures which contribute strongly to helping its students stay safe."
Mr Waugh added that the school, its staff and governors remain committed to ensuring this ethos is maintained and strengthened.
He said: "Protecting the welfare of our pupils and helping them achieve their potential is at the core of all that we do."
Story and images via Cavendish Press.