Manchester's Pakistani community took part in a 1,000-strong peaceful protest against the 'brutal murder' in Lahore at the country's Rusholme consulate today.
The protest was in response to clashes between police and supporters of Islamic scholar Tahirul Qadri in the Pakistani city yesterday, where at least eight people died.
Muslims from around Greater Manchester lined the streets outside the country's diplomatic base on Dickenson Road to display their disgust at what they see as a 'massacre' carried out by police.
Prominent Muslim broadcaster Shafiq Mohammed, who addressed the crowd with a megaphone at the rally as he expressed his solidarity with Canadian-based Qadri, told MM: "We called for justice. We called for the government of Pakistan to show responsibility.
"Innocent bystanders were shot at point-blank range. It was brutal murder."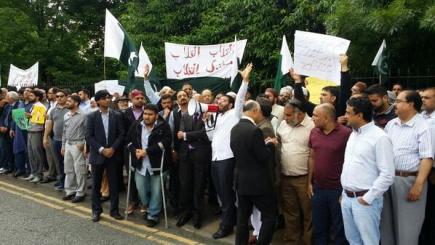 FOR LAHORE: Manchester protestors make their feelings known (©Monib Ali with thanks)
However, Shafiq believes that the Muslim community blame the Pakistani government and – not the boots on the ground.
"The police did not act on their own. They were given an order," said Shafiq. "Two innocent women were among those killed and none of the people were carrying weapons. It is absolutely appalling.
"That's why the people of Greater Manchester came out to show their solidarity with Tahirul Qadri."
He also echoed Qadri in applauding the media coverage of the events, which he claims beat the 'lies and propaganda of the gangsters of riawand' on Twitter.
As British Muslims we support the police and intelligence agencies in stopping any potential terrorism attacks in the uk from terrorists

— Mohammed Shafiq (@mshafiquk) June 18, 2014
We will be in #Manchester to protest against #Pakistan #StateTerorrism – @PMNawazSharif your time is up!! pic.twitter.com/eqFJXXKMX5

— Hayder (@_syrus86) June 18, 2014
Outside Consulate General of Pakistan #Manchester to protest against #StateTerrorism pic.twitter.com/8Q5ZUxDsBU

— Safina Mohammed Khan (@SafMKhan) June 18, 2014
Big #StateTerroism protest at Manchester consulate…. pic.twitter.com/MyXCOrk0wW

— Monib Ali (@AliMonib) June 18, 2014
Solicitor Hayder Khan, who attended the entire two-hour protest, said: "The Pakistan government have blood the blood of innocent civilians on their hands. The government is responsible for state terrorism.
"I watched the massacre in Lahore unfold on tv and I felt pain – I couldn't just sit back and watch without doing anything, so I joined the demonstrations."
The 27-year-old joined the protest after word spread on social media and believes the action will be key in piling the pressure on the Pakistani powers-that-be. 
"Protests like these are important as it lets the government know that they have to be accountable for their actions – had we not come out then it would give the impression we aren't bothered," said Hayder.
"The demonstrations alone are not enough, however. Pakistan requires a revolution to rid itself of corrupt politicians, to empower the people, to provide food water and shelter to the poor, and to eradicate extremism of all kinds."
Qadri is set to return to Pakistan next week to tackle corrupt politicians and his arrival could cause already-high tensions to boil over.
The scholar has already condemned the clashes, via video-link from Canada, where it is reported that 80 were also injured as police and his supporters fought.
Police used 'live ammunition', according to Shafiq, while Qadri loyalists threw stones.
There have also been protests organised by the Qadri's organization Minhaj ul Quran in London, Birmingham, Glasgow and Bradford.
Image courtesy of Hassan Qadri via Twitter with thanks