A heartfelt £10,000 donation to a Manchester guide dog training centre has been made following a Valentine's Day visit from a housing trust fundraiser.
City West Housing Trust has pledged to raise the money to enable Guide Dogs UK to train two new seeing-eye puppies at their centre in Atherton, Greater Manchester, after visiting on February 14.
Like more than 400 dogs already trained by Guide Dogs UK, the puppies will be used to help blind and partially-sighted people gain greater levels of independence.
Diane Moore, Community Fundraiser at Guide Dogs UK, spoke of the organisation's gratitude.
"We're delighted that City West has chosen to support Guide Dogs UK this year, and the Puppy Love celebration for Valentine's Day was a fantastic way to start," she said.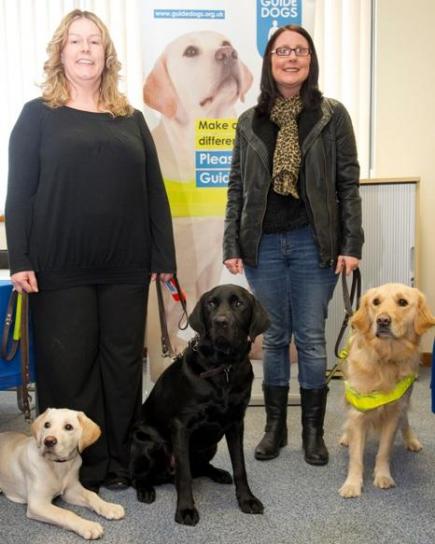 PAWS-ITIVELY GOOD NEWS:  Alison Smith, Communications & Events Officer at City West, who nominated Guide Dogs UK as City West's 2014 spotlight charity with guide dog user Tracey Haslam. Dogs L-R Captain, Max and Tansy
"It's a sad fact that thousands of people who are blind or partially sighted never leave home alone. Guide Dogs UK empowers visually impaired people to do that and relies on the support of the public to fund its services – this is why we're so very grateful for the support of City West Housing Trust."
The housing trust invited Guide Dogs UK to their offices on Valentine's Day where partially-sighted Tracey Haslam from Worsley and her guide dog Tansy were joined by four-month-old canine Captain and 17-month-old pooch Max.
Handler Catherine Drysdale then put on a demonstration where City West staff experienced what it is like to have a visual impairment and need the support of a guide dog.
Various activities will take place this year as part of the housing trust's Get Involved Find Time (GIFT) scheme, including a golf day, an open water swim and staff entering the Yorkshire Three Peak Challenge.
On top of this City West will also join Guide Dogs UK for some fundraising challenges, such as the Coniston Challenge, a 14km bike ride and kayaking.
David Wright, Assistant Director of Commerce at City West said that the company's aim is to improve the lives of two people in their community.
He said: "Our staff can't wait to reach our target amount so we can help make day-to-day life easier for two members of our wider community, enabling them to improve their confidence while also gaining a four-legged companion.
"The service-users who will gain assistance from the guide dogs will also benefit from cane mobility training and further develop their mobility."
Picture courtesy of Guide Dogs UK with thanks.