Selfie-snapping shoppers around Manchester are going to be among the first in the world to try out the latest in cutting-edge 3D printing technology courtesy of Asda Trafford.
The state-of-the-art scanner, which is going to be on trial in the store until Sunday June 22, will give customers the unique opportunity to create a 3D miniature replica of themselves in just a matter of seconds.
If the innovative 3D technology at the superstore is a hit, ten more improved scanning booths will be distributed across the country between the end of August and October – making 'shelfie' the new 'selfie' this summer.
Phil Stout, Head of Innovation and Technology at Asda told MM: "What we've done is we've decided to invest and take forward our technology, we've developed the process from a three-minute scan to a 12-second process.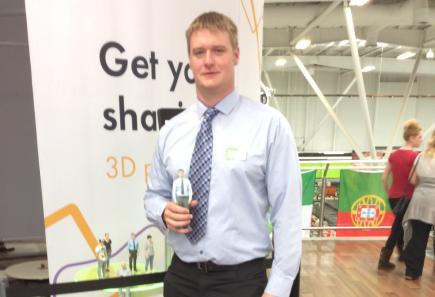 DIGI-DOPPLEGANGER: Asda staff member with 'mini me' model
"We can now scan couples, individuals, mum and babies even the whole family can become a mantelpiece if needed.
"We chose Manchester because it's really rich in technology, the first computer was invented here so I thought it would only be fitting to bring it here and carry on with that tradition."
The state-of-the-art scanner, which will be in store from Monday 16th June and is a world first, takes just seconds to scan a full body.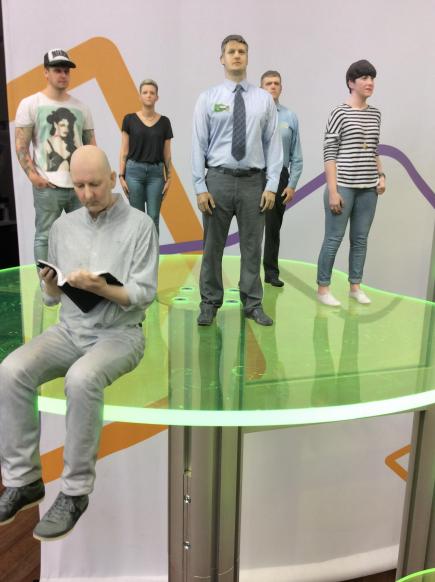 CLONE RANGERS: The full-body scans produce state-of-the-art replicas
Once a full-body digital scan is taken, the picture is then sent away from be turned into an eight-inch mini detailed statue.
The result can be which can be collected from store just one week later. Each model costs just £60.
The service has already sparked interest from couples getting married, sportsmen and women showcasing their medals, kids in football kits and army personnel going on tour
Andrew Moore, SVP – Chief Merchandising Officer, George, General Merchandise and Asda Money at Asda said: "Our customers are always looking for the next big innovation and we're committed to making the newest and most exciting technology available to our customers.
"We were the first to bring affordable 3D printing to the market and customers were queuing round the block to try it out.
"Following an overwhelming positive initial reaction from shoppers, the obvious next step was to provide improved innovation that we hope will become a permanent fixture in our stores.
"The possibilities with 3D printing are endless and I'm pleased that we're ahead of the game in making this truly transformational technology an everyday reality for our customers."