A gang who threw rocks at a tram in Chorlton, forcing passengers to take cover and causing serious damage shortly before another was derailed, are wanted by Greater Manchester Police.
GMP have issued a CCTV image of five people they want to speak to in connection with the incident, which took place at around 11.30pm on Friday July 3 2015.
A group, including two women/girls and three men/boys, were loitering on the platform at St Werburgh's Metrolink station prior to the arrival of a tram headed to Manchester Airport.
They were involved in a short scuffle with another man waiting at the tram stop before they made off down the platform.
The five individuals walked down a path along the side of the metrolink station, parallel to the tram and then began to throw stones through the windows, causing passengers on the tram to lie down on the floor to take cover as a number of the windows smashed.
The gang then made off along the Fallowfield loop.
All of the passengers were moved onto a second tram and the damaged vehicle was moved out of the station towards Didsbury.
The second tram then moved off from the station, but as it passed through the junction to head towards the airport, it became derailed.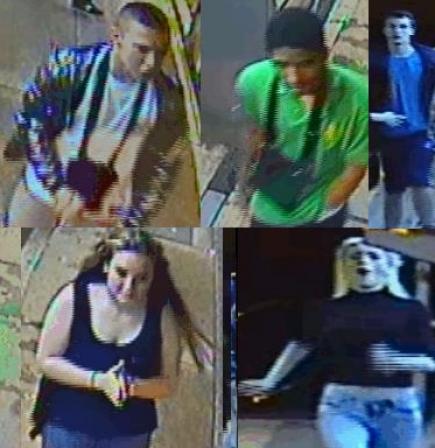 METROLINK MAYHEM: Police want to speak to these five people in connection with the derailment of a tram
Detective Constable Mark Ledger from West Didsbury police station said: "Whilst I am thankful that no-one was injured in either of these incidents, this must still have been a traumatic experience for the people on the tram who firstly had to take cover to shield themselves from flying broken glass as the group attacked their carriage, and then were subjected to a second tram being derailed.
"Incidents like this are thankfully extremely rare and we are working closely with the Metrolink Operators to investigate exactly what has happened here and identify those responsible."
An investigation is ongoing to establish if the derailment is definitively linked to the attack on the tram a short time earlier.
One boy is described as tanned, having short dark hair that is longer on top, and was wearing a long-sleeved jacket, a white t-shirt, grey bottoms and a small black bag around his neck.
The second is described as black with short dark hair, and wearing a green t-shirt, dark bottoms and a small black bag around his neck.
The third is described as white, with dark hair, and wearing a blue top and dark blue shorts.
One girl is described as white with long brown hair, and wearing a dark blue, sleeveless top, and blue bottoms.
The second girl is white with blond hair, wearing a dark top and light blue jeans.
 DC Ledger added: "We have released a CCTV still of a group we want to speak to and are asking for anyone who recognises these people, or who may have witnessed the attack but has not yet spoken to police, to get in touch."
Anyone with information is asked to contact police at West Didsbury police station on 0161 856 4973 or contact the independent charity Crimestoppers, anonymously, on 0800 555 111.
Main image courtesy of Mikey, with thanks.