Four years on from Grenfell, hundreds of thousands of people still live in buildings with dangerous cladding – they can't sell up, pay huge insurance bills, and fire wardens patrol 24-hours a day.
Worse still, leaseholders must cover the cost of making their buildings safe.
In Manchester, one group is fighting back. The Manchester Cladiators formed in early 2019, inspired by a successful residents' campaign in the Green Quarter.
They represent the hundred or so buildings in Greater Manchester which still have dangerous Grenfell-style cladding and other fire-safety issues.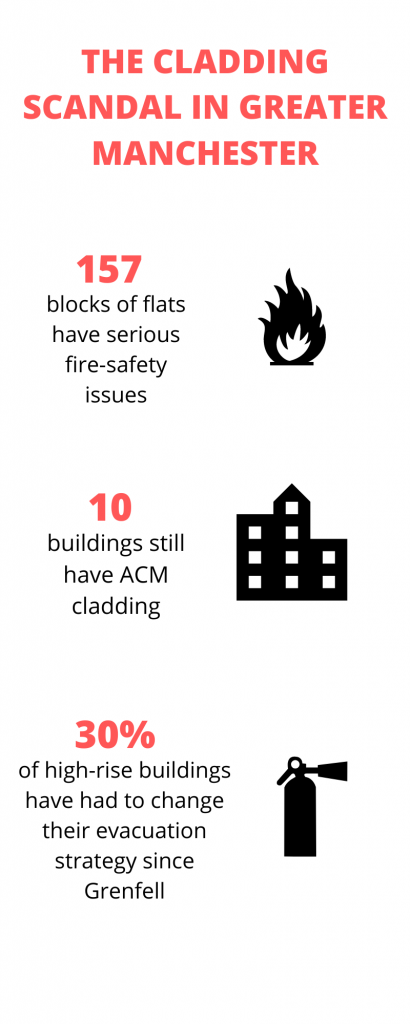 Each building's circumstances are different, but residents share a sense of deep unfairness. The financial cost and anxiety about a potential fire take a huge mental toll.
The group has featured in almost all national newspapers, including the Guardian, Times, and Daily Mail, and count the support of Andy Burnham and Labour MP Rebecca Long-Bailey.
They've helped raise the profile of the cladding scandal and brought the plight of leaseholders to national attention. And their campaign has forced the government to act.
In June 2020, a cross-party Housing, Communities and Local Government select committee reported 2,000 high-rise buildings still had dangerous cladding in the UK. It estimated £15bn might be needed to cover the cost of remediation.
The government had so far only committed £1.6bn. By February 2021, Housing Secretary Robert Jenrick promised a further £3.5bn, bringing the total fund to £5.1bn.
But buildings under 18 metres are ineligible, and funding usually only partly covers the cost of remediation work.
"They're doing a little bit here, a little bit there, but not doing enough to actually end this problem," says Cladiators organiser Giles Grover.
At Giles's Castlefield building complex, work to remove cladding started in April, but funding only covers half of the £12m bill.
And the spotlight on fire safety has exposed other defects meaning costs often extend well beyond just replacing cladding – those successful Green Quarter residents now face an even bigger bill to fix several other safety issues.
"The government fund is only for buildings above 18m and for cladding, and for the last year and a half we've been saying it's all buildings, and the issues are inside and outside."
So the fight is far from won.
"It's really easy for me to take a step back and say 'OK we've gone from funding of £200m, to £1.6bn, to £5.1bn', so that's progress," he says. "But ultimately, I think there's scope to get more out of the government."
"The government isn't doing enough because it recognises there is potentially a huge problem and doesn't want to commit funding for it."
And until remediation work is finished, inflated insurance costs are crippling – a 250 to 300 percent increase at City Gate. "It's almost akin to a mortgage cost itself," says Giles.
Residents must also pay for Waking Watch schemes to comply with national fire safety rules. "It's massively costly for what is quite ineffective. It's just a couple of blokes wandering around," he says.
Compounding the financial worry, is the fear of fire.
Giles says: "There are a few false alarms. Every so often you're kind of edge just thinking 'what's going on?'
"When you look at the incidence of fires you do see they're actually relatively rare. However, in London there's a building that's a similar condition to ours that's still not had it's ACM cladding removed and there was a fire there just a few weeks ago. So you never know."
But despite the financial cost, the mental strain, and the demands of helping organise a national campaign, Giles is hopeful.
After some time you sort of get used to it, and you kind of go through the five stages of grief," he says.
"There's ups and downs. There always is. It's 24/7. But I feel especially since the relaunch of the campaign in September, the very fact that literally all newspapers from all sections, all political stripes, whether it's the Daily Mail, whether it's the Guardian, the Telegraph, the Times; they all recognise the injustice of the people who have been the victims of this cladding crisis being made to pay for it."