Leavers from across the political spectrum marched through the streets of Manchester yesterday in the name of democracy. 
March4Democracy was a Leavers of Manchester event organised by Joan Mulvenna. The group is a branch of the Brexit-supporting social networking group, Leavers of Britain.
It was a cross-party event and was attended by Communists, supporters of the SDP, Brexit Party and UKIP. Over 100 protestors came from across the North West and beyond, with some coming as far as Yorkshire and Scotland.
Before the march got underway, MM spoke to Joan about the motives behind the event.
With the legacy of the Peterloo Massacre in the backdrop, protestors – some draped in Union and St. George flags and carrying self-designed placards – made their way to Peter Street, where a minute silence commemorating the 200th anniversary of the Peterloo Massacre was respectfully observed.
Some protested against the undemocratic nature of the EU, whereas others marched because they want to see the 2016 result implemented and a few marched in opposition of the negotiated settlement between the UK Government and the EU-27.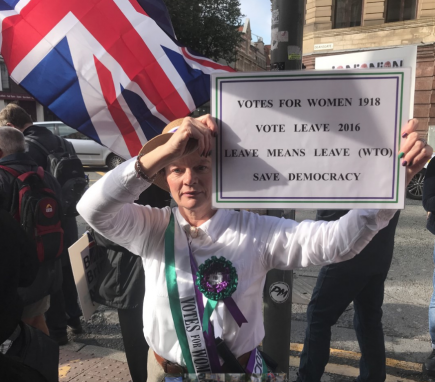 Julien Yvon, from Altrincham, described the five questions of democracy made famous by the late Labour MP Tony Benn.
These were: What powers do you have? Where did you get it from? In whose interests do you use it? To whom are you accountable? How do we get rid of you?
"If you asked those five questions to the EU, they would fail all of them," Julien added.
Paul Embery, a trade unionist, said: "Brexit is never an end in itself, it is a means to end. It clears the path to get us free from a neoliberal institution, and allow us to an elect a government to implement radical policies.
"You can't have socialism and then Brexit, but you have to have Brexit and then socialism."
In a passionate rally in St. Peter's Square, Spiked editor Brendan O'Neill said: "If our votes in 2016 are trashed, then the right to vote becomes meaningless."
Brexit Party MEP for the North West, Henrik Overgaard Nielson, told MM: "We came to demonstrate because what we want is Brexit, a real Brexit and we want it now."
He was critical of Boris Johnson's deal, saying that there were several problems, describing it as "Brexit in Name Only".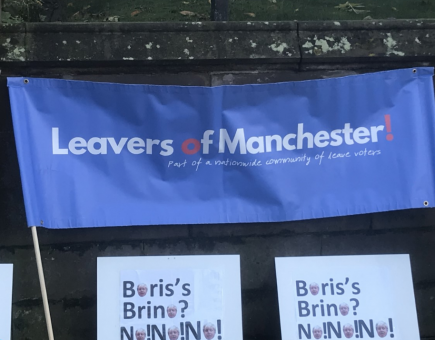 He said: "The UK would still be under the jurisdiction of the European Court of Justice even after the transition period. Fishermen would not have exclusive access to our waters and there would be full alignment with foreign policy."
Mary Steven, from Glasgow, said: "I could not support a deal that does not support the fishermen. They were shafted by [Edward] Heath in the 1970s, totally shafted, they were used as a bargaining chip. You can see where this is going."
Sarah Wass, Brexit Party Prospective Parliamentary Candidate for Leeds East, said: "It will not be the Conservative Party or Labour that will deliver a clean break Brexit."