A little Manchester girl is battling to get her voice heard – even though a potentially lethal vocal condition has left her speaking in just a whisper.
Ellie Dixon, four, is keen to sing her favourite Disney songs, talk and play with other children but fears being unwittingly shouted down whenever other people struggle to hear her.
She was diagnosed with respiratory papillomas in 2010 shortly after she was born as warty-type growths began appearing on her vocal chords and larynx.
It means surgery virtually every few weeks to remove them and without treatment the growths can expand and block her airways, which could prove fatal.
She barely speaks – mostly just whispers to ask her mum for something to eat or drink – and can't be around loud noises as she suffers from migraines.
Now she is hoping teachers will be primed to take extra care listening to Ellie whenever she pipes up in classes at junior school.
Her mother Rachel Lynch, 23, from Irlam, Greater Manchester said: "Ellie is keen to learn but unfortunately getting her voice heard will be desperately difficult for her. At nursery she was forever trying to answer questions yet her mates would always get in there first as they were able to shout louder.
"Ellie knows the answer and puts her hand up but because she can only whisper she tries to shout out the answer but other children shout out first.
"Even at the age of three, Ellie would want to stay in the babies room because she was so scared of the older children shouting and screaming. She never even plays team sports as she can't scream loud enough to get the other players attention.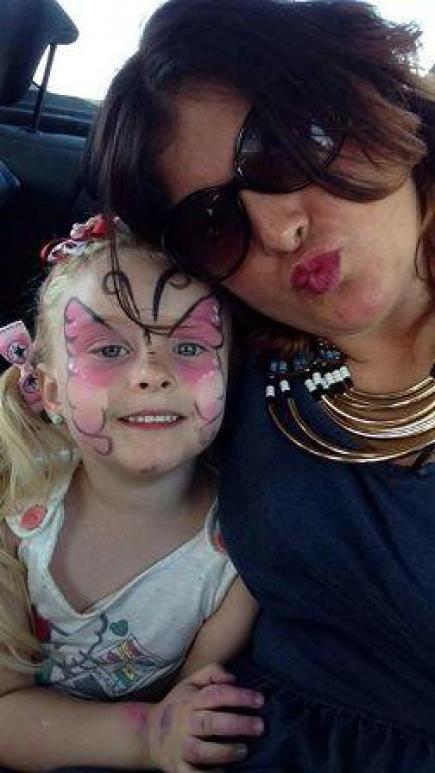 SAY CHEESE: Ellie with her mum Rachel
"When she is at birthday parties or sports days at school she often has to sit on her own because she gets frustrated when other children don't hear her.
"On some occasions when she is at the park playing on the jungle gym, she will come crying to her mum that the other children she doesn't know tease her because of her voice and she gets really upset."
Prone to illnesses such as tonsillitis and ear infections, which she can suffer from each month, Ellie dreads her operations as she has developed a fear of needles.
As each operation date approaches Rachel says that Ellie's health diminishes, her voice becomes croaky and her energy levels drop.
The procedures last only one hour with Ellie under anaesthetic as the surgeon cauterizes the growths on her throat.
She is then on a diet of ice cream for several days as her throat heals, but even before the procedure's Ellie struggles with liquid food such as mash potato.
It is unknown how the condition is started and cannot be tested for, however it is thought that the virus can be spread through the HPV virus found in cold sores, genital warts and some forms of cancer.
Rachel said: "From the moment Ellie was born I knew something wasn't right as she wasn't breathing properly.
"Four months later she was diagnosed with papillomas and it was heart-breaking that my first child would have to undergo all of these operations – I had never even heard of it before.
"Before she was diagnosed I noticed she was really quiet even when she cried you could barely hear it, but with Ellie being my first child I thought it was normal."
Ellie has been in surgery around 25 times to date but her mum wants her to be able to lead a normal life.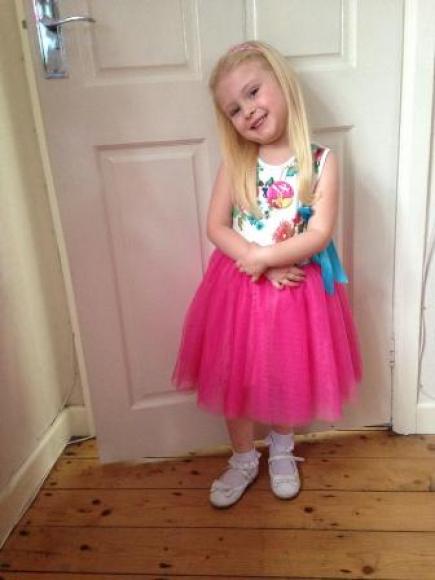 LITTLE PRINCESS: Ellie loves to sing along to her favourite Disney films
"I don't know how much longer I can stand there and watch her scream in terror at having to go through another procedure but she has no choice.
"Her bravery is inspirational but it has got harder as she gets older, at least when she was a baby she didn't know what was happening but now she counts down the days."
Ellie was diagnosed at only four months old when she had a check-up at her local GP, while examining her throat doctors noticed the growth on her throat and only weeks later was booked in for her first procedure.
Even though Ellie often prefers to play in silence and gets tired after only minutes of sports, her mum says she is well looked after by her friends at school and loves watching Disney films such as Frozen.
With the treatment, Ellie has a good chance of having perfectly functioning vocal cords when she is older however, there are still many more years of treatment left.
Rachel worries that as Ellie gets older, she may find it hard in school to have her voice heard and to join in with activities and admits that she has given home school a thought.
Yet she does not want to isolate Ellie further and says that socialising with her friends has helped her confidence to bloom as well as taking her mind off the surgeries.
"She is still like any normal little girl," Rachel added.
"She loves singing – even if you can hardly hear it, and playing with her friends, as she gets older her confidence is growing and it is just wonderful to see. We're just hoping school will help her find her voice."
Story via Cavendish Press
Images courtesy of Facebook, with thanks