The Rochester by-election win for Ukip MP Mark Reckless has made waves in the political sphere this morning, leaving the Conservative Party thinking hard about how to prevent other MPs defecting and the 'fracture' in UK politics growing.
MM spoke to Dr Rob Ford, who co-authored Sex, Lies and the Ballot Box and lectures in politics at the University of Manchester, about whether this victory could bring Ukip one step closer to being the country's third biggest party.
The academic seems certain the right-wing populist party will not be winning enough seats to take over the Lib Dems.
By-elections traditionally harbour an 'anti-incumbent dynamic', according to Dr Ford. As the candidate 'is well known to the electorate', he believes 'it's much harder for them to actually take enough seats to overtake the Lib Dems and become the third party in parliament'.
He told MM: "I think more realistic is still that they get something up to maybe a dozen seats, fifteen at the maximum. That's obviously a lot more than even they were hoping for a year or two ago, but it's a long way from the third party."
Nigel Farage, Ukip party leader, disagreed rejecting the idea that the result was simply a protest vote against the government, and that voters would return to the larger parties in the general election in May.
"If you vote Ukip, you get Ukip," said Mr Farage. "People out there who vote Ukip intend to stay Ukip."
However, Dr Ford could not deny that MP Reckless retaining his seat for the north Kent constituency by 2,920 votes, but this time under his new party colours, was 'very, very significant'.
The Rochester and Strood by-election was triggered when Mr Reckless defected from the Tory party in September, forcing a vote to be held to determine who would keep the seat.
According to Dr Ford, the circumstances surrounding the huge victory could prompt a wave of defection ahead of May's general election.
"[Rochester] is a sort of bog-standard Conservative seat, really," he said. "It tilts slightly to the right, but the mix of voters in terms of age, class, average incomes – all that kind of thing – is really kind of bang near the middle of the pack.
"There's a lot of other Conservative MPs who represent very similar seats, including some confirmed Eurosceptic rebels who will think, 'well, if Reckless can win in Rochester under UKIP colours, then I can probably win as well'."
The Ukip specialist even argues that today's by-election result is far more important than August's Clacton vote – 'the most UKIP-friendly seat in the nation, demographically-speaking'.
The Essex seaside town of Clacton made national news late in the summer when its Tory MP, Douglas Carswell, defected to rival party Ukip, triggering a by-election and becoming their first elected MP.
Mr Reckless said this morning: "If UKIP can win here, we can win across the country."
Speaking to his constituents, he added: "You remain my boss, do not let me forget it."
And during a talk earlier in the week at his campaign office in Rochester, Reckless admitted he had been speaking secretly to two undisclosed, current Conservative MPs who were considering defecting based on the result of yesterday's by-election.
Speaking of 'the possibility of their moving over [to Ukip]', Reckless said: "I think they will want to see what the result is before making any decision."
Rochester and Strood by-election full results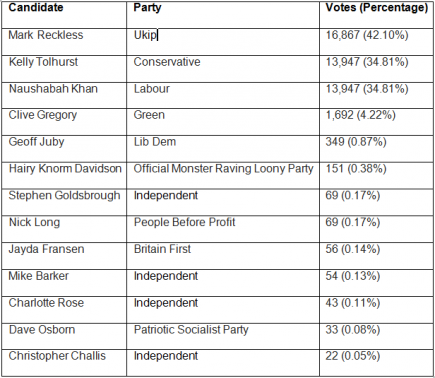 Ukip's Reckless received 16,867 votes, 2,920 more than Conservative candidate Kelly Tolhurst's 13,947, leaving Labour candidate Naushabah Khan trailing third on 6,713.
Greens followed fourth and the Lib Dems got their lowest total ever with just 349 votes, despite a turnout of over half in Ukip's famously '271st most winnable seat'.
Dr Ford believes the issue of radical-right parties like Ukip isn't limited to the UK, describing them as 'an established part of the furniture all over Europe'.
But he explains that 'nobody's really figured out a winning formula for dealing with them'.
Dr Ford said: "What [parties like Ukip reflect] is a fundamental value divide in most European societies between generally younger, socially-liberal university graduates, comfortable with diversity, outward-looking, keen on the EU and older less-qualified voters who see the changes in the past couple of decades as a decline."
None of the mainstream parties can do much to make that growing divide go away, argues Dr Ford, who suggests that all the Conservatives and Labour can do is to try and 'treat the symptoms a little'.
He thinks all the parties can do is 'patch up some votes here, put down more responsive candidates there, deal with local issues and so on'.
"But the basic divide may well be one that they're going to have to be dealing with for the next couple of decades, just as traditionally there was a left-right divide," said Dr Ford.
"Nothing was going to make that go away, that was just part of the political division in society. Now we have a new party, a new fracture."
The news from Rochester came just hours after a talk by Tory MP Peter Bone, who defended a motion saying that Ukip has been 'good for British politics'.
Mr Bone spoke in favour of the motion last night at the Cambridge University Union, saying that 'this House believes that Ukip has been good for British politics'.
Main image courtesy of The Telegraph, via YouTube, with thanks.