A cash-strapped jazz and blues singer will now be able to fly home to organise and attend her mum's funeral in Australia after generous friends raised more than £1500 in just 15 hours.
Manchester-based Kiki DeVille, aka Kristianne Robinson, wrote on her Facebook page that she was 'so overwhelmed' with the support and money that has poured in since she announced the tragic news of her mum's death yesterday.
The UK Vintage Personality of the Year had asked friends if airlines did compassionate or bereavement fares during high season and soon offers were flooding in from across the country to find her the cheapest deal.
But self-proclaimed 'soul sister' Donna Craddock of ClickClickBang Photography went one step further and launched an online fundraiser called Get Kiki to Australia.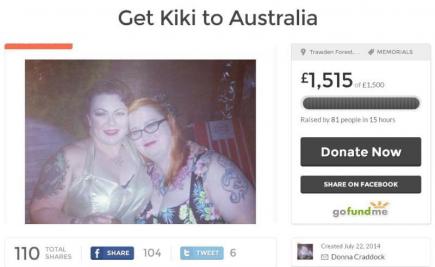 She wrote: "My beautiful soul sister Kiki DeVille has had a family bereavement, her beloved Ma has died and Kiki desperately wants to get to Australia to say goodbye and help her Dad get through this.
"Even a quid will do, one dollar, a single euro; it all helps my beloved sis get home."
The page reached its £1500 target earlier this morning with friends and fans alike pledging their support.
Sarah Hill donated cash and wrote: "I don't know you Kiki but may I offer my sympathies at this super tough time. I truly hope you make it."
Another supporter Dan Archer added: "Hope this helps towards making a difficult time a little better."
Kiki took to social media to thank everyone for their support, she wrote: "I don't even have the words to express how humbled and grateful I am. 
"I can't believe people can be so kind but, at the same time, I truly believe in people and I am SO blessed to be surrounded by such incredible people.
"I can't believe the messages, texts, calls, donating….I'm so overwhelmed I can barely stop crying (but in a good way).
"I don't know how I will ever repay you all. Now I *really* need to change the world. Thank you all from the bottom of my heart. And Donna, there's not a thing I wouldn't do for you….thank you sis, I love you so much."
To make a donation click here. 
Picture courtesy of Terry Mc Photography, with thanks