A Manchester dessert lover is offering sugar, spice and all things nice with her latest recipe – by peddling kebabs made from CHOCOLATE.
Rita Gina, 31, uses a traditional kebab rotisserie to hold a 10kg slab of milk chocolate and hazelnut which she then shaves into a warm sweet 'pitta' before drizzling it in whipped cream to replicate garlic sauce.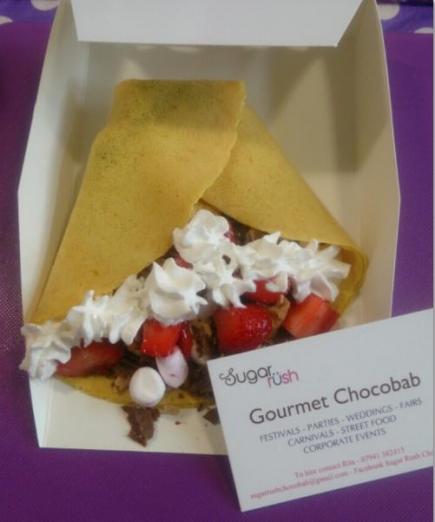 CHOCOLICIOUS: The Chocobab is more than 1,000 calories
But even after swapping grease and salt for sugar, the dessert – dubbed Chocobab – can still match its meaty, post-pub cousin, weighing in at a whopping 1,000 calories.
Those with more of a sweet tooth can pimp up their slant on the Turkish speciality by adding a variety of extras including chocolate chips, Oreos, fudge sauce, chocolate curls, fruit, popping candy and marshmallows for between £3 and £5.
Despite only operating her Sugar Rush Chocobab business for a month, Rita has been inundated with offers to take the creation to different festivals and parties around her home in Whitefield, Greater Manchester, and further afield.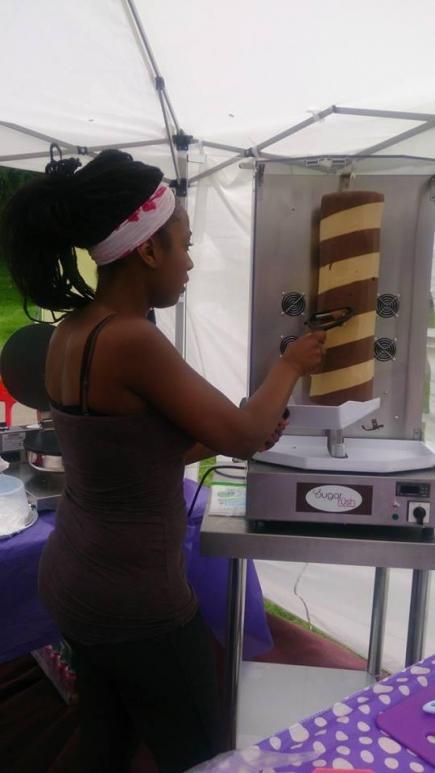 IN A SPIN: Rita gets to grips with the rotisserie
Rita, who still works full-time as an assistant buyer for a food retailer, now hopes the success will carry on and she will one day be able to open her own 'dessert emporium' under the Sugar Rush moniker with more wacky creations.
"I've always loved desserts, especially things like ice cream and have a very sweet tooth," she said.
 "I think there's nothing better than indulging in a dessert.
"When I had the initial idea to open up a dessert parlour I was looking for a waffle machine but then came across the chocolate shawarma unit and thought it looked fantastic."
The chocolate shawarma – a refrigerated version of the vertical spit used to cook traditional kebabs – was devised two years ago, becoming popular in America and some parts of Europe.
Now Rita is desperate to bring it to Britain's attention.
"I hope it will be as big as the chocolate fountain, I'm trying to get it out there," she added.
"Everywhere I've displayed it so far I've had an amazing response."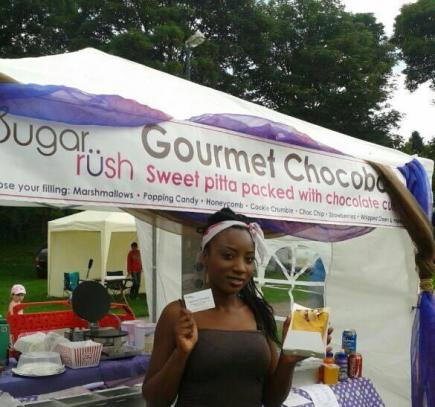 THAT'S A WRAP: Rita poses in front of her Chocobab stall after a busy day's trading
While it might not take up residence in your local chippy or satisfy a takeaway craving after six pints, Rita says desserts deserve that cheeky indulgence.
"I am health conscious but with desserts you have to indulge every now and then," she said.
"My motto is 'indulge: life is sweet'.
"That's what I'm living by at the end of the day. I'm not telling people to come out and gorge. It's everything in moderation."
Bachelor girl Rita, who is desperate to make her sweet dream of owning a dessert emporium come true, is now targeting national festival bookings and looking at placing Chocobab kiosks in shopping centres.
"I would eventually like to go to places like Wimbledon where I could do strawberries and cream versions and for Christmas I can do mince pie Chocobabs," she said.
"It's about giving customers something fresh and new and something they can get excited about.
"They genuinely do taste delicious. I'm not just saying that. The mixture of milk chocolate and hazelnut melts on the pitta and it tastes like Nutella, which I'm sure everyone loves.
"Now we're selling a chocaholic Chocobab which is a sweet pitta with Nutella, chocolate chips, double chocolate sauce, crumbled cookie, chocolate curls and whipped cream. It's trumped everything. How could you not want to eat that?"
Story via Cavendish Press
Images via facebook, with thanks