Elephants are being killed every 15 minutes globally: 96 a day perish at the hand of poachers. Meanwhile rhinos are being lost every six hours.
Having walked the earth for millions of years, now they are being pushed close to the brink of extinction by the worst poaching onslaught ever, fed by the brutal and illegal trade in ivory and rhino horn.
More than 35,000 elephants and 1,000 rhinos die annually at the hands of poachers.
So yesterday the endangered mammals marched through Manchester's streets for the first time to raise awareness of the threat of poaching.
Sale's Tiffani Lewsley, who first began campaigning for animals in 2008 after a gap year trip to Sri Lanka opened her eyes to the suffering of elephants, told MM the rate they are being poached at is simply not sustainable.
"I love elephants, they're my absolute favourite animal. We can't keep on allowing poaching at that level," said the vision mixer for TV production.
"The same with rhinos. We've got to make a stand because if we don't talk about it, it's not in the mainstream media and it doesn't get out there." 
The Action for Elephants UK event was one of over 140 Global Marches for Elephants and Rhinos (#GMFER) taking place worldwide which aim to focus political pressure on world leaders, significant because it coincided with CoP17 (the 17th meeting of the Conference of the Parties).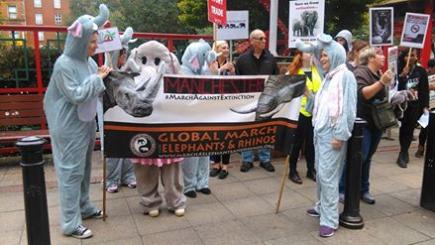 END THE SLAUGHTER: Poachers kill more than 35,000 elephants and 1,000 rhinos annually​​
The world's largest and most influential meeting on international wildlife trade, it is taking place in Johannesburg, South Africa, from September 24-October 5. 
Tiffani, originally from London, moved to Manchester in 2012 to work at Media City. She has made many visits to worldwide elephant projects, and is now an active advocate for their welfare.
She decided to organise the Manchester march after attending other events in London and Liverpool and has been working tirelessly to organise the event and recruit support for the cause. 
The subject of poaching has been in the news recently with Prince William calling for an end to the ivory trade at a speech last Thursday.  
"He's doing some great stuff for raising awareness. He's such a high profile figure both here and in America and China and those places which are buying ivory," said Tiffani.
"If he can tell everybody not to then there's a chance that someone will listen."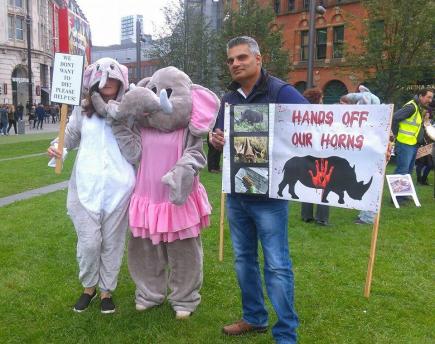 'NO APHRODISIAC': Ivory trade has no positive outcomes, it only furthers drugs and terrorism in Western society
The ivory trade funds a lot of problems in Western society from drugs to terrorism. 
"It's a really wide problem and there's lots of factors involved," added Tiffani.
"All the illegal trade must stop and that means all of the countries which are involved in it getting together and putting very hard laws in place to make the sale of ivory and rhino horn as difficult as possible.
"People shouldn't buy ivory even if it has a certificate. It's only worth something to the animal it's on.
"It's the same with Rhino horn: it's not an aphrodisiac, it does nothing for your health, it's made of the same stuff as your teeth and nails.
"If you want to get that sort of substance then just bite your own nails."
The march began at All Saints Park and followed a route which went through Chinatown and Deansgate before arriving at Cathedral Gardens for a rally and speeches.  
There were also performances from poet Tim Ellis, taking part as one of the 100,000 Poets for Change, and Angie Goody, who works with rhinos at Thandi's Endangered Species Association on the Isle of Man.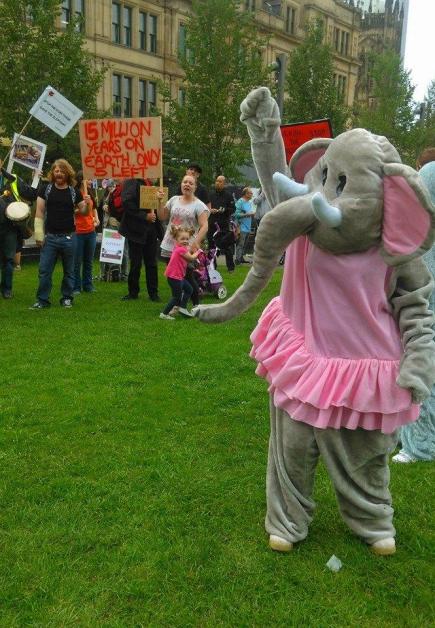 GETTING NOTICED: The world's largest and most influential meeting on international wildlife trade is currently taking place in Johannesburg, South Africa until October 5