A collection of paintings from Salford artist LS Lowry has sold at Sotheby's fetching more than £15million.
Cambridgeshire businessman Tony Thompson had been an avid collector of the famous artist's work since 1982, but decided to cash in on his collection of oil paintings.
Thirteen paintings were sold on the night, with only two of those failing to meet their reserve price.
The pick of the bunch, a painting of Piccadilly Circus in London, sold for £5.1million, £500,000 less than Mr Thompson paid for it in 2011.
Another pick of the bunch, A Town Square, sold for £2.4million.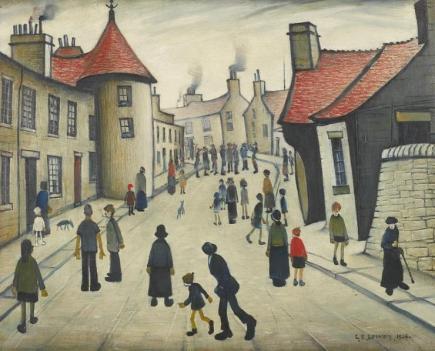 STREET MUSICIANS: Tony Thompson purchased this in 1982 for £17,600 
 
Street Musicians, which portrays a scene in Thurso, Scotland, was painted in 1938 and cost Mr Thomson £17,600 32 years ago.
The painting sold for £842,500, a huge increase on the original figure.
Sotheby's revealed Mr Thomson was the first person to bid more than £500,000 for a Lowry painting, when he bought the smaller of two pictures of Piccadilly Circus in 1998.
In 2011 he broke the record for a Lowry when he purchased the larger version of Piccadilly Circus.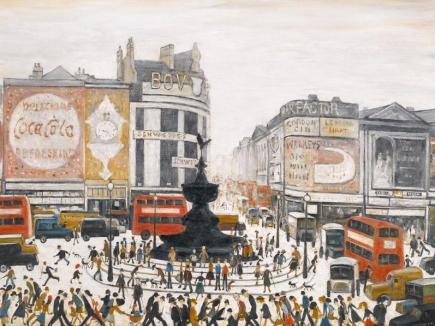 PICCADILLY CIRCUS, LONDON: Revered painting fetched £5,122,500

PUNCH AND JUDY: Painting sold just short of a £1million, going for £962,500
Frances Christie, Sotheby's Head of Modern & Post-War British Art Department said: "We are delighted with the results of tonight's sale, which reflect the superb quality of the works that Tony Thompson collected so carefully over the course of three decades. 
"His instinct to hone in on the very best examples of the artist's work generated the enthusiastic response in the sale room."
Mr Thomson, born in 1945, started up his recycling business at the age of 14 after growing up in Trumpington, which is on the outskirts of Cambridge.
He eventually became a millionaire and began collecting paintings by Lowry in his late thirties, where he made his first purchase at auction.
He started his recycling business when he was 14 and went on to become a millionaire.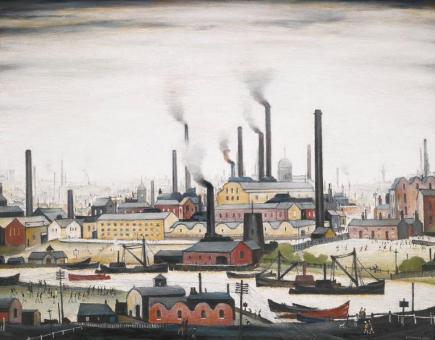 A RIVER BANK: One of three paintings to break the £1million mark, selling for £1,986,500
 
He began collecting paintings by Lowry in his late thirties, when he made his first purchase at auction.
Mr Christie praised the wide-spread appeal of Lowry's work.
He said: "Underlying this evening's success was notable international bidding for an artist who is typically considered to have a particularly British appeal.
"We saw participation from clients not only across Europe but also the US, demonstrating the widespread demand for this remarkable artist.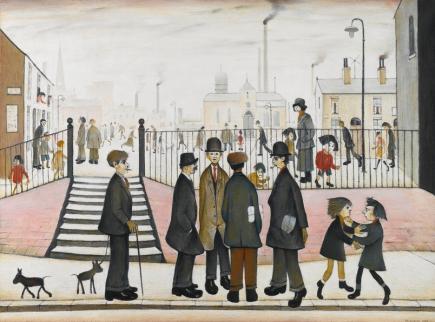 A TOWN SQUARE: The second highest selling painting of the night, going for £2,490,500

MARKET PLACE, BERWICK-UPON-TWEED: Fetched £578,500
"These were collectors who were buying in this collecting category for the first time, as well as clients who were familiar to us but buying their first L.S. Lowry work. 
"Tonight's result is testament Tony's passion for L.S. Lowry and his talent in assembling such an extraordinary collection."
Images courtesy of Sotheby's, with thanks.