Archaeologists are calling for local residents to help uncover the forgotten past of Collyhurst Hall.
The Hall, which is now buried beneath a playing field, is set to be excavated next month and organisers are asking locals to help with the dig.
Historic documents suggest that Collyhurst Hall once housed the Mosley family, a clan highly influential in boosting the economy of Manchester during the 17th, 18th and 19th centuries.
"One of the reasons we're going there is because there isn't really a concise history, we know bits and pieces but we don't know how old the site is," Vicky Nash, a Senior Archaeologist from the University of Salford told MM.
"We know that there was a 15th or 16th century estate and we know that there was a hall built around 1649.
"We know that the hall was then rebuilt during the 18th century and we've got a sketch of what it looked like."
Vicky believes that the sketch also hints that the site, on the corner of Rochdale Road and Collyhurst Street, may be even older.
"We know it's stone, 3-storey high and it looks like it has a moat around half of it, which suggests it could be older, maybe there was a medieval hall there," she said.
"This is something that we want to try and find out."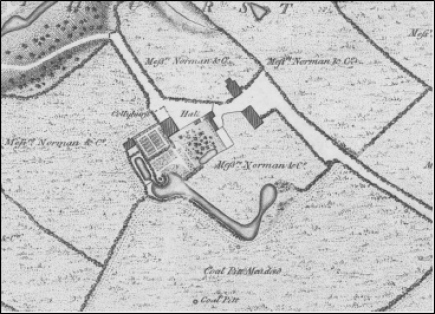 COLLYHURST HALL: Depicted on a 1794 Greens Map of Manchester 
The last residents were at the hall until around 1830 before Manchester Co-operation bought the land and built houses on the site.
Those houses have since been demolished and Vicky believes that Collyhurst residents should play a part in discovering the history of their area.
"It's their history so it's important that they dig it up," she told MM.
"Me, my colleague and an archaeologist from the Manchester Communications Academy, whose idea the dig was, will be on site offering them guidance."
The team think that if the foundations and cellar of the hall is still intact, it could be housing countless historic artefacts.
"We've dug similar sites were we've found bottles of perfume, pots from the kitchen and other personal possessions," said Vicky.
"We've also found things like stable blocks and paste for horse's feet – a mixture of things left behind by families and servants.
"They give you an insight into the family as well as into those who were working in the hall.
"You can trace whether the family were in decline or if they were going up in the world."
The project will run from July 4 to July 15 and open day will be held on July 16 for people to view the findings.
The dig is open to anyone over the age of 16, with the exception of July 9 and 16 when under16's are welcome if accompanied by an adult.
For more information, or to get involved, call 0161 295 0145.
Image courtesy of the University of Salford, with thanks.