Firefighters are currently still tackling a huge blaze on Saddleworth Moor – hours after it was declared a 'major incident'.
Fire crews were first called to attend blaze on the hills above Dove Stone Reservoir and Carrbrook in Tameside at 8.20pm on Sunday.
The 'inferno' – which has been described as 'the largest in living memory' – measures 6km as of Wednesday.
Homes in the area are being evacuated, with residents being advised to stay indoors as a smoky haze absorbs the surrounding area.
Follow our live blog below for updates as they break….
——————————————————-
11:52am
GMP are warning motorists to be careful when driving along the M60. 
While there are no road closers, the smoke from the fire is so far reaching that's causing issues in terms of visiblity and breathing for drivers.
There aren't any road closures or impact on the transport system but please drive safely as the smoke from #Moorlandfire is far-reaching across Greater Manchester, especially around the M60.

— G M Police (@gmpolice) June 27, 2018
——————————————————-
11:40am
Social media users aren't miss the chance to shower praise on those firefighters tackling the blaze.
Just one of the touching posts says: "We're all moaning about how hot it is whilst they're all in heavy suits carrying heavy gear in this weather."
Spare a thought for all the firefighters trying their hardest to stop that fire on Saddleworth Moor. We're all moaning about how hot it is whilst they're all in heavy suits carrying heavy gear in this weather, plus the extra heat from the fire. Huge respect to them all!!! pic.twitter.com/FsfNu5oKYR

— emma ♡ (@_emmactidxo) June 27, 2018
——————————————————-
11:26am
Public Health England are continuing to remind people how damaging smoke can be to a person's health. 
The latest update from the North West body explains how it can irritate people's thoat and eyes.
Latest health advice re #moorlandfires Smoke is an irritant and can make eyes and throats sore – wash your face with soap and water and keep hydrated by drinking water. If you have any health concerns contact the NHS 111 service. @gmpolice @manchesterfire

— PHE North West (@PHE_NorthWest) June 26, 2018
——————————————————-
11:15am
Debbie Abrahams, the MP for Oldham East and Saddleworth, has released a detailed statement regarding the fire. 
She thanks the firefighters for their bravery and reiterates that people in the area should take precautions to stay safe until the blaze is dealt with.
I am in touch with both the police & fire service regarding the devastating #SaddleworthMoor fire. You can read my update on the attached statement. Please do share far & wide. pic.twitter.com/jqFWxDGrn0

— Debbie Abrahams MP (@Debbie_abrahams) June 27, 2018
——————————————————-
11:07am
A distressing video shows one resident choking amid the smokes that's completed absorbed the the outside of her property. 
In the video – which was shared on Twitter – you can hear the resident coughing and struggling for breath.
Getting much worse..horses now evacuated but smoke is choking..more fire fighter's and engines have arrived!! Flames still going..its like Silent Hill with all the ash floating about! @MENnewsdesk #saddleworth #carrbrookfire #moorlandfire pic.twitter.com/hy2k6UdKn2

— Kun's Kompany (@CityDeeBee) June 26, 2018
;
——————————————————-
10:59am
Greater Manchester Fire and Rescue Service have revealed that new aerial images will soon be available at Greater Manchester Police take to the skies in a helicopter. 
It's hoped that these images will help firefighters form a tactical plan to tackle the blaze.
Our partners at @gmpolice are currently assessing the scene with a helicopter in Tameside which will help us formulate a tactical plan for fighting the fire. Keep an eye out for some images from the air .

All updates on our website – https://t.co/NvvXH8kRI1 https://t.co/COOSjh5qJG

— Manchester Fire (@manchesterfire) June 27, 2018
——————————————————-
10:55am
Concerned residents have been sharing pictures from their properties around Saddlworth Moor.
While most images don't show the actual fire, they do capture how the abundance of smoke has cast a shadow over the clear blues skies being enjoyed by the rest of the region.
The fire from my house in oldham on Saddleworth Moor. pic.twitter.com/7auIPIKaUS

— robert (@STIGvROB) June 27, 2018
——————————————————-
10:46am
Stalybridge MP Jonathan Reynolds likened the fire to an apocalyptic scene this morning.
During an interview on TalkRadio, the politician said: "It's almost like an apocalyptic scene, because of the nature of the landscape and the scale of the fire.
"The smoke in the town itself is quite unbelievable.We have had this before, fires on the moors, particularly in summer it does happen. But nothing on this scale.
"Usually it happens that they burn out and the service are used to dealing with them. But this is particularly frightening for people and we've had to evacuate people in one part of Stalybridge.
"They were right next to it, it's hard to describe just how close it got."
——————————————————-
10:37am
In the last hour Greater Manchester Fire and Rescue Service have shared pictures from Tamesides, in which plumes of smoke of smoke can still be seen rising over the moors. The service once again thanked the crews, partners and volunteers for their continued support.
A few snaps from the scene at Tameside moorland earlier this morning – another busy day ahead for our crews, partners and volunteers. Thank you for all your help and support during this tricky incident pic.twitter.com/1TwTaA5B1q

— Manchester Fire (@manchesterfire) June 27, 2018
——————————————————-
10:30am
Pulic Health England have released important health messages for anyone who's affected by the fire. In particular, the North West body are urging residents and motorists to keep windows closed to avoid excessive exposure to the smoke.
Important health messages for anyone affected by the #moorlandfire @manchesterfire pic.twitter.com/3usdiZao5A

— PHE North West (@PHE_NorthWest) June 26, 2018
——————————————————-
10:21am
Greater Manchester Fire and Rescue Service have not ruled out requesting the help of the Army to help them tackle the inferno on Saddleworth Moor.
Assistant Chief Fire Officer Leon Parkes said: "The plan today is to try and really, really put some resource on the scene and put a heavy attack on this fire, and if that needs military assistance then that's what we'll consider.
"We've got over six kilometres of affected area – there is fire occurring in pockets around the outskirts. So we have got a belt of fire and obviously the wind direction at the time will have an affect on that.
"The seats of fire are not where we can access. We are having to park fire engines up and some of the fire scenes are two miles away so we are having to use other vehicles supplied by our partner agencies to transport firefighters and kit into those areas."
——————————————————-
10:10am
The fire spread so rapidly due to the dryness of the vegetation on the moors, coupled with the extremely high temperatures that have been experienced in the recent heatwave.
BBC Weather forecasts that today's temperature will reach highs of 27 degrees, which could further pose problems for the 50-strong team of firefighters tackling the blaze.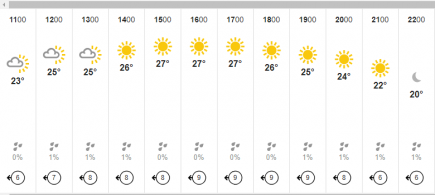 ——————————————————-
10:03am
Greater Manchester Police shared this eerie picture from their headquarters in Central Park, Newton Heath in the early hours of the morning. 
It predicted that there would be a 'long, hot, smoky day' ahead. 
Dawn over the moors has revealed what we're dealing with…

This morning's view from @gmpolice HQ

Our thoughts are with those affected and @manchesterfire who have worked bravely through the night.

It is going to be a long, hot, smoky day. #Staysafe out there#Moorefires pic.twitter.com/jXH2aATFfE

— G M Police (@gmpolice) June 27, 2018
——————————————————-
9:55am
GMFRS Assistant Chief Fire Officer Leon Parkes has confirmed that 34 homes were evacuated last night in the Calcio Crescent area. He added that up to 50 firefighters are now on the scene. 
At a press conference this morning, he said: "A major incident was declared late last night by Greater Manchester Police due to the scale of the incident and the need for close multi-agency working.
"We are reassessing the scene this morning and will be formulating tactical plan for today. Our fire crews have been working in tremendously difficult circumstances and I would like to thank all of our firefighters, partners, volunteers and the public for their support and hard work throughout this incident.
"Currently we have up to 50 firefighters in attendance with support from Derbyshire Fire and Rescue Service and two wildfire units covering an area of 6km. Air samples have been taken by our partners in multiple areas and the air levels are safe. If you are affected by smoke in your area, please close your windows and doors as we continue to fight the fire today.
 "Last night 34 homes were evacuated as a precaution in the Calcio Crescent area, all of whom are all staying with friends and family. We are doing all we can to get those evacuated back into their homes today.
"Please avoid the area if possible, and if you are using the M60, please drive safely as this area may be affected by smoke."