TOWIE fans from far and wide crammed themselves into the Arndale's WH Smith this afternoon to spend just a few moments with heartthrob Joey Essex.
Hundreds of people swarmed to the Andale clutching Joey's new book Being Reem as they eagerly waited for Mr Essex to sign it himself.
During his time on TOWIE and I'm a Celebrity Get Me Out of Here, Joey amassed a legion of faithful fans won over by his unconventional style and sweet nature.
Dominic, 18 from Wrexham said: "It's amazing, we've been fans from the start, and we'd definitely consider him an idol."
Dominic was joined by his friend Dan, 17 from Liverpool. The boys were fully kitted out in matching tracksuits from Joey Essex's store Fusey.
When asked about their top tip for being reem Dan said: "Dress like Joey Essex."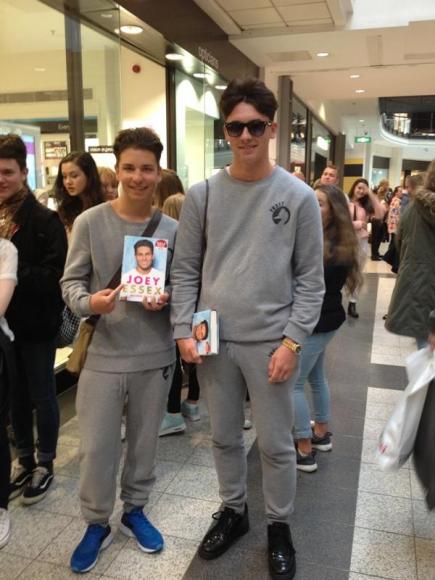 LOOKING REEM: Two male fans sport clothes from Joey's Fusey line
Milli Bray, a 17-year-old fan who had also made it down from Liverpool, also spoke emphatically about the reality TV star: "He's gorgeous, he's reem and his teeth are blinging white, Sam is so lucky."
In his book Joey reveals that he irons his money, wears his socks inside out and still hasn't properly learnt how to tell the time.
The autobiography does however touch on more serious issues, as Joey speaks candidly about the suicide of his mother.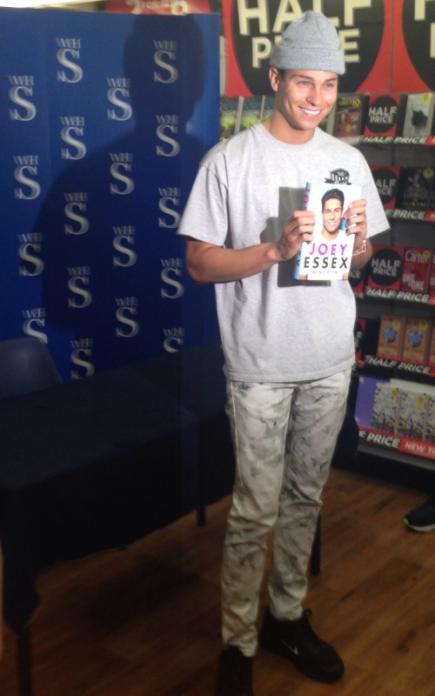 THE ONLY WAY IS JOEY: The reality star posed for snaps (© Manchester Arndale)
He wrote: "Some people reckoned I stopped learning because of what happened to my mum. Almost like I froze in time.
"I don't know about that but I do remember it hitting me really hard."  
Although he is known for his often silly care-free demeanour fans may be surprised about the darker parts of his past.
By discussing the difficult times Joey has managed to connect with some of his fans on a deeper level.
TOWIE fan Yoko, 29, said: "It was nice to hear the memories he has of his of his mum we get to see a different side of him through the book.
"He's very down to earth and it shows he's a people's person, not stuck up in anyway" said Shan, 29, who travelled down from Birmingham to see the star.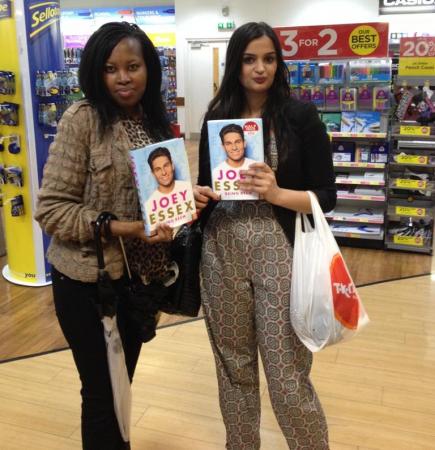 CONNECTING WITH FANS: Joey's manner appeals to fans of all ages
One thing the jury's out on however, is how much of the book Mr Essex actually wrote himself.
He admitted to using a ghost writer due to his 'terrible handwriting', and according to his fans, clear he's had some help.
Harris Latif, 16, said: "I think he wrote some of it – it's really funny and you can tell it's street and it's him, just maybe not all of it."
Nicole Williams, 16 commented: "It's got some hard words in it. I wouldn't think he'd know those words." 
Featured image courtesy of ITV, with thanks