Historic theatres in listed buildings across Greater Manchester have been named as 'at risk' by a national heritage body.
Victoria Theatre Salford, Hyde Theatre Royal, Hulme Playhouse, Hulme Hippodrome and Theatre Royal in Peter Street all appear on a list published by the Theatres Trust last week, which includes theatre buildings at risk of demolition, change of use or neglect.
The Victoria, in particular, is currently number three out of the 33 listed theatres across England and Wales, scoring a maximum of nine out of nine for risk value.
First opened in 1899, it has a traditional two-tier auditorium which has been praised by the group for being 'sumptuous and opulent'.
Mhora Samuel, Director of the Theatres Trust, hopes the list can raise awareness of the theatres' plight – and ultimately help save – the nation's most threatened theatre buildings.
She said: "It makes people much more aware of the beautiful and much-loved theatres that could be lost forever if action is not taken."
Hulme Playhouse is the only of the five Manchester theatre buildings currently in use, now functioning as a religious centre, and the four others are unoccupied – the result of a steady decline in theatre in the UK.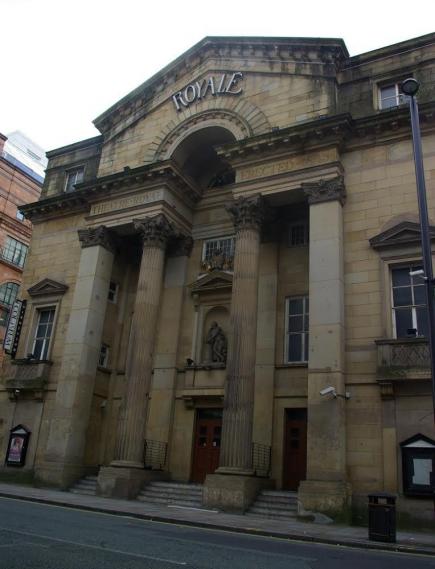 LAST ACT: The Theatre Royal is one of the five buildings at risk (©Adam Bruderer with thanks)
Built in 1845, Theatre Royal is the oldest building of its type in the region and has also served as a nightclub and bingo hall throughout its 170-year history.
Ms Samuel said: "The big question on the horizon is the extent to which more local authority cuts will lead to further closures. It's certainly a very worrying trend.
"The Theatres Trust's advisers are working hard to help communities and local authorities find possible solutions."
Hulme Hippodrome is also notable among those listed in Manchester, having once hosted The Beatles during its former life as a music hall in the mid-twentieth century.
Main image courtesy of Col Ben with thanks