This year's Christmas Dinner is going to be the cheapest in 50 years, according to research on a new website.
Home interior specialist Hillarys created an online tool enabling you to take a trip down memory lane to compare the costs of Christmas dinners over the past five decades.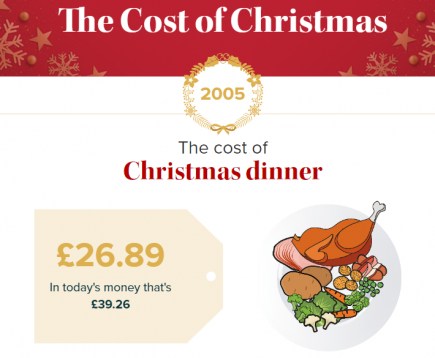 The results showed that 2018 will be the cheapest year to buy Christmas dinner. The tool compared festive items such as staple ingredients, a 6ft Christmas tree and the bestselling Christmas present from that year. It also includes traditional items such as coal.
A dinner for a family of four is predicted to cost just £25.35, a stark comparison with the most expensive year (1975) which set families back an eye-watering £57.92 (in today's money).
The cost of the past tool also lets parents see the most expensive and least expensive year for buying the bestselling present. In 1995 the best-selling was Pogs which cost 93p while in the most expensive year (2005) it was an Xbox 360, costing parents £436.54.
The price of Christmas has also drastically changed too. In 1977 a tree would've cost £219.52 whereas in the last three years Britons have been able to purchase a 6ft tree for £20 or less.
Hillarys spokeswomen Tara Hall said: "Christmas marks the time of year when we all go out: we want to have the best decorations, the best tree and provide the best feast for our loved ones.
"It's interesting to see just how much costs have changed over the last 50 years and try to predict how much we might all be spending in the years to come!"
Image courtesy of Alexander Baxevanis via Flickr, with thanks.