More than half of smokers are stress-smoking more since the pandemic began, according to a Mintel study, which also found 65% of smokers are worried that the virus is more dangerous to them.
The study found a disconnect between smokers' health concerns and their habits with 69% of respondents considering their respiratory health to be more important to them than before the Covid-19 outbreak.
Roshida Khanom, Category Director at Mintel said: "While the easing of lockdown restrictions will tackle loneliness and boredom, two factors that have boosted smoking rates, it will take more to reverse the habits developed during the prolonged periods of lockdown."
She added: "While chemists and grocers remained open during the 2020 lockdowns, access to expert help and advice has been limited, with pharmacists facing increasing pressure and, in some cases, reduced capacity."
With four in ten e-cigarette users vaping more regularly over the past year, vaping continues to be an appealing alternative to smoking, particularly as vaping equipment is readily accessible online.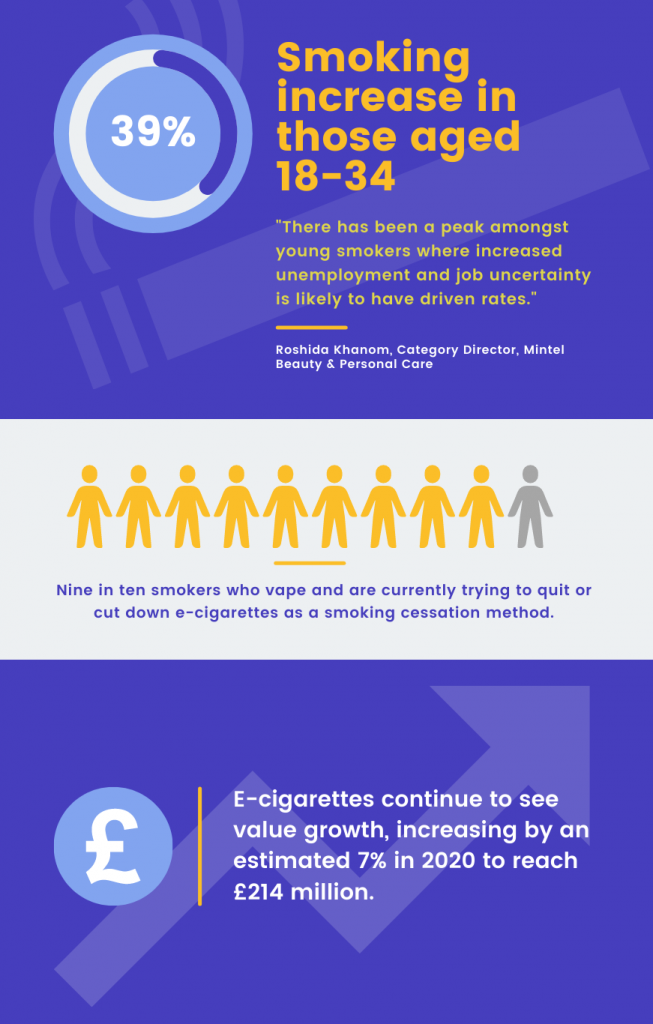 Launched in April 2020, Be Smoke Free Manchester is a nurse-led service helping people across Greater Manchester to quit smoking.
Delivering smoking cessation support, medication, and Nicotine Replacement Therapy, the organisation saw over 500 successful quits in its first year.
Be Smoke Free told of the impact social isolation has had on people's ability to quit successfully, as many found that the boredom of being at home increased the amount they were smoking.
Lower motivation levels due to poor mental health were also reported, as some felt smoking helped to lift their mood or helped them to cope with rising stress levels.
In contrast, 'social smokers' said they were smoking less, as they were no longer tempted to smoke when visiting pubs and restaurants.
For information about quitting smoking, please visit: https://www.nhs.uk/live-well/quit-smoking/nhs-stop-smoking-services-help-you-quit/