Former TOWIE beauty Sam Faiers will be bringing some Essex glamour to Manchester as part of her début fragrance tour next month.
In between modelling shoots, running Minnies Boutique and eagerly awaiting the arrival of her niece, the 23-year-old reality star has found time to create her fragrance La Bella.
Sam will be meeting and greeting fans at the Trafford Centre on June 14 and is looking forward to meeting her Manchester fans.
She told MM: "Billie and I spend most of our time in the shop in Essex and see our regular customers each week.
"It's great to go up to Manchester – I'm really looking forward to it. Quite a few of our fans are quite young or can't afford to travel to Essex so it's nice to come up here and meet everyone. "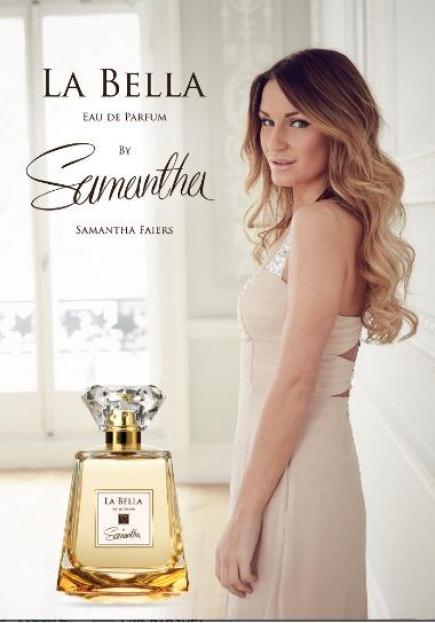 DEBUT: Sam Faiers' new fragrance La Bella
Fresh from hoidaying in Dubai the star, who is signed to Elite Models, revealed the reason for the exotic name.
She said: "La Bella means 'the beautiful' in Spanish. I lived in Spain for four years when I was growing up. My grandparents still live there; it really is a home from home.
"Even in a different language it still sounds perfect and means something to me."
Unlike some celebs who simply put their name to a fragrance Sam, who has rekindled her romance with former co-star Joey Essex, was involved in the entire process.
Missing my best friend @SamanthaFaierspic.twitter.com/ispCVaZyvN

— Joey Essex (@JoeyEssex_) May 18, 2014
She explained: "I was heavily involved with the scent itself right down to the packaging.
"I wanted something I would like and wear myself. Personally I don't wear anything too sweet – I much prefer musky scents.
"It's not just a fragrance for younger fans to wear going to school, it's more of a smell for women in the early evening."
The fragrance features vanilla as a top note along with iris flower and benzoin, and musk and caramel in the base notes.
#LaBella designed by me so excited.. Worked very hard on every element pre order here http://t.co/XcpxgF1ZhO pic.twitter.com/OJXnf13aL4

— sam faiers (@SamanthaFaiers) May 12, 2014
Sam added: "It's a really nice smell, I've got a couple of bottles at home wearing it for a few days and I've got lots of compliments.
"I wanted to make sure it was perfect and to see the finished product is amazing – I'm so happy with it."
And it's not just the launch of the fragrance that she's looking forward to, Sam revealed that she is 'beside herself' at the prospect of becoming an aunty when sister Billie gives birth next month.
Me Billie & mumma pic.twitter.com/Efkl5tmweN

— sam faiers (@SamanthaFaiers) April 10, 2014
"I'm so excited – me and my mum are just beside ourselves! Billie is so prepared she's going to be a great mum," she smiled.
"In the summer we're all going to Spain, we can't wait for her to get here!  We're going to have to do two or three outfit changes a day as she's already got so many clothes."
La Bella will be on sale from June 12, priced £24.50. The fragrance is available for pre-order from The Fragrance Shop online. 
Featured image courtesy of ITV, with thanks