We must not stand by as 'silent observers' and instead act over the Gaza conflict to 'stop the madness', claims the former Lord Mayor of Manchester
Afzal Khan MEP has called for action from politicians and for the EU to stop being a 'silent observer' in order to 'stop the madness' in Gaza.
Mr Khan played a leading role in amassing support from the EU for a ceasefire, making a speech at the European Parliament on Wednesday July 16, saying that 'hundreds of angry constituents' had contacted him to condemn the violence.
MM caught up with Mr Khan ahead of a Manchester City Council meeting today where he will be speaking to make 'sure something will be done' about the Gaza conflict.
Mr Khan told MM: "There was a special meeting of the Foreign Affairs Committee that called for not just more involvement, but more urgency. This has led to a specialist group asking Britain to be more engaged.
"We can all see what's happening and it's clear we're not getting there. What is more important is to get to the root of the cause. The Gaza blockage must end. Like David Cameron said 'Gaza is an open prison' and nobody should have to live through that."
The resolution was passed on Thursday July 16 by 459 votes to 113, with 60 abstentions, and called for an immediate end to rocket attacks on Israel and Israeli military action against Gaza, and for the two states to resume peace talks.
And international events have had an impact in Greater Manchester with Oldham Council calling for national politicians to exert their influence to stop the killing, ensure humanitarian aid and 'deliver peace'.
Mr Khan said: "I support what Oldham Council are doing. A lot of people are going to be engaged. This is not acceptable – we are all part of the same humanity and we need to speak up.
"I think it is terrible what is happening. Over 1,000 civilians have lost their lives – all of us need to do what we can to stop this madness.
"Manchester City Council will be meeting [today] and I will be speaking and I am sure something will be done."
Recent developments in the Middle-East have seen a rising death toll and worsening tensions between Israel and Palestinian Gaza – but, despite Mr Khan joining the EU in pleading for a ceasefire, the bloodshed in Gaza continues.
Pakistani-born Mr Khan, the only Muslim to speak in the heated debate over the conflict, said that Israel's response was 'utterly disproportionate'.
He added that the EU, winner of the 2012 Nobel Peace Prize, could not be a 'silent observer' anymore and must lead an effort for peace by providing a 'voice of sanity and hope'.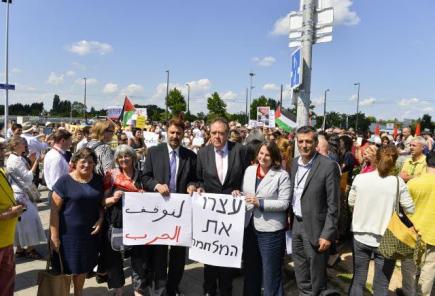 PROTESTING THE CONFLICT: Afzal Khan MEP and Richard Howitt MEP join demonstrators outside the Parliament in Strasbourg
South East MEP Richard Howitt also joined Khan's calls for the international community to act and end the violence that has caused the death of scores of civilians, mainly Palestinians. 
Mr Howitt said: "The immediate priority must be to end the tragic loss of civilian life, but there can be no long-term answer without peace talks towards the two-state solution.
"This week I've appealed directly to the Israelis to see Palestinian reconciliation as an opportunity not a threat. This could be part of necessary efforts to persuade Hamas, without in any way excusing their actions, that there can be a real alternative to violence."
@akhanmep speaking at a rally in #solidarity with #Gaza in Rochdale this afternoon. pic.twitter.com/thhiJuCycE
— Barbara Cannon (@BarbaraACannon) July 27, 2014
The North West MEP is continuing his efforts to generate support for the people in Gaza to ensure an end to the violence.
Image courtesy of Israeli Defense Forces with thanks.