The May 2022 local election in Rochdale was an all-out election, which means every seat at the council was up for election due to the boundaries being redrawn. A total of 60 councillor seats were up for election, which meant voters were able to vote for up to three candidates in their ward instead of just one.
Polling stations opened at 7am on Thursday 5th May, and closed at 10pm that night, and the votes were counted the following day, Friday 6th May. The count was split between two leisure centres in the borough, one in Rochdale town centre and the other in Heywood.
Each councillor is elected for a four year term of office and there are three councillors representing each council ward in the borough. Councillors are elected every year, over a four-year cycle with no elections in the fourth year. This means at each election a third of councillors are elected. Upcoming election years are 2023, 2024, 2026 and so on.
The councillor who received the least votes from the majority out of the three candidates will have to run again next year. The remaining councillor who won second highest vote will stand for two years and the councillor with the highest votes will be in position for four years.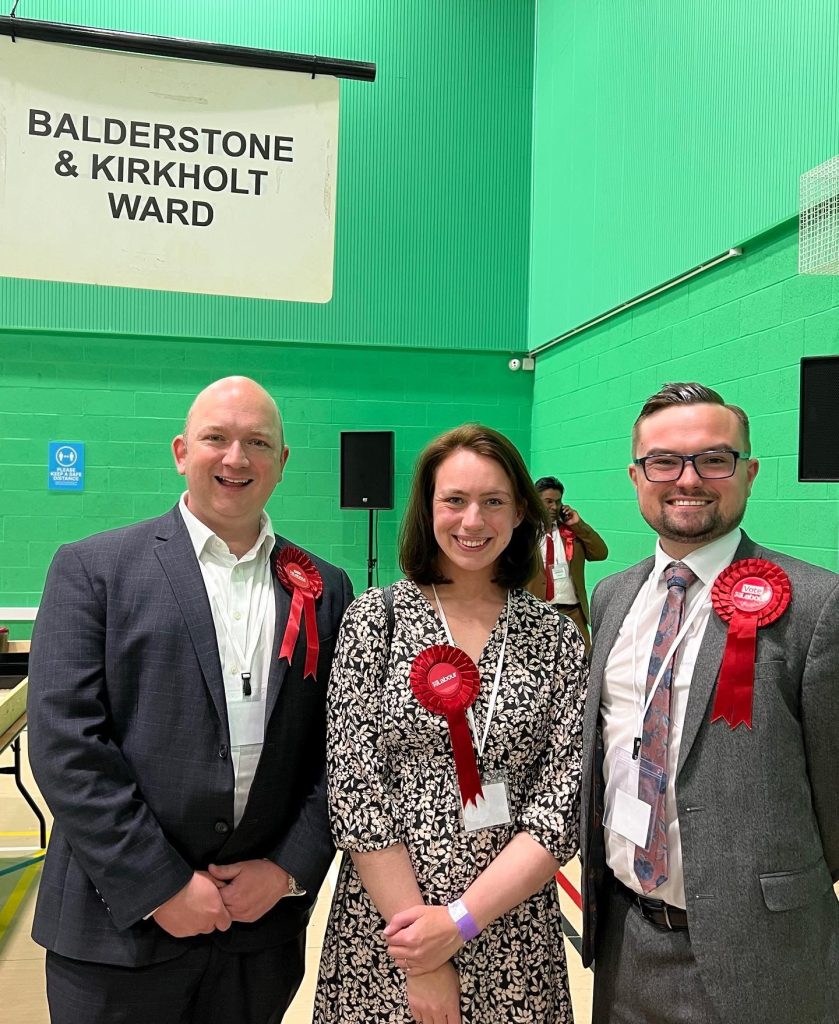 How are votes counted?
Votes are counted by members of the public; they are employed at a day rate to help with the counting. The voting ballots are counted in the middle of the sports hall behind a purposefully built wooden desktop. Most councillors will normally huddle around the desk to estimate what the results could be.
This year one of the counting methods used was called kangaroo board, which is a new reusable counting tool for multiple candidate elections. This allows the counter to be able to count 25 ballot papers at one time.
Votes revealed
Once the votes have been counted, they are announced on the podium by a spectator who will call out the number of votes made against each councillor for their ward and reveal which three councillors have been voted to represent the ward.
As each ward is read out, an indication is given on which political party could potentially end up with the most votes. Each councillor stands and represents a political party so by voting for the three individual councillors, it adds more seats for the overall party.
Once all the wards have been read out, a further announcement is made displaying the total numbers for the amount of seats local councils have gained within their party, which is the overall total of how many councillors have been admitted to the party.
See below results from this year's turn out.
The total number of confirmed councillors as it stands:
Labour: 42
Conservative:10
Independent: 5
Lib Dems: 3
The makeup of the council pre-election:
Labour: 45
Conservative: 11
Lib Dems: 3
Independent: 1
My experience and opinion
Covering the local election count was a great way to gain experience on how local politics works. The day itself has many ups and downs, emotions are high for councillors as they can no longer campaign and spread the word, all they can do is have faith and trust in the hard work they have been championing ahead of election day, and hope the majority of votes cast supports their councillor and political party.
The count started at 11am, and the first few hours are a tense wait for the worried councillors as they have no indication on how many votes have been counted and if they are in the run up.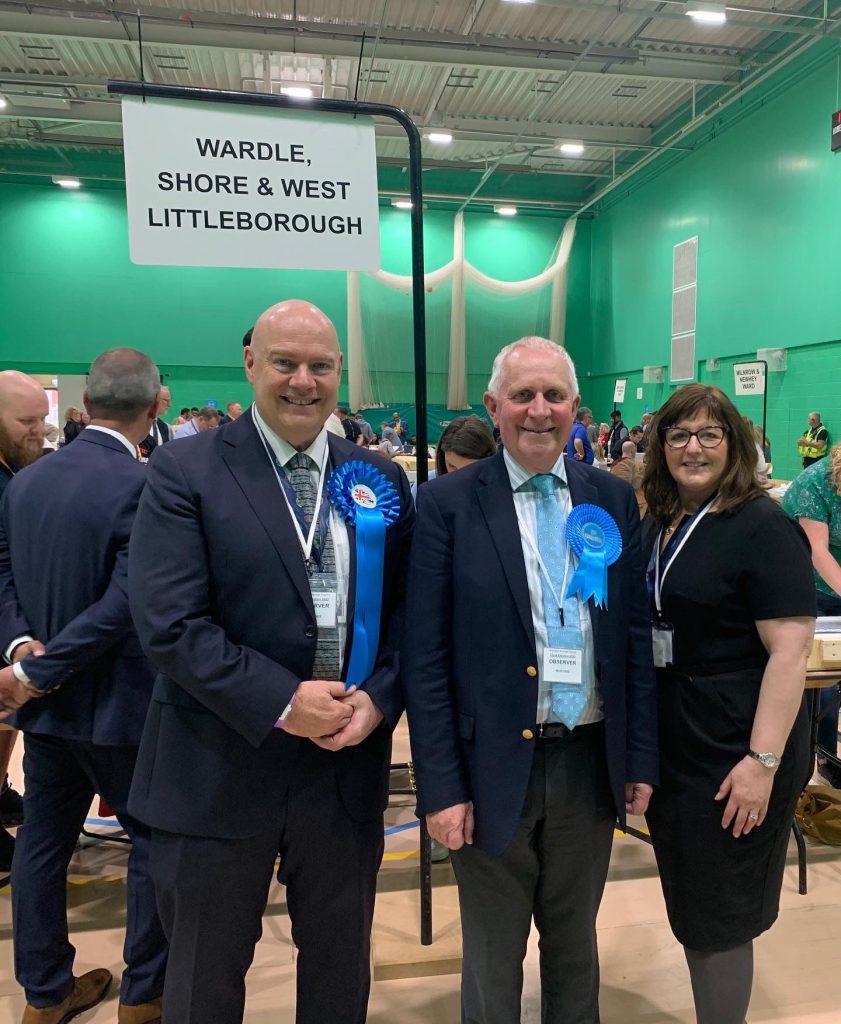 Some councillors sit with clipboards tallying up the votes from what they could see on the counter in front of their ward, whilst being counted by one of the staff members. Councillors are allowed to watch and make judgement while staff count the ballots.
At first I found this strange, I always thought ballot papers had to be counted in a top secret location, but as the day progressed I could see the benefits of this. It gives the councillors a heads up and reassurance if the voting is going in their favour or if they need to start worrying.
Most of the morning was spent talking to local councillors from various political parties, building connections and understanding what they had been up to during the run up to elections and chatting through various projects/roles within the local community that the councillors had been doing. The morning was a very slow start due to the anticipation and knowing or having any indication of results.
During the afternoon, the atmosphere started to pick up. Most votes had been counted and processed. Some councillors are delighted, others not so. Once the results are called out by the speaker, that's when it's all go go go for me, I had to make sure I heard all the callouts for the wards in order to get the results published.
The speaker reads the results out very fast so I had to be ready. After the results were announced I then spoke with the winning councillors and party members to ask how they felt and what was next for their party. After the callouts were over I then had to type up all the interviews and write about the day's events and results.
Overall it was a brilliant learning curve and very intense experience. Local politics isn't something I was taught in school and it is daunting learning from scratch but this experience has taught me anyone can get involved in politics.
Questions I asked local councillors and their response
Phil Massey – Balderstone & Kirkholt ward – Labour
Q: How do you feel about today's results? "I am excited about the upcoming work that we will continue to do in Balderstone & Kirkholt and very grateful to all the residents that voted for Labour. It means a lot to me and my colleagues – Daniel Meredith and Elsie Wraighte, to be able to represent the people of Balderstone & Kirkholt.
"I am relieved that the campaign has come to an end, and we can now put all our efforts into focusing on the ward and implementing great change for our people."
Q: What's next for Balderstone & Kirkholt? "We have plans to get a green flag for Balderstone Park, which is well located in the central of the ward and will serve all residents. The park also has a library with an extension that is used as a sports facility. We have plans to encourage under 16s football and rugby league teams to use the facilities.
"Alongside working closely on daily case work such as issues with tenancy, fly tipping and litter. The biggest challenge in the next few years is going to be the cost-of-living crisis. Residents will need support from the council more than ever before. Demand for the poultry service is increasing and we have a policy that no child should ever go hungry, I see this statement as one of the biggest challenges."
Q: Do you believe the party gate scandal played a part in the success of wining the ward? "Yes, the party gate scandal has crept up several times and it shows. The Tory ballot has dropped
significantly from what it was this time last year. The honesty and our integrity that we have within local government is the best we can show, as we don't make promises that we cannot keep. We always do what we can to manage expectations."
Q: Is there anything else you would like to add or say? "I would just like to say a huge thank you to all the residents who voted and all the council and election teams, who have worked so hard to put days like this together."
Ashley Dearnley Conservative – Wardle, Shore and West Littleborough
Q: How do you feel about today's elections? "I am delighted to be re-elected again, to serve the people of West Littleborough. To me this is the greatest honour. It is a difficult time for the conservatives, as we are not popular, nationally and that does play a part.
"People are more concerned about local issues; with the hard work our local candidates have been doing it has really made a big difference on people's opinions and we can continue to make change.
Q: Is there anything else you would like to add or say? "I would just like to say, I want the residents of the borough as a whole to be assured, we as a team of counsellors, will always have the interests of Rochdale borough first and that doesn't always mean going along with the policies that we believe in, it's about supporting the best policies that any party, is putting forward that has long term benefit for the borough."
Peter Reed – Littleborough Lakeside- Conservatives
Q: How do you feel after the results? "I feel great, I am representing the people of Littleborough, like I always have. Speaking up for local people is something I will continue to do, as I believe that's what it is all about.
Tony Llyod – MP – Labour
Q: How do you feel about the outcome of the Labours results today? "I am very pleased, all-out elections in Rochdale are always very difficult, because quite rightly the public makes their own mind up on how they want to do things, and each member of the public contributes to different voting patterns or beliefs.
"The good news is Rochdale has a very strong Labour council and the people of Rochdale want Labour, as it shows in the voting results."
Aiza Rashid – Milkstone and Deeplish – Labour party
Q: How do you feel about today's success for Labour? "I am really happy; I can't put it into words how ecstatic I am. I haven't felt or experienced anything like this before.
"Being elected just means I can encourage more young people to get involved in politics. I can be a strong voice for them, by giving young people the opportunity and chance to speak up."
Q: You are one of the youngest candidates to be elected, how do you think that represents the
younger generation politics? "Being part of the young generation of politics I think we definitely need a lot more representation and recognition, as we are the next generation and more younger people need to be included in decisions made and conversations made."
Q: Anything else you would like to add or say? "I just want to say thank you to everyone who has put their trust in me, I appreciate it so much and I will work as hard as I possibly can."
Irene Davidson Milnrow and Newhey – Liberal Democrat
Q:How do you feel about today's results? "I am so honoured as more people voted for me this time. The people of Milnrow and Newhey did not listen to the horrible things that had been said about us, they proved that they had trust in the party and know that we will do a good job."
Q: What's next for your party? "We need to get more bodies on seats in the council, people have come forward today and some of the results are absolutely fantastic for us. Councillors have really worked hard to get to where they are, but we need to go that step further. In the next 12 months we will be trying to get more bodies on seats in council as our people deserve the change that we can offer, as we have proved it today and kept our seats."