Oldham-born Daniel Smethurst has claimed that had he kept up the scoreboard pressure, he could have progressed in the Aegon Manchester Trophy following his first round loss to Alejandro Falla.
The 24-year-old wildcard was defeated in the ATP Challenger Tour event by seventh seed Falla 6-3 6-1 on centre court earlier today at The Northern Lawn Tennis Club, Didsbury.
Smethurst played with a strong forehand and threatened Falla's serve on many occasions, but looking back he has insisted that he did not scare the Colombian enough.
He said: "I thought from the back I felt right from the start that I was playing well enough to win. Against guys like that you just got to keep the pressure up in important moment and I didn't.  
"I definitely didn't serve well enough, that was a huge problem. His second serve returns were really good today, so if you don't serve well the pressure does build and that told in the end.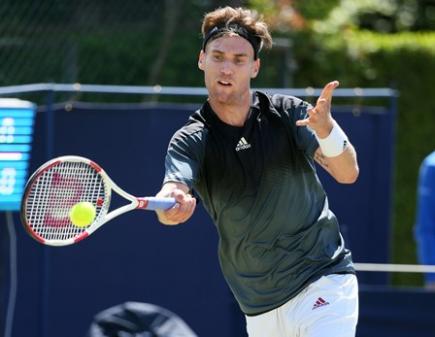 IMMACULATE COURTS: Despite the loss to Colombian Falla, Smethurst praised the surface at The Northern and is itching to put things right in the doubles 
"It felt like if I'd put more pressure on him I would've done better and that's what I didn't do. If they feel the scoreboard pressure they will make mistakes no matter how good they are."
The world number 564, who went to school in Failsworth, has won three ATP Challenger titles in the past and reached a career high ranking of 234 last year.
He is due to play in his first round doubles match later with partner Edward Corrie against British duo Sean Thornley and Darren Walsh.
Smethurst, despite his loss, has thoroughly enjoyed playing on impeccable courts at The Northern and is feeling good ahead of his doubles match.
He added: "I'm going to try my best to turn things around for my doubles match later, get out on the practice courts and sort out my serve.
"The conditions have been great today and the courts are absolutely immaculate, they've done such a good job."
Elsewhere in the tournament Stockport's Liam Broady lost his first round singles match to Hiroki Moriya over three sets yesterday but is playing in the doubles later with Luke Bambridge.
Images courtesy of James Jordan Photography, with thanks.