Bolton Bulls wheelchair basketball team are again in preparation to take part in the 'Run in the Dark' at Salford Quays after a successful and enjoyable time last year.
The event, which raises awareness for people with spinal cord injury, runs in tandem with other venues in the UK and around the world to raise money for the Mark Pollock Trust.
After a tragic accident which left him paralysed from the waist down, Pollock established the trust to aid in research to find a fast-track cure for spinal cord injury.
Now in its third year, the Run in the Dark series goes from strength to strength and participation is expected to increase again this year.
And Bolton Bulls are just one of the many registered charities who will be taking part and raising awareness again this time around.
The Bulls provide the disabled people of Bolton and the surrounding areas with access to fitness, support and social interaction that is valuable to a person's health and well-being.
The club is open to all irrespective of sex, race, religion or disability and currently have players ranging from 18-65 years old, both able bodied and disabled.
MM spoke to Bulls treasurer Graeme Lambert about their cause and about this year's event.
"We have been able to reach out so in total we have got 21 people doing it for us this year," he said.
"Once we got to know the charity it was sort of a mutually beneficial thing for us to do because the more people we get to enter to fundraise for us the more money that goes to their charity with regard the entry fees."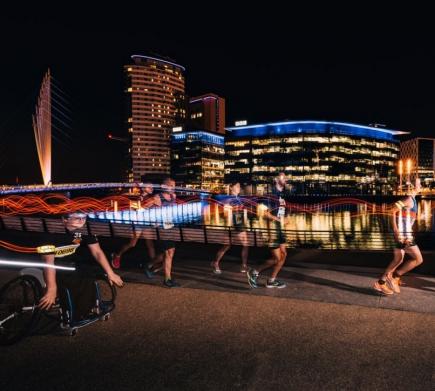 BREATHING ROOM: Bolton Bulls' treasurer Graeme Lambert says Run in the Dark is a less crowded house than May's Great Manchester Run, Europe's biggest mass 10k event
Although numbers taking part are expected to increase again this year, it is still a relatively small-scale event of its kind but with publicity becoming wider, people are being urged to sign up.
"It's a really enjoyable day and the scenery around Salford Quays is great," said Lambert, who is an able-bodied member of the team.
"Compared to the 40,000 who do the Manchester 10k, there is a lot more breathing room for people who have not done a charity run before so I would encourage anyone to give it a go."
He stressed that it was the taking part which is the focal point of this event and should not only be of interest to people who want to run a fast time.
Last year the Bolton Bulls as a whole team completed the distance together and all finished within a couple of seconds of each other.
"We go around at the slowest person's pace, just to make a point of doing it as a team," Lambert said.
Helping the team on their way again will be 43-year-old Loz Copping from Rochdale and Chris Oakes, better known around Manchester as their alter-egos, Captain Jack Sparrow and Mr Gibbs.
It will be their second time taking part in the event, after last year when the pair provided entertainment for the hundreds of runners and passers-by.
On recollection, full time Captain Jack Sparrow impressionist, Loz, said: "Despite my blisters we all had a blast last year so we were more than eager to be involved again this year with an ultimate goal to raise even more money for such a great cause."
Anyone still interested in taking part can do so. The event will take place at 8pm on Wednesday November 11, starting and finishing at Salford Quays.
Click here for more information: http://www.runinthedark.org/manchester/
You can also join in the #RunInTheDark conversation by following @TheRunInTheDark on Twitter and 'Run in the Dark' on Facebook.
To find out more about the Bolton Bulls in this unique worldwide phenomenon click here – http://www.runinthedark.org/
To donate to the Bolton Bulls, click here: https://www.justgiving.com/boltonbulls/
More information about the Mark Pollock Trust can be found here: https://www.markpollocktrust.org/