It's that time of the year when the FA Cup gets underway, putting teams from different Leagues against each other in one of the world's foremost footballing knock-out competitions.
Greater Manchester team Altrincham FC, the Robins, face League One side Barnsley in a first round draw game this Saturday.
Altrincham currently sit 19th in the National League, the fifth tier of English football and will play in front of a home crowd at their Moss Lane ground.
Barnsley, 22nd in third tier League One, are heading into the game after losing their last seven matches, a huge psychological boost for the home side.
Altrincham is notable for its FA Cup history, having advanced further in the competition than any other semi-professional team: as a previous non-League team Altrincham have recorded 16 victories against League clubs.
Barnsley won the FA Cup in 1912 beating West Bromwich Albion 1-0, and have also knocked out Manchester United in a fifth round replay in 1998.
Altrincham are a part-time team in a full-time League, and there is a proud history at the club of inflicting feared crushing blows to higher League teams, what football fans know as 'giant killing'.
Assistant manager Neil Tolson, who is in his fifth season with the club, admitted that the game is highly anticipated and that the town has had a buzz since the fixture was drawn on Monday October 26.
He told Mancunian Matters: "With Altrincham and the history that they have got in the FA Cup there is always a buzz around it.
"So when the draw was made last Monday that's all the talks been, so we've actually had a difficult job in focusing the players on the League. We have got to be confident, all the pressure will be on Barnsley.
"Everyone expects them to beat us and like I said we want to be part of that giant killing history.
"All the focus is on the FA Cup and hopefully we can cause a major upset again."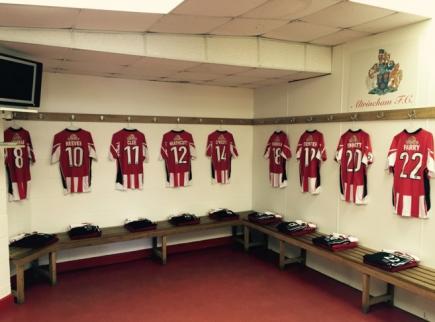 FOCUS, LADS: Altrincham's injury-depleted squad have been so excited since the FA Cup draw was made on October 26 they've struggled to stay switched on in the league
Altrincham have suffered with injuries this season, something which Tolson says the manager, Lee Sinnott, never uses publicly, but admits it has been blow to the season.
Despite the excitement the team will 'treat it as a normal game.'
"Prepare as though it's a normal League game, hopefully a bigger crowd. Lads might be a little bit nervous, bit more nervous or a little bit more excited which is good," said Tolson.
There is plenty of experience in the side, despite the injuries.
"The first 10 minutes is really important, if we start well on our day, the lad James Lawrie on his day, he can play League One no question about it…he has got so much ability," added Tolson.
"We have probably got half a dozen players that are like that, that on the day can play at a much higher level.
"So if they perform to their capability, it should make out to be a fantastic game."
The FA Cup is a prestigious competition known internationally for its high standard of football throughout clubs at all levels in England and Wales
It also exemplifies the nation's ability to get behind an underdog and Altrincham FC will be no exception in this first round tie.
When asked what it would mean to the Robins to win on Saturday, Tolson responded: "Financially, a hell of a lot of money.
"It's not just good for the football club, but for the players, for the directors of the club, the chairman of the club but most importantly it's good for the supporters.
"Hopefully we can get more supporters out of it, more people coming week in week out, hopefully bringing their kids, the next generation of Altrincham fans."
Walking football starts tomorrow 9.00am-10.00am, please share with friends/family… pic.twitter.com/HfzFlLncZ9

— Altrincham FC CSH (@AltyCSH) November 3, 2015
It will be business as usual for Altrincham after the game, regaining focus for the League no matter what the outcome is.
"The League is our bread and butter," said Tolson.
"We need to make sure we are picking up enough points in that."
The fans and the town will be hoping for an upset on Saturday, not just for the revenue for the club but for the exposure it will bring to the club and the players.
Kick-off is at 3:00pm Saturday November 7 at Altrincham FC, J. Davidson Stadium, Moss Lane, Altrincham, Cheshire, WA15 8AP.
Ticket sales all week (Mon-Fri) are from 10am to 7pm and may only be purchased by cash.
Standing: Adults £14 Concessions £9
Seating: Adults £15 Concessions £10
Disabled with Helper: Combined price £14
Under 16 year olds: £5
For more information please visit www.altrinchamfc.co.uk/barnsley