Mallets clashing against mallets, tires skidding over tarmac, the screeching of brakes. This doesn't sound like your average game of polo, and that's because it isn't.
The fact that we're on a concrete football court in Moss Side makes the game even more remarkable. There are a number of varieties of polo around the world, but hardcourt bike polo is perhaps the most innovative and exciting.
As with most team sports the premise is simple, get the ball into your opponent's goal.
However, once you add in six bike riding, mallet wielding players, bike polo becomes more similar to ice hockey than its horse-based-cousin. Think of bike couriers zipping between traffic and you might just begin to have an idea of the speed and agility with which the sport is played.
Each game begins with an aptly named 'Joust' – players racing from each end of the court toward the ball in the centre, in an attempt to win possession for their team.
The ball (about the size of a hockey ball) can be controlled with any part of the mallet or indeed with the bike, but goals can only be scored with the front or back of the mallet (known as a 'shot').
Games last a predetermined amount of time, usually 12 or 15 minutes, or are played until a team scores a fixed amount of goals.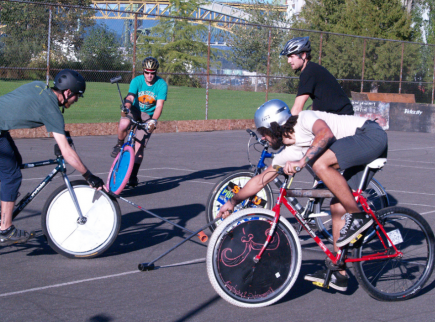 CLASHES AND COLLISIONS: If you enjoy high-octane sporting fun, bike polo could be for you with Manchester Hardcourt Bike Polo (MHBP) club​ meeting once or twice a week in Moss Side (image courtesy of Neale A via Flickr, with thanks)
It is the balance and control demonstrated by the players that is the most impressive element. Putting a foot on the floor constitutes 'dabbing': temporarily disqualifying the player until they touch a designated place at the side of the court, known as 'tapping out'.
The pace and fluidity with which the game is played at the highest level makes it a real spectator sport, and the full contact rules mean clashes and collisions are commonplace.
Perhaps the true beauty of the game lies in its accessibility and versatility, and according to Rob, the main organiser of the Manchester Hardcourt Bike Polo (MHBP) club, that is what attracts so many people to the sport.
"I was at a tournament a bunch of years ago and there was an old messenger guy called Bill who said the only reason we play this sport is because we were crap at every other sport and its kind of true," says Rob.
"I don't think any of us were athletes at school but it's got a nice community feel and you get to drink while you're playing and have fun."
The MHBP currently meet once or twice a week near Powerhouse Church in Moss Side and was started about nine years ago – making it one of the longest running in the UK.
"It's not in the best of health," adds Rob. "But we still tick along with enough people for proper games. You need six."
DIY principles run deep within the community. Although there are now some companies producing bike polo equipment, most players use homemade mallets – often made from carbon fibre or from the aluminium shafts of ski poles.
The full contact rules mean the sport does come with its dangers: most players wear helmets (often with facemasks), padded gloves, shin and knee pads for protection.
Any type of bike is fine but players usually opt for low gear ratio single speeds as it gives them quicker acceleration and control, and there is usually little on the frame to avoid damage in contact.
ROOFS, CAR PARKS AND TENNIS COURTS
The idea of bike polo has existed for over a hundred years, the first game of 'Cycle Polo' having thought to have been played in Ireland in 1891.
It became popular in the early 1900s, and featured as a demonstration sport in the 1908 London Olympics. It has since gone through periods of popularity and disfavor, returning to popularity in the 1990s with the return of international matches.
It was around this time that hardcourt bike polo is believed to have been created. Started by a group of bike messengers in Seattle, messing around in downtime between deliveries.
It spread through the bike messenger scene, being played almost anywhere: roofs, car parks and tennis courts. Its popularity rose in the 2000s dramatically with the increase in popularity of fixed gear and single speed bikes, and it was christened 'Hardcourt Bike Polo' in 2007.
Over the last ten years the popularity of the sport has grown exponentially and now it is played in over 400 cities and 50 countries around the world.
This development has been aided greatly by social media, which has allowed a large online bike polo community to form, helping players from all around the world to communicate, to standardizing rules and regulations, offering support and advice for other players, as well as setting up tournaments all around the world.  
Bike polo has become a truly international sport, with tournaments attracting players from around the world.
One of those players is John Fenton, a member of the MHBP, who along with his 15-year-old son Oli plays tournaments in what is a developing European scene.
"There is probably a hardcourt scene in virtually every city in Europe," he says. "But it boils down into a really obsessive group of people that play at a fairly high level that travel round Europe on a regular basis, at least once a month if not two or three times a month.
"You tend to see the same faces, the same sort of 200 people. It then breaks down into the more local things, travelling is obviously an issue."
Though most of the tournaments are often low key events, funded by the players themselves, some have attracted the attention of commercial sponsors.
"A tournament we were at in Lyon had about 22 commercial sponsors for various things," says John.
"Redbull had turned up with some drinks, and then there were clothing manufacturers, various bike people had provided equipment."
Clubs around Europe are even beginning to receive financial backing and sponsorship.
"There's a team in southern Germany, in Nuremberg," John adds.
"They've attached to the local Football club who are a Bundesliga club in Germany. They've now got a facility shared with an inline Hockey team which is built in the training ground of the Football club.
"So they've got one purpose built court with a beautiful surface. Additionally, VW have sponsored a team in Bratislava, it's a club aimed at attracting young people."
'DODGY' UK CONCRETE
While the sport continues to grow in Europe however, the UK scene is in decline, which John attributes this mostly to the issue of facilities.
"This is the only court in Manchester we can find to play on," he says.
"In Sheffield we've got an issue where we are on open tennis courts but we've got students playing football, cricket and all sorts of other things on it, so you have to fight for the court a bit.
"Across Europe the facilities are significantly better, they often play on inline hockey courts rather than the dodgy concrete courts we have here."
We are petitioning Southwark council to resurface our courts in Newington Gardens. Please sign and share!… https://t.co/4ym9I6XXk9

— London Bike Polo (@LondonBikePolo) June 21, 2017
The sport's decline in the UK has, according to John, led home soil tournaments to struggle to attract an international player base.
"You don't get so many people from Europe playing in the UK because of the perception of the level it's at and the cost of getting here."
Even with the participation drop the Manchester scene remains the largest in the North, drawing in players from as far as Sheffield and Cheshire. Part of this must be attributed the friendly and welcoming way newcomers are treated by the group.
"They're really positive and open, they just made space for me," says Helen, who joined the group as a complete beginner last year.
"I mean it was terrifying because there are all these bikes, and you're on one and you have a stick and you don't know what's going on.
"But they really take time to help you get a little bit better, point out how to do things and are really patient with you."
The group is organised via a website and forums making it really easy to get involved and includes a diverse age range, from students up to 50+.
Their summer schedule sees them playing every Thursday and occasionally on the weekend, and with talk of a tournament over the summer there really is no better time to get on your bike and get involved.
Image courtesy of Wikimedia Commons, with thanks.