Coach John Fox could hardly believe his eyes.
It was November 1988 and his team had been playing together for a few weeks, but they seemed incapable of responding to his instructions.
"Carrie!" he screamed into the frostbitten air of Oldham's Boundary Park. "Carrie! Carrie!"
His players were as bemused as he was exasperated.
"Who's Carrie?" they asked each other. "He keeps telling me to give it to Carrie, are you Carrie?"
Half-time came and the penny dropped. The mysterious Carrie was never found.
"No," Fox sighed. "Carry the ball!"
Thirty years later, there were no such miscommunications.
2,149 people watched on at City's state-of-the-art Academy Stadium to see a crunch clash at the top of the Women's Super League that was making waves on social media.
Two professional, technically superb and tactically proficient sides went head-to-head, teenage starlet Georgia Stanway scoring twice as City ended Arsenal's perfect start to the season and set up a thrilling title race.
The club's Twitter account showed off a stunning second goal to more than 6.5million followers but there were no fans more proud than a group of women in their 40s and 50s, invited as guests of honour for the biggest game of the season. The pioneers, the trailblazers. The class of '88.
Manchester City's first women's team was the brainchild of Neil Mather, who worked with the City In The Community (CITC) branch of the club.
He would organise small-sided tournaments between company teams, and eventually decided to run one for female employees who wanted to take part.
Encouraged by the turnout but frustrated by the lack of further opportunity, Mather put it to his bosses that the club should hold trials for a women's team, and secretary Bernard Halford agreed.
An advert was posted in the Manchester Evening News and the men's team programme, but Mather didn't know how optimistic to be.
'IF YOU'RE COLD, IT'S BECAUSE YOU'RE NOT WORKING HARD ENOUGH' 
To help shore up the numbers, he dragged along his little sister Michelle, only 15 but eight years a season-ticket holder at City.
"We went to Platt Lane and there were 70-odd that turned up," she recalls.
"I can remember being lined up across the astroturf on the Platt Lane complex, and it was just sort of simple touches of who could kick it, who could play a short pass to narrow it down because there were so many there.
"We got put into groups of 'Yes you can play a bit' and 'No you can't play, you're just here because you're a City fan'."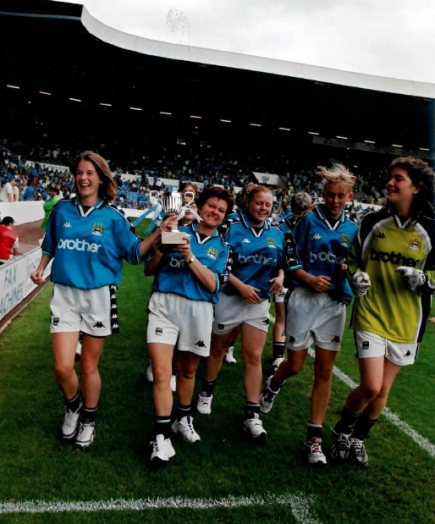 DEDICATION AND PERSEVERANCE: The winning smiles that kept City and women's football alive and kicking through several stagnant years in the 90s (image courtesy of Gail Redston, with thanks)
The variation in ability among those who turned up was huge – some played for local teams such as Redstar or Woodley Ladies, while others had never kicked a ball in their life.
But 70 potential players was far more than Mather had anticipated, and sorting the wheat from the chaff was a welcome chore.
After a couple of weeks and a few more training sessions, they had an opponent.
"We were going over to Boundary Park to play Oldham thinking 'Oh my God!'" Michelle says.
"We didn't really know each other, we'd only trained together a couple of times, had some light training sessions.
"A motley crew went over to Oldham to play that first game on the 27th of November.
"We didn't expect that we would go there and win because they were an established team with established players.
"It was a bitterly, bitterly cold night.
"They all came in, all wrapped up ready to go, tights and leggings on, long sleeves under their shirts and Neil was like, 'We're having none of that!'
"'But it's freezing!'
"'I don't care how cold it is, shirts on, shorts on, get out there and run. If you're cold, it's because you're not working hard enough.'"
City won 4-1. The star of the show on the night, and indeed for many seasons to come, was centre-forward Donna Haynes.
What a fantastic day! Loved the tributes from @ManCityWomen for the original 1988 squad today.
Then what a great performance from the team, every one of them were outstanding from start to finish. The @MCWFC_OSC were in fine voice as always. #Together pic.twitter.com/WSpZZYZyVx

— Jayne (@blueberry1894) December 2, 2018
"She'd have fitted in today's team," coach Mather recently told the club's website.
"Although she never trained, smoked like a chimney and drank like a fish, she could score goals left, right and centre. She was our Maradona."
Michelle draws a comparison closer to home, likening her to current City wizard David Silva.
"Keep it tight and get it up to Donna and Heidi [Ward] and you knew they were going to do the damage," she says.
The tactics may have been rudimentary, but those who stuck it out through the first few weeks were in it for the long haul.
Fines for dirty boots or being late to training, punishing workouts at their Armitage Centre training base, and use of the CITC bus for away games around the North West showed their commitment to operating like a 'proper club', and it was a club that quickly gained momentum.
GROWING ATTENDANCES
As one of the first big clubs in the country to have an affiliated women's team, they were an attractive prospect for local players, some of whom played for their previous club one day and City the next for a chance to wear blue.
With the nucleus of the squad quickly formed and bolstered, the big fish soon outgrew their small pond and won promotion to the North West Women's Regional League First Division after just two seasons.
At the time, this was the highest level the team could play in.
Though it was only a regional competition, the structure simply wasn't there for a national division and it took dedication and perseverance from players and staff to keep the club going through these stagnant years as the entire club struggled.
As clubs like Arsenal and Fulham started to pay wages to their women's teams, better players could be attracted to the league and the standard gradually improved.
By the early 2000s, there was a traditional club structure at City; not just the first team but reserves and youth sides as well, a progression system which pushed the quality up further.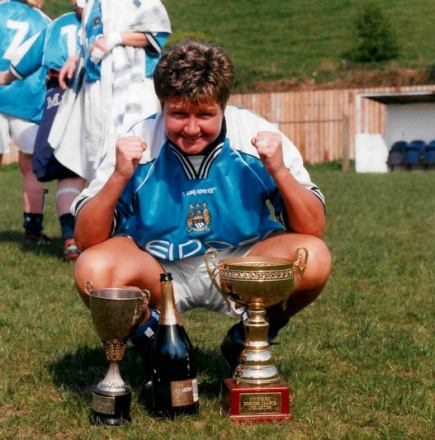 GLORY DAYS: It took Man City just two seasons to win promotion to the North West Women's Regional League First Division while they also won a cup double in 2000 (image courtesy of Gail Redston, with thanks)
Games in Manchester for the 2005 European Championships piqued the public's interest in the women's game, and attendances at City grew.
As with the men's team, it is not as if the club didn't exist before Sheikh Mansour's takeover in 2008.
City weren't far off the top level but not quite there, and investment in every corner of the club translated to a rejuvenating process for the women's team.
By 2013, the club outbid rivals to enter the reformed top division at Doncaster Rovers Belles' expense, and started to bring in experienced internationals such as Jill Scott, Karen Bardsley, Toni Duggan, and current captain Steph Houghton.
The success of the England national team at the 2015 World Cup – the Lionesses came third, beating Germany in the bronze medal play-off – kicked off an attendance boom as the Euros had done ten years earlier.
Twice in the following campaign, City broke the league attendance record at their new home, the 7,000-capacity Academy Stadium. They won the 2016 Women's Super League at a canter, finishing unbeaten and conceding just four goals all season.
A core part of the expansive Etihad Campus, Manchester City Women's place at the Academy Stadium is significant in itself.
Their position as an official part of the club formalised in 2012, they share the same training facilities, corporate links and resources as the men's team and feature in the same marketing material.
Their wages and exposure aren't at the same level yet and likely won't be for many years, but City present their men's and women's teams as equally important parts of the same machine.
Horizons are broadening in every area of the game – opportunities are there in coaching, nutrition, physiotherapy and analytics that simply didn't exist ten years ago.
It may well be decades before women's football is truly on an equal footing with the men's game, but you sense the current crop are willing to put in the work.
'IT'LL NEVER TAKE OFF'
Both of the Mather siblings have more than played their part, with Neil still working at the club and Michelle still holding a season ticket.
Now, it is about giving the next generation the sort of chances that the previous ones haven't had.
"We had all the old cliches of 'Do you swap shirts at the end of games?', and 'It'll never take off', from a lot of people," Michelle says.
"The day of the Arsenal game was really special for us all because it was an acknowledgement of 'Would we have been here if you hadn't turned up that day at Platt Lane for a trial? Would it have all got to this?'
"Who knows.
"I've got a 17-year-old daughter who's on an elite rugby programme, and now it's my hope that it crosses over into other sports, that they look at football as an example.
"Rugby's one of those sports that's heading that way and touching on being professional and, certainly for my daughter, she's hoping to go on the pathway of becoming a professional rugby player."
Ready for her first @ManCityWomen game today pic.twitter.com/v2os0x6ofj

— Adam Dunning (@dunning9) December 2, 2018
Neil has said similar, telling City's website: "One of the big deals for me, as a father of a six-year-old girl who plays football for fun, is the thought that she has women to look up to as her inspirations – not just men.
"She sees women playing the game as a career – people like Steph Houghton – and she says: "I want to be like that!""
Children need heroes they can relate to. When you see the way the current City Women team interact with fans, you can't help but feel hopeful for the future.
30 years ago, a woman kicking a ball about was a novelty. Now, she'd just be a footballer. And for a little girl watching wide-eyed from the stands, they might both just be heroes.
Images courtesy of Manchester City, main picture courtesy of Lynne Cameron/Getty Images/MCFC, with thanks.