Hale skiing sensation Rebecca Greaves insists she is in a stronger position than ever to enjoy a successful outing at next week's English Alpine Championships.
Greaves will be one of 350 of the country's best alpine skiers to descend upon the Italian resort of Bormio from February 13-19 for the 20th English Alpine Championships, organised by national governing body Snowsport England.
However, she will not be going into the competition cold having spent the past few months training across Europe with JR Racing, a professional ski racing camp headed up by Jo Ryding – a former Youth Olympian and sister of British World Cup skier Dave.
Having taken some time out of the sport last year to focus on her GCSE exams, Cheadle Hulme School pupil Greaves is now back with a bang having been selected for the England under-18 alpine squad last year.
And while she has found the step up from under-16 level tough, Greaves is adamant she has improved across the board in recent months.
"It's not been the best start to the season for me to be honest because it is such a step up from children's racing to the juniors, and I've made a few mistakes which hasn't been good for my points," said the 16-year-old.
"But obviously it is a better experience at this level as you are racing against international standard skiers.
"With the longer courses my stamina has really improved, and I think I am stronger and able to go for it a bit more to attack the course.
"I did race in Bormio last year, and it went alright but I hadn't done too much training because of my exams.
"So I could have done better there I think, but hopefully this year with a bit more training under my belt I can improve.
"I want to lower my points but I'm not going in with any specific aims for either the slalom or the GS."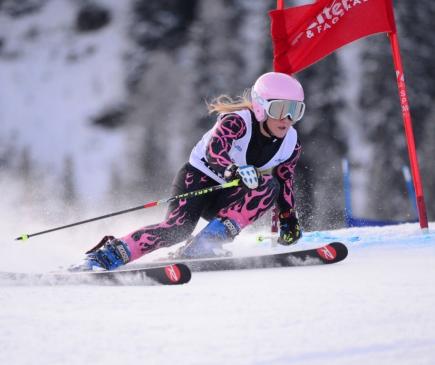 BETTER STAMINA: Rebecca Greaves says she's prepared for Bormio's longer courses
The English Alpine Championships help provide an early glimpse of the stars of tomorrow with British Olympians Chemmy Alcott and Dave Ryding both having competed at the competition.
It is set to be a busy event for Greaves who is scheduled to compete in the slalom and giant slalom – although she intends to take the hectic schedule in her stride.
She added: "The English Alpine Championships is one of the most important races of the season so I am hoping I can do my best there.
"If you compare it with other races that come later in the season, the snow conditions in Bormio are a lot better so skiing-wise and in terms of your technical ability the English is the most important to see how far you've come.
"I'm going training the week before in Bormio which I'm really excited about, and maybe that can give me an edge there. 
"Usually I've found the courses they set up fairly manageable, but I have seen the junior courses in the past and they seem to be a lot longer so hopefully I can contend with that."
Follow the English Alpine Championships, organised by Snowsport England, via www.englishalpinechamps.org.uk or @SnowsportEng on Twitter. Want to get into skiing or snowboarding? Find your nearest slope offering value-for-money GO SKI GO BOARD sessions at www.goskigoboard.org.uk